PVTIME – On July 27, Miza Corporation, has signed a long-term agreement with TotalEnergies to provide a 4 MWp solar photovoltaic (PV) system to its new production facility in Vietnam, Mipak Co Ltd. The system will power about 20% of the facility's energy with green power. This marks the first solar PV system built for the corporation who is looking to solarise for all its sites.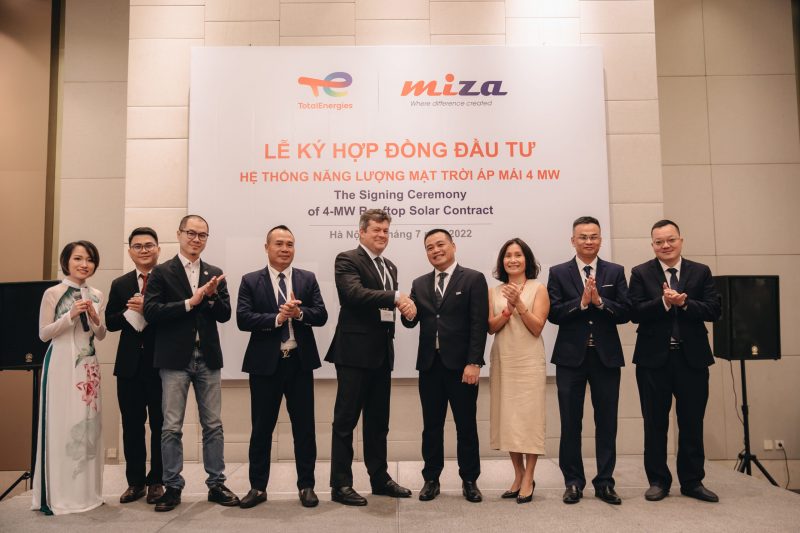 With around 7,500 of modules installed, the PV system will generate approximately 4,200 megawatt-hours (MWh) of renewable electricity annually, realising significant cost savings for Miza and reducing the company's carbon footprint by about 1,250 tons of CO2 emissions, equivalent to planting around 19,000 trees annually.
Under the agreement, TotalEnergies will install and operate the PV solar system while Miza will pay for the electricity generated for 20 years, without taking any upfront investments. On top of it, Total Energies and Miza Corporation has signed a Letter of Intent (LoI) to commit to solarising other sites of Miza Corporation such as Miza Nghi Son and its new development planned on the 15 hectares land extension. The total capacity of PV system is estimated to reach 20 MW.
Miza strives to become the leading company in the field of recycled paper production in Vietnam. With this solar system, it has further broader their efforts in minimising climate change impact from its operations and at the same time transform its financial performance.
Nguyen Tuan Minh, Chairman of Miza Corporation said, "We have been in recycling waste paper business for over 12 years. An environmental sustainability is a target going along with Miza Corporation's activities. We are delighted to partner with TotalEnergies in the energy transition. Being a long-term partner for TotalEnergies, Miza Corporation is committed to gradually moving to renewable energies, reducing its carbon emissions and further to achieve our environmental sustainability goals.
Gavin Adda, Head of TotalEnergies Renewables Distributed Generation Asia said, "We are delighted to partner with Miza Corporation in their efforts to go green. As the leading integrated solar solution provider in the region, we are encouraged to see more and more companies making efforts to reduce their carbon emissions. TotalEnergies is committed to being a long-term energy partner for Miza Corporation and look forward to collaborate further to achieve its environmental sustainability goals."