PVTIME - The increasing demand for solar power led to the global PV industry growing in both total capacity and shipments of PV products in 2022, creating opportunities for manufacturers, especially solar module suppliers in China.
Chinese PV module companies have a large share of the world's top 10 module manufacturers, according to publicly available data.
China PV Module Production 2022
China's PV module production was 124.6GW in 2020, up 26.37% from 2019, and 182GW in 2021, up 46.07% from 2020. And that in 2022 was 288.7GW, a dramatic increase from 2021, representing growth of 58.63%.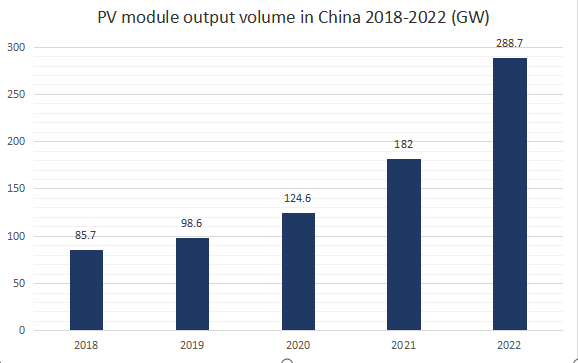 In terms of production capacity, China's PV module production capacity was 220GW in 2020, an increase of 29.41% year-on-year. And in 2021, it was 350GW, a 59.09% increase year on year. Then, in 2022, the solar module production capacity in China is estimated to reach 397GW, representing a year-on-year increase of 13.43%.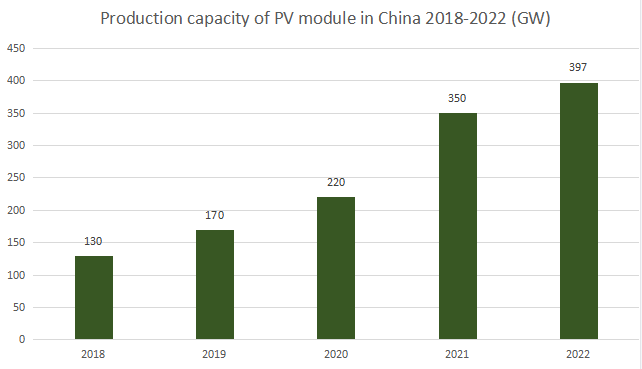 PV modules shipped from China in 2022
More than half of China's PV modules were supplied to overseas customers in 2022, despite a complex global solar market influenced by many uncertain factors such as the prices and costs, policy changes and the pandemic.
Both the volume and value of exports have increased in recent years. In 2021, China's solar module export exceeded 100 gigawatts for the first time, with a growth rate of more than 25% year on year, while the export value exceeded $20 billion, up 15%-20%. In 2022, for the first time, more than $50 billion of China's PV products was exported, including a module value estimated at $42.361 billion, with an export volume of 153.6GW, representing a growth of 55.8% year on year.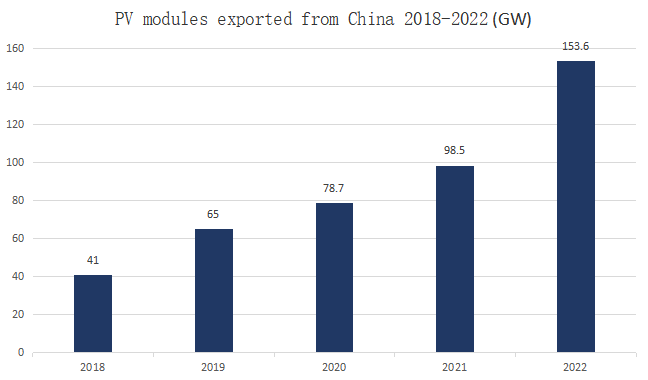 The surge in solar energy use made the EU the biggest destination region for China's PV exports in 2022. Nearly $23 billion worth of products, equivalent to approximately 84GW of solar modules, more than half of China's total module exports in 2022, were sold to the EU, up 114.9% year over year. And the Netherlands, Brazil and Spain were the top three markets for China's module exports in 2022, accounting for 46% of China's overall export volume, while demand in Spain, Germany and Poland was growing, said Mr. Zhang Sen, Secretary-General of the Photovoltaic Branch of China Chamber of Commerce for Import and Export of Mechanical and Electrical Products, at the 2022 Photovoltaic Development Review and Outlook in 2023 Conference held by the China Photovoltaic Industry Association (CPIA) on 16 February 2023. In addition, China's cumulative photovoltaic module exports have exceeded $200 billion in the past decade, while the cumulative exports volume of module have exceeded 575GW, Mr. Zhang Sen added.
China's top PV module manufacturers
Overseas revenue is critical for China's top PV module manufacturers, which are also the world's top seven, including LONGi Green Energy, JinkoSolar, Trina Solar, JA Solar, Risen Energy, Astronergy (Chint) and TW Solar.
LONGi, Trina Solar, JinkoSolar and JA Solar remain the top 4 manufacturers, with a combined global shipment of around 171GW.
LONGi, as a PV giant and industry benchmark, shipped around 45GW of solar modules in 2022, accounting for 17.5% of new installations. And its module shipment in 2021 was 38.52GW.
Trina Solar, which has emerged as a leading solar technology and manufacturing company with record-breaking cell efficiency and module performance, shipped around 43GW of modules in 2022 and 24.8GW in 2021.
JinkoSolar, a leading solar manufacturer and the first solar energy company to join the RE100 green initiative, shipped 41.5-43.5GW of modules in 2022, an increase of 86.66%-95.66%, compared with 22.233GW of its module shipment in 2021.
JA Solar, one of the most prominent solar product suppliers with more than 20 branches worldwide, shipped 40-41GW of modules in 2022, a dramatic increase from the 25.45GW of modules and cells shipped in 2021.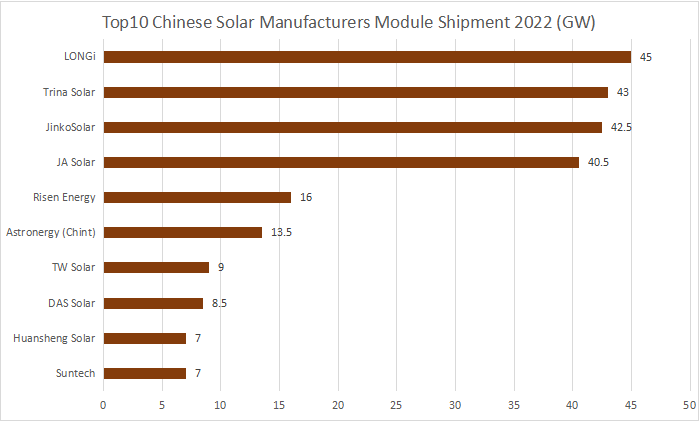 The top 10 Chinese module suppliers have shipped over 240GW globally, occupying more than 90% of the demand over the world.
China PV Module Production Outlook 2023
The growing global demand for solar power has led to an increase in production capacity, and many PV manufacturers have made ambitious ramp-up plans to meet the high demand in the future.
In its low-ball scenario, CPIA imagines a newly installed PV solar capacity to be 95GW in 2023, and 120GW in an optimistic scenario, while global newly added PV solar capacity is expected to reach 280-330GW in 2023, and 324-386GW in 2025. Solar companies are encouraged to not only expand their production capacity but also a vertically integrated production capacity from silicon material processing to wafer, cell and module production in the solar industry, as well as establish manufacturing and R&D centres for technology improvement.
The top four heavyweights never stopped matching to maintain their leading market positions, and the rapid expansion of production capacity continued in early 2023.
From January to February 2023, LONGi disclosed its investment on 100GW of silicon wafers and 50GW of solar cells with 45.3 billion yuan, and a another 29GW of high-efficiency solar cells project. Trina Solar announced that it will start self-supply of n-type silicon ingots and wafers by building a 35GW of CZ Si project and a 6.5GW of solar wafers project.
JinkoSolar and JA Solar also unveiled ambitious expansion targets for vertically integrated production bases. JinkoSolar will raise funds for projects including 11GW of solar cells, 8GW of modules, 8GW and 20GW of silicon rods, 11GW of high-efficiency cells, 15GW of high-efficiency modules, energy storage systems and support projects, in various cities in China. Meanwhile, JA Solar revealed its project plans including 150,000MT/100,000MT of PV raw materials, 20GW of CZ Si, 20GW of wafers, 30GW of cells, 10GW of modules, auxiliary materials, 500 units of monocrystalline furnaces, and 100MT of slurry. Big is getting bigger.
In addition, large modules predominated since 2021, and ultra-high power modules were deploying in solar power stations worldwide, especially in many GW-scale plants. Although the 210mm module is taking the lead in a very short time, it may be replaced by larger ones. However, it remains to be seen when Chinese manufactures will reach their ceiling, and how many they will unlock the potential of the solar energy for the world, as most of the top ones have set up their own R&D teams and centres for technology innovation and competition.
The only thing we know for sure is that solar power, which is bringing electricity powered by the sun to millions of people around the world, is playing a core role in providing clean energy, and Chinese PV brands will dominate the global solar supply chain in the medium to long term.