Growatt's next generation smart residential inverter, MIN2500-6000TL-X has been approved by Australia's Clean Energy Council (CEC) for installation under the Renewable Energy Certificate scheme. Certificates of the model in compliance with required safety standards have been examined and verified by CEC, which marks the official product launch of MIN for sales across the world.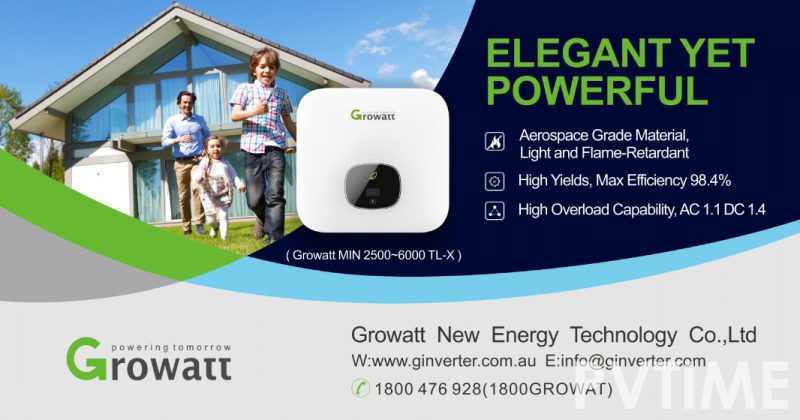 Australia is the first successful overseas market for Growatt. Since entering the Australian solar market in 2010, Growatt has been growing with the solar industry. Australia has become one of the top solar markets in the world. Growatt focuses on the residential solar solutions, which matches the local market as most of Australia's solar are rooftop systems.
In 2009, Australia announced its FiT policy prompting huge growth in 2010. 383MWs of capacity were added that year alone. By the end of 2018 over two million rooftop systems had been connected, making Australia the country with the highest installed per capita PV capacity. One in five households in Australia now have rooftop solar. For nine years Growatt has shipped about 200,000 inverter solutions to Australia, which means one out of ten rooftop systems are using Growatt inverters.
The latest residential inverter MIN is a step to further strengthen its market position. MIN uses 'aerospace grade' flame-retardant lightweight materials, making it easy to carry and install. It's approximately 35% lighter than other common inverters and a 5kW Growatt MIN weighs about 10.8kg. It has a compact design and elegant appearance. Its OLED display with touch button is designed according to Australian consumers' preferences. Customers will have a better user experience with the touch button, which has a longer lifespan and can last for over three million clicks.
Designed with the standard USB and RS485 interface, users can choose configuration options such as WiFi, GPRS, 4G etc. After setting up the USB + RF communication module, they can monitor the system and read power production and flow from smart devices by logging onto Growatt OSS (Online Smart Service) platform. Additionally, it has ahigh-efficiency of up to 98.4% and better protection for PV systems with type II SPD and optional AFCI.
Growatt will continue its R&D and innovation, provide premium products and become a leader in smart and clean energy solutions for household, commercial and industrial PV projects.
Source: Growatt