PVTIME – Construction of phase I (15GW) of GCL System Integration's (Hereafter referred to as "GCL SI") 60GW high-efficiency photovoltaic module production base in Feidong County of Hebei Province has officially begun.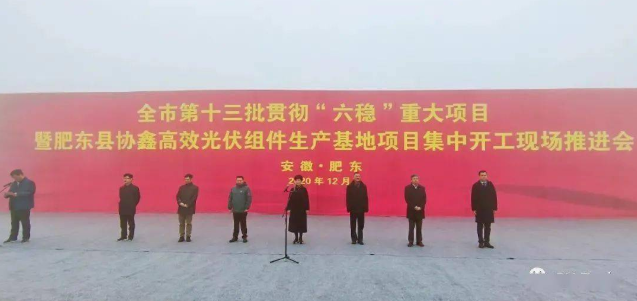 Groundbreaking Ceremony for GCL SI's high-efficiency photovoltaic module production base. (Source: GCL SI)
According to an earlier announcement from GCL SI, the investment total of Feidong's high-efficiency module production base is 18 billion yuan (12 billion in fixed assets). The project is slated to be constructed in four 15GW phases from 2020 to 2023. Upon phase I's completion and commission, phases II, III, and IV will be implemented according to market and capacity ramp conditions.
The groundbreaking ceremony held by the Hefei Municipal Government officially marked the start of construction. It is understood that the preliminary work has been completed with the design of the production line and equipment parameters set. The bidding of production equipment is also currently underway. "In the future, a smart modern mega green energy factory will be built here," Luo Xin, Chairman of GCL SI, said at the groundbreaking ceremony. Luo also stated that GCL SI will bridge high-efficiency photovoltaic module intelligent manufacturing and the upstream and downstream of the industrial chain.
From the perspective of the industry, it is expected that the new photovoltaic capacity planning during the "14th Five-Year Plan" period is expected to exceed the expectation, and intelligent and efficient photovoltaic manufacturing is the general trend in the future. Recently, Wang Bohua, Vice President and Secretary General of China Photovoltaic Industry Association, predicted that during the "14th Five-Year Plan " period, the average annual domestic photovoltaic installed capacity will reach 70GW, and the optimistic forecast will reach 90GW.