PVTIME – Total Solar Distributed Generation (DG) will provide agro-industrial company Betagro with solar-powered rooftops for 24 facilities across Thailand. The 25 MWp system will generate an estimated 38 GWh of renewable electricity per year, providing about 15% of the company's total power consumption. Annually, it will reduce CO2 emissions by 26,000 tons, which is equivalent to removing 4,325 cars annually.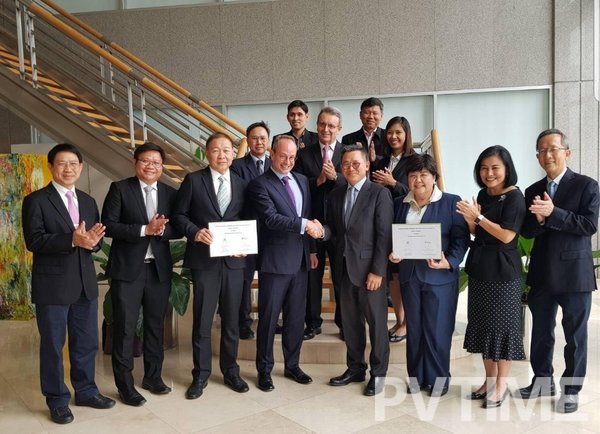 "Customers come to Total Solar to reduce power costs and carbon footprint in a sustainable way. Betagro wanted a partner that could provide them with peace of mind from a technical, financial and commercial perspective. We are excited to become a long-term energy partner for Betagro and proud to be trusted by them with such a landmark project," says Gavin Adda, CEO of Total Solar Distributed Generation for Southeast Asia.
The project will create one of the largest corporate solar portfolios in Thailand. The PV system will combine more than 62,000 solar panels, equivalent to covering 36 soccer pitches.
"With this project in Thailand, Total Solar Distributed Generation continues to grow its reach in the dynamic solar market in Southeast Asia where renewables will represent 30% of power generation sources by 2040[1]," says Julien Pouget, Senior Vice President, Renewables at Total. "We are committed to helping our commercial and industrial customers drive down both their energy costs and carbon footprint by providing reliable fully integrated solar solutions."
Mr. Vasit Taepaisitphongse, CEO and President, Betagro Group says, "Betagro runs business on the sustainable way which not only improve society's quality of life while reducing impact to environment. We also have strong interest in clean and environmentally friendly energy such as solar power. The implementation of these solar-powered solutions will be very beneficial to our operations, effectively managing to drive down our costs and the impact on environment. We are confident that the partnership with Total Solar Distributed Generation will help Betagro Group achieve these objectives."