PVTIME - Sungrow, the global leading inverter solution supplier for renewables, presented its latest "1+X" Modular Inverter and liquid cooled energy storage system (ESS) solutions at Solar Power Mexico 2022, facilitating the energy transition and decarbonizing economies in Mexico.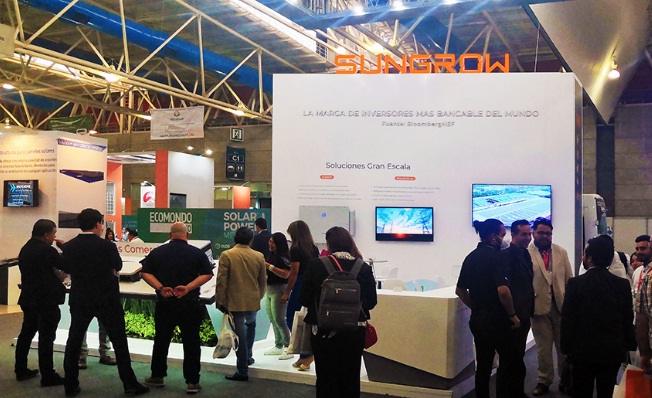 Solar resources in Mexico are among the best in the world due to 300 days of sunshine a year. With the country's solar capacity reaching 10 GW at the end of 2021, solar energy continues to show attractive opportunities for stakeholders.
Utility-scale solar is attractive in Mexico, while lower costs of solar energy and streamlined operation and maintenance (O&M) remain challenging for market players. During the exposition, Sungrow introduced its flagship "1+X" Modular Inverter which is expected to lead the next generation inverter designation for utility-scale solar plants.
The "1+X" Modular Inverter features a 1.1 MW single unit as the minimum, and the maximum capacity can be expanded to 8.8 MW by combing eight units. To meet their requirements, customers can choose from 1.1 MW to 8.8 MW. The Company stated that the "1+X" Modular Inverter redefines the inverter with both sides of "string inverter" and "central inverter" and is a game-changing innovation that will shape future energy as it incubates more possibilities for different stakeholders. Due to its comprehensive modular design, the inverter significantly streamlines O&M and guarantees favorable yields for applications.
Mexico also sees an increased demand of battery storage facilities as they can tackle the volatility and intermittence of renewable energy. Sungrow showcased its latest liquid cooled ESS solutions, the PowerTitan and PowerStack. The solutions achieve higher efficiency and performance levels through liquid cooled technology. The new cluster controller can charge and discharge battery racks individually, which improves the overall system performance. The automatic state of charge (SoC) calibration and the automated coolant refilling considerably reduce operating and maintenance costs.
"Sungrow is not only the global No.1 inverter supplier, according to the latest-released IHS Markit inverter ranking, but also a world's leading energy storage system supplier with over a 16-year track record in this sector. We are ready to offer ESS solutions to the Mexican market as energy storage is unstoppable in Mexico and we believe the projects to be supplied will be more durable, reliable, and profitable based on cutting-edge technology and professional services," said Antonio Perea, Director of DG Business Mexico in a presentation at the exhibition.