PVTIME - Polysilicon, the refined form of grey silicon metal made of quartz, is essential for both semiconductor devices and solar cells. However, the majority of the demand has now shifted from semiconductors to the solar industry. As a pivotal raw material in the solar photovoltaic (PV) supply chain, the cost of silicon materials is crucial for the while PV industry.
On 25 September 2023, LONGi the PV giant, announced a decrease in the cost of its p-type M10 150μm (182/247mm) mono wafer from 3.38 yuan per piece to 3.10 yuan per piece, constituting a drop of 0.28 yuan or 8.28%. The very next day, TCL Zhonghuan lowered its p-type and n-type wafer prices across the board. These price reductions are primarily attributed to the ongoing decline in silicon materials and the excessive production capacity.
Polysilicon prices have performed erratically crazy over the past decade.
From the 1950s until the 1990s, high-purity polysilicon was only made for the semiconductor industry. In 1995, the semiconductor sector accounted for 90% of polysilicon demand, while the remaining 10% came from unused silicon from the semiconductor industry, which was used to produce solar cells in the small PV sector. The rapid growth of the solar industry has led to a shift in production, though. In 2014, there was a complete reversal in the ratio of the two primary uses of polysilicon. The PV industry accounted for 90% of the demand for polysilicon, while the semiconductor sector accounted for only 10%.
With the rapid expansion of the global photovoltaic industry, China has witnessed significant growth in its polysilicon production capacity. Between 2012 and 2021, the country's polysilicon production capacity increased from 160,000 to 560,000 tonnes, with a corresponding rise in annual output from 84,000 to 487,000 tonnes. This represents a compound annual growth rate of 19%, and has increased China's share of global polysilicon production from 35% to 78%.
Meanwhile, prices and profits skyrocketed during that period. From 2011 to 2021, silicon prices surged in China. In the first half of 2011, the price of silicon reached 210,000 yuan per tonne. In Q2 2021, the upward trend continued due to faulty production capacity expansion, while demand remained high. In 2022, polysilicon prices in China continued to rise. On 5th July 2022, the price of polysilicon experienced a significant surge, reaching 284,000 yuan/tonne, which is the highest price in the last decade. Moreover, with the downward trend of industrial silicon prices, the profit margins of polysilicon enterprises are further increasing, incentivising them to scale their operations.
In the years 2021 and 2022, the top producer of polysilicon reigned supreme in the PV industry of China, yielding the greatest profit. Chinese silicon firms listed on the stock exchange were particularly prosperous. Tongwei, a major producer of silicon, realized a net profit of 25.7 billion yuan in 2022, indicating an increase of 217.25% year on year, surpassing profits from the entirety of 2000 to 2021 combined.
However, this pursuit of profit is not feasible in the long run. Once investors seeking profit enter the polysilicon market to expand production on a large scale and disrupt the balance of supply and demand, the price of silicon will inevitably decrease.
According to the China Photovoltaic Industry Association (CPIA), China produced 827,000 tonnes of polysilicon in 2022, marking a year-on-year increase of 63.4%. The estimated production capacity of silicon materials in China, expected to grow to 2.404 million tonnes by the end of 2023, is set to receive a boost of 1.201 million tonnes.
At the end of October 2022, TCL Zhonghuan for the first time in 2022 reduced the price of silicon wafers, signalling a potential inflection point for the price of silicon materials. Following suit, LONGi lowered their wafer prices, and then the silicon material prices dropping below 300,000 yuan per tonne. Some PV players claimed that demand for the polysilicon dense material priced at 250 pounds/kg was low, as buyers were anticipating a further decline in silicon prices and seeking better bargains.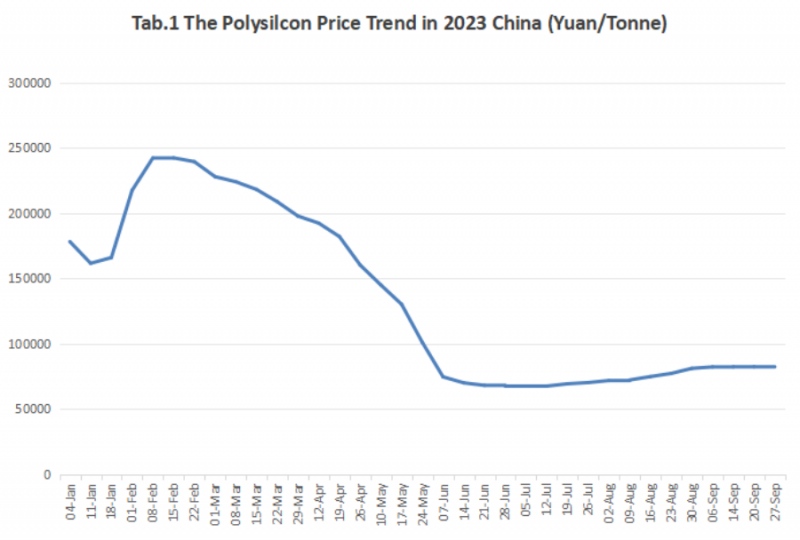 In the initial half of 2023, there was fluctuation in the prices of polysilicon. However, in late September of the same year, following 12 weeks of gradual increase since July, polysilicon prices have stabilised at 82,300 yuan per tonne. There are indications that these prices may begin to decline, causing speculation as to whether they will reach their historic low of 55,000 yuan per tonne in the future.
Restricted by the marginal cost, the likelihood of reverting to 55,000 pounds per tonne is low. As polysilicon inventory accumulates, downstream manufacturers are primarily transitioning from lengthy, single procurements to weekly ones. This transition accelerates the current rate of fluctuation for polysilicon prices, which has now transmitted the effects of declining upstream photovoltaic prices to the downstream demand side. As a result, the price of polysilicon is expected to maintain its downward trajectory towards 100,000 yuan per tonne. This comment comes from the general manager of the polysilicon division at CICC.
Daqo, a top manufacturer of silicon materials in China, claimed on 15 May 2023 that due to the expansion of capacity by both existing and new manufacturers, a reduction in price is inevitable. However silicon prices rose in 2022 and reached a peak of over 300,000 yuan per tonne, it is difficult to predict the trends. Daqo viewed positively for the silicon price in 2023. Nevertheless, Due to the decreasing cost of silicon, Daquan kicked off of industrial silicon manufacturing project the upstream. In October 2022, Daqo announced to launch a high-purity industrial silicon project with a capacity of 300,000 tonnes per year and a silicone project with a capacity of 200,000 tonnes per year in Inner Mongolia of China. On 28 March 2023, Daqo stated that they plan to focus on producing, researching, and selling polycrystalline silicon as well as industrial silicon, to enhance its advantages in cost, quality and capacity.
The existing supply and cost of silicon material are impacting the profit of manufacturers dealing with it. On 27th April, Daqo disclosed its Q1 2023 performance that its operation revenue was 4.856 billion yuan during the reporting period, which is down by 40.26% year-on-year. Meanwhile, it made a net profit of 2.911 billion yuan, marking a 32.49% year-on-year drop. Daqo explained that the price competition between the suppliers and customers in the first quarter resulted in reduced sales and a subsequent decrease in operating income.
GCL Technology (03800. HK) stated that a decrease to 55,000 yuan per tonne is improbable due to an overall increase in costs, particularly industrial silicon and electricity, which are priced higher than in 2020. Although there may still be cases where it drops below 70,000 yuan per tonne in the future, the likelihood of a long-term decrease below this value is minimal. By that time, the majority of the ineffective capacity will have been eliminated, and the implementation of any additional capacity will come to a complete halt.
The downtrend of polysilicon price seems to be doomed in 2023 although it increased a little bit in the Q1 2023.
Hoshine Silicon Industry Co., Ltd. (603260. SH), a prominent company primarily involved in the production of silicon-based materials, has adopted a downstream strategy while Daqo moves upstream. Over the period of April 2023 to July 2023, Hoshine has invested a total of 22 billion yuan in the manufacture of solar module projects in China, producing 28GW, as well as 4.455 billion yuan for 1.5 million tonnes of ultra-thin, high-transmission photovoltaic glass. Despite the possibility of polysilicon prices dropping to 70,000 to 80,000 yuan per tonne, Hoshine remains confident in maintaining its profitability.
Hoshine's significant investments in the polysilicon production was not stopped with two new polysilicon projects launched in 2022 and 2023. According to Mr. Luo Liguo, Chairman of the board, the company's production capacity of polysilicon is expected to reach 400,000 tonnes by the end of 2023, making it the largest producer of polysilicon in China and potentially worldwide. Although the cost of polysilicon at 300,000 yuan per tonne is quite unfavourable, Mr. Luo suggested that producing 400,000 tonnes at a profit of 10,000 yuan per tonne could result in a total revenue of 4 billion yuan. Consequently, the project remains financially viable and worth pursuing.
Most silicon companies may face a bleak future.
The decline in silicon prices presents a significant challenge for most of silicon manufacturers. During the late 2020 to early 2021 period, only 5 out of the original 20 global producers were able to endure the harsh reshuffle seen during the previous downturn cycle, which is one of the main factors behind the subsequent increase in silicon prices. Despite the notable companies having a cost benefit, the long-lasting low cost of silicon has led to a gradual reduction in both revenue and profit.
In June 2023, the cost of monocrystalline re-injection material, dense material, and polysilicon material have decreased significantly by 47.70%, 48.13%, and 49.92%, respectively compare those in May 2023. In less than a month, the prices of all types of silicon material have decreased by almost 50%, which indicated that there is an excess supply of silicon material.
Data from the supply side confirmed this. From January to May 2023, the polysilicon production reached a total of 530,000 tonnes in China, a 90% increase from the previous year. In May 2023 alone, the polysilicon production reached around 115,600 tonnes, representing a 4.6% increase from the previous year.
The price of polysilicon may further decline, once the newly planned capacity reaches operational in China. The current prices has dropped to a level where closed to the cost of some second-tier producers. The top companies may maintain the profit with efficiently manage of the costs in short term. The present selling price is not enough to cover the expense of the manufacturers with older production units, that they may have to shut down. The operation expanse for the new players is crucial and may lead to the delays in production as well. It will be the game of brave and anyone could be phased out of the silicon industry very soon if the downtrend of silicon prices continues.