PVTIME – On December 9, Jolywood (Suzhou) Sunwatt Co., Ltd. (hereafter referred to as the "Company") issued an announcement stating that its holding subsidiary Jolywood (Taizhou) Solar Technology Co., Ltd. (hereafter referred to as "Jolywood") has made significant progress in the mass production efficiency of N-type monocrystalline cells. The mass production conversion efficiency of TOPCon cells produced by Jolywood has now reached 24.5%, which is the highest mass production efficiency in China.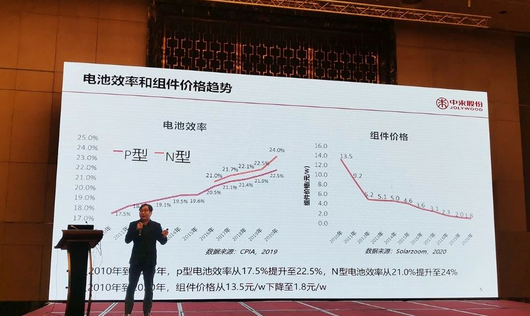 The announcement stated that Jolywood has adopted a new generation of J-TOPCon 2.0 technology which utilizes the world's leading POPAID (Plasma Oxidation & Plasma Assisted Insitu-doping Deposition) technology. Compared with the TOPCon 1.0 technology which utilizes LPCVD, J-TOPCon 2.0 is able to achieve 24.5% solar cell conversion efficiency and higher yield by omitting the etching step of wrap-around Poly-Si which avoids damaging the pyramids of the surface. The single-side surface poly-Si deposition and doping of poly-Si can be completed in one step which can further decrease cost, and the coating thickness can be controlled within ± 0.1nm.
Jolywood further stressed that the breakthrough in conversion efficiency is the result of the company's long-term independent innovation in the field of N-type monocrystalline cells and that the breakthrough lays a solid foundation for capacity expansion and its next goal of achieving 25% conversion efficiency.