jack zhang
"Hello fellow townsman, meet again!" A kind greeting, let the reporter see the familiar Dr. Xu chengzeng - - modest, punctual, rigorous, wise. As the global President of dupont photovoltaic and advanced materials business group, xu chengzeng is usually based in the United States, but he always retains special feelings and extra attention to China and the development of photovoltaic industry. During the largest photovoltaic exhibition in China every year, dupont's new products brought by him can always bring effective and sustainable investment returns for solar energy investors, and bring surprises for Chinese photovoltaic enterprises, especially component enterprises, to reduce costs and increase efficiency.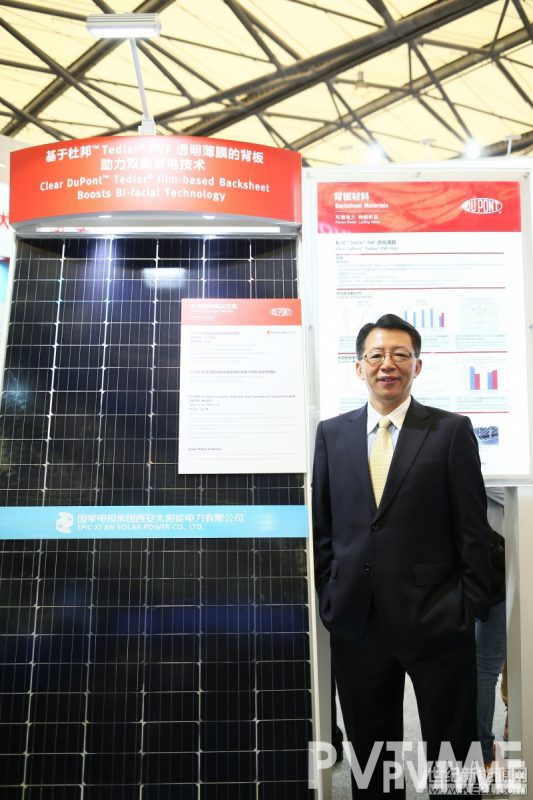 SNEC pv show in 2018, dupont also did not disappoint look forward to its customers: not only brought a new generation of Solamet photovoltaic conductive paste, Tedlar ® ® PVF transparent film back material, but also brought the new dupont photovoltaic product line after the merger of dow dow corning ™ brand organic silicon photovoltaic (pv) solution.
"This year the Tedlar ® PVF transparent film, is an ideal backplane materials applied in double power components, the materials have been used as early as 20 years ago in the outdoors. Compared with the current components with double glass structure, its superior air permeability can help the components to discharge the accumulated water vapor and acetic acid generated by the degradation of EVA layer, which can reduce the weight of the components by up to 30%, thus reducing the transportation and installation costs. At the same time, the assembly with frame is fast and easy to install, not only the cost of the bracket is low, but also help to improve the long-term reliability of the outdoor components.
Xu Chengzeng introduction, this kind of transparent Tedlar ® PVF film can be realized immediately process, adaptive current back and component manufacturing process, for most of the manufacturing process, almost no additional investment of equipment, production yield is higher than double glass component. "The use of this transparent film as a backing material for 72 pieces of double-sided high-efficiency components has been successfully applied in hydropower development projects in the upper reaches of the Yellow River, and 10-15% increase in the double-sided component's power generation efficiency can be achieved without too much increase in cost.
Through technological progress, reducing the cost of KWH is the consistent goal of Chinese and global pv industry. As the absolute leader of innovation in the field of photovoltaic material supply, dupont never stops exploring in product research and development, and always keeps the habit of bringing a new product to market every six to nine months. With Solamet ® conductive paste, for example, in the past 10 years, dupont launched more than 140 new products, to help push the output power of the component.
SNEC pv show in 2018, the latest generation of dupont Solamet ® PV21x is conductive silver pulp to upgrade again, can satisfy the requirement of mainstream p-type battery technology, have better performance and better contact ratio, can help improve battery efficiency more than 0.1%, and to maintain yield in mass production. At the same time, the best balance between good tension and low consumption will significantly reduce the cost of battery manufacturers.
In addition, dupont displayed the twin peaks 2 series polycrystalline silicon back passivation battery (PREC) module at the exhibition, with a power output of up to 300W. TATA Power Solar's highly efficient polycrystalline five main gate battery is on display, with a maximum conversion efficiency of over 19%.
"In terms of IBC technology, a slurry solution with access to P and N emitters is currently being mass-produced by sharp in Japan. At the same time, we are actively working with SERIS, an internationally renowned research institute, to design a paste specifically for heterogeneous junction (HJT) batteries, which can help achieve a conversion efficiency of 23.5%.
Xu Chengzeng revealed that, due to the outstanding contribution in the field of photovoltaic (pv) conductive paste for many years, dupont photovoltaic (pv) and advanced materials group of scientists with developed would greatly improve efficiency of solar cells, breakthrough innovation of conductive paste dupont ™ Solamet ® PV17x, dupont scientists collective won the American Chemical Society (American Chemical Society, ACS) Chemical yingjie prize in 2018. The award, presented annually by the American chemical society, recognizes talented industrial chemistry scientists who have successfully connected chemistry, commercialized products and benefited mankind.