PVTIME - Hongrun Construction Group Co, Ltd (Hongrun) (002062.SZ), a China-based company primarily in the construction and municipal infrastructure investment sectors, has recently signed a contract with the High-Tech Zone Committee in Xuancheng City for the development of the second stage of an efficient solar cell project. The PII of project entails an investment of 4.5 billion yuan.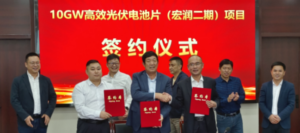 Hongrun's solar cell production began in April 2023, and the initial phase with a production capacity of 5GW of high-efficiency solar cells was operational in August. The subsequent phase will enhance the capacity by an additional 10GW. Upon operational, the entire project is anticipated to generate an annual sales revenue of 20 billion yuan and an annual tax payment of 400 million yuan.
Hongrun will proactively develop its new energy business while utilizing its fundamental competencies in building construction and infrastructure investment and construction. Building on its strong customer channels and extensive experience in construction, and with the backing of strategic investors, Hongrun is expected to boost investments in photovoltaic power plants. This will establish its presence across the vertical industry chain, spanning from power plant operation to photovoltaic EPC, photovoltaic modules and cells. At the same time, Hongrun will use the EPC and operation of photovoltaic power plants as an entry point to amplify its energy storage business and cultivate its overall energy services segment, boost its "Construction + New Energy" dual-force capability, optimise its business structure, and increase its profits.