PVTIME – Photovoltaic (PV) is a significant, long-term contributor to cost-competitive electricity generation and emissions reductions in the energy sector.
The growth of PV relies heavily on the supply of feedstock materials. polysilicon, the dominant material for fabricating solar cells, has historically been influenced by the volatile demand for semiconductors in the previous three decades. Presently, the manufacturing capacity, purity, and cost of polysilicon play pivotal roles in the power conversion efficiency of cells and substantially impact the PV industry.
The polysilicon market has been dominated by seven manufacturers from the USA, Germany, Japan, and Italy for several years. Chinese producers have entered the market with bold capacity expansions ten years ago, shipping electronic grade, solar grade, and upgraded metallurgical grade polysilicon to international customers. In 2018, Chinese producers had a 55% global share of polysilicon output, which increased to more than 75% by 2022.
Global Polysilicon Production Capacity 2022
According to the China Photovoltaic Industry Association (CPIA), the worldwide production capacity for polysilicon was 1.341 million tonnes in 2022, showing a 73.3% year-on-year rise. The worldwide output of polysilicon reached 1.001 million tonnes in 2022, indicating a 55% rise. The production of electronic-grade polysilicon totalled about 39,200 tonnes, with 900,000 tonnes of solar-grade bulk silicon and 61,600 tonnes of granular silicon produced, equating to 3.9%, 89.9%, and 6.2% of global polysilicon production, respectively.
By 2022, the top ten global polysilicon manufacturers had a production capacity of 1.131 million tonnes per annum, representing 84.3% of the global capacity. This shows a rise of 60.4% from the recorded 705,000 tonnes per year in 2021. Additionally, the combined output of the leading ten polysilicon companies globally was roughly 943,400 tonnes, which represents 94.2% of the worldwide output, a surge of 58.5% from the total production of 595,300 tonnes in 2021. In 2022, the aggregate output of the leading five polysilicon enterprises globally was 772,300 tonnes, representing a concentrated share of around 77.2% of the worldwide output.
For key overseas manufacturers who outside of China, the total production capacity reached 156,000 tonnes in 2022.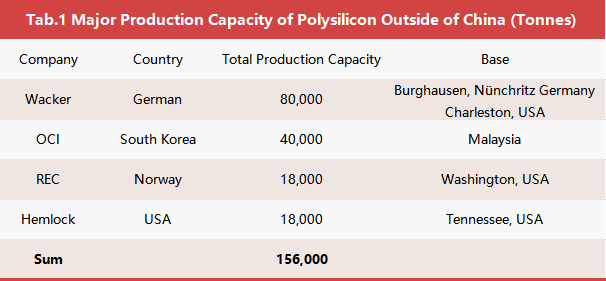 Yet, as of 2022, all new polysilicon plants are located in China. There are 14 active polysilicon enterprises in China capable of producing a total of 1.166 million tonnes in 2022, displaying an 87.2% year-on-year increase. The total output of polysilicon has risen to approximately 857,000 tonnes, indicating a 69.4% year-on-year increase. The rise in capacity results mostly from the commissioning of new production lines of Tongwei Solar, GCL-Poly Energy, Xinte Energy, Qinghai Lihao Semiconductor, Asia Silicon, and the resumption of production from Yichang CSG Polysilicon, and Juguang Silicon (a subsidiary of Risen).
The combined capacity of the top 10 polysilicon manufacturers in China exceeded 918,000 tonnes by the end of 2022, with approximately 1.5 million capacity expected from newly launched polysilicon projects in 2023. Most of the new capacity is planned to become operational in Q3 2023.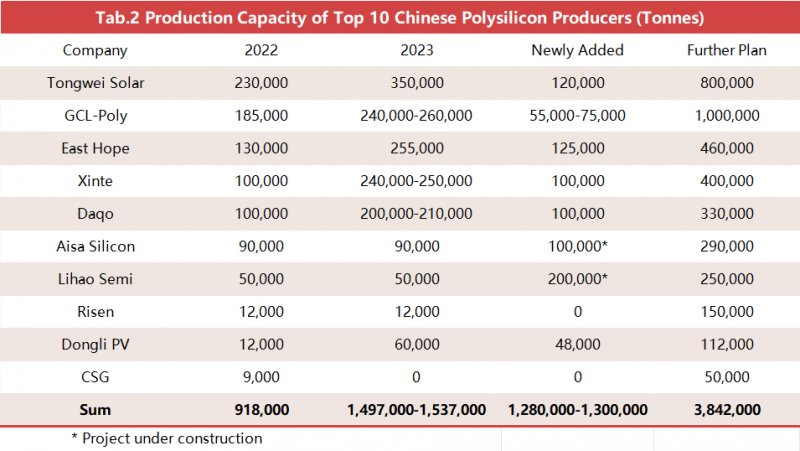 The shortage of polysilicon resulted in high prices in 2022, leading Chinese manufacturers to expand their capacity and reduce costs. While most worked to increase production capacity, the output of silicon materials was only 920,000 tonnes that year, equivalent to 370GW of silicon wafers – considerably less than the wafer production capacity of 621GW in that year.
Fortunately, the increase in domestic production capacity in China in 2022 has led to a reduced demand for imported polysilicon, whereas the protectionist duties on polysilicon imports into China led to a considerable growth in the country's domestic production years ago. In 2022, China imported solar-grade polysilicon worth USD 2.58 billion, marking a year-on-year increase of 38%. Nevertheless, the import volume decreased by 20.9%, amounting to approximately 87,000 tonnes. The decrease in demand for imported polysilicon was due to the expansion of domestic polysilicon production capacity. However, the price of domestically grown polysilicon remained high in 2022, leading to an increase in polysilicon imports. As a result of increased availability of polysilicon in China, imported polysilicon constituted approximately 9.5% of domestic usage in 2022, indicating an 8.4% year-on-year decline.
Bold Capacity Expansion in China 2023
As stated, the growth of PV hinges on a steady supply of raw materials. In order to fulfil the worldwide needs for solar deployment, numerous other companies in China intend to widen their production of polysilicon, aside from the aforementioned expansion designs.
There are several polysilicon factories currently being constructed, with a total production capacity of 670,000 tonnes set for 2023. Certain solar cell and module players are also contemplating plans for new polysilicon infrastructure.
It is confirmed that Chinese PV producers favour a secure supply rather than unstable sources, and nothing could prevent them from installing a solar system that generates clean electricity.
Outlook for the Polysilicon Market in China
It is predicted that by 2023, the Chinese PV market will achieve self-sufficiency for the feedstock of its own solar industry. The production of silicon material is expected to reach 1.5 million tonnes in China by 2023, which is equivalent to approximately 625GW of wafers. The estimated production capacity of wafers is projected to exceed 900GW, with a demand for 460GW of wafers for PV installation.
Meanwhile, the reduction of silicon consumption due to the accelerated development of thin wafer and fine wire had a positive impact on the polysilicon market. The rapid increase in silicon material price from 2021 onwards drove the development of thin wafer and fine wire. In 2022, the thickness of P-type wafers was reduced to 155μm, down 15μm from 2021, the average thickness of n-type wafers used in TOPCon cells was 140μm, and the thickness of wafers used in heterojunction cells was about 130μm. The diameter of the mainstream diamond wire will drop to 38μm in 2022, down 4μm from 2021, and some manufacturers will introduce tungsten wire to achieve a busbar diameter of 32μm, further reducing silicon consumption. Total polysilicon production capacity is expected to exceed 2.3 million tonnes per year by the end of 2023, reaching 3 million tonnes per year before 2025 as part of the polysilicon plants come online, producing a total of 2.4 million tonnes of polysilicon at 80% capacity. The polysilicon materials may not be scarce and prices won't be uncontrollably high.
However, to produce high-quality polysilicon products, technological innovations or process upgrades are needed. At present, only top producers in China are able to produce silicon good enough for monocrystalline solar cells. As a result, Chinese PV players are dependent on imports of high-quality polysilicon, mainly from Wacker and OCI.
The Chinese solar industry is also pushing monocrystalline technology. Instead of multicrystalline solar panels, monocrystalline panels have been favoured by the efficiency thresholds for PV installations since China's National Energy Administration launched the Top Runner Program in 2015. This programme has spurred the massive capacity expansion of China's two largest monocrystalline solar wafer manufacturers, LONGi and TCL Zhonghuan, which in turn boosting monocrystalline's market share.
Most importantly, the amount of polysilicon produced significantly affects the cost, and higher production is projected to lessen the price. Nevertheless, on 30th August 2023, China Silicon Industry unveiled the seventh rise in polysilicon price since 5th July 2023. Currently, the cost of n-type silicon material in China ranges between 90,000 and 95,000 yuan per tonne, with the market average standing at 91,300 yuan per tonne this week, marking a 2.47% weekly increase. The cost of dense mono-grade polysilicon varies between 8,025 and 9,240 yuan per tonne, with an average price of 8,962 yuan per tonne, represents an increase of 5.46% weekly. The report states that high demand in September has led to an increase in the average price of polysilicon in China. Additionally, wafer prices rose last week, such as LONGi's wafer prices rose by 15.35% on 25 August, further boosting the price of polysilicon.
As predictions for the price of polysilicon are typically based on the industry's cost curve. It is expected that in the near future, the balance between the supply and demand of silicon will remain uneven, resulting in a slight price increase. Nonetheless, it is anticipated that in October, there will be adequate polysilicon supplies, causing prices to decrease gradually.