CHANGCHUN, China, December. 17, 2019 /PVTIME/ -- Recently, according to the State-owed Assets Supervison and Administration Commission of State Council (SASAC), Xinjiang East Hope New Energy Co, Ltd.'s world's largest polycrystalline silicon producing unit successfully produced qualifying trichlorosilane products during its trial run on December 1.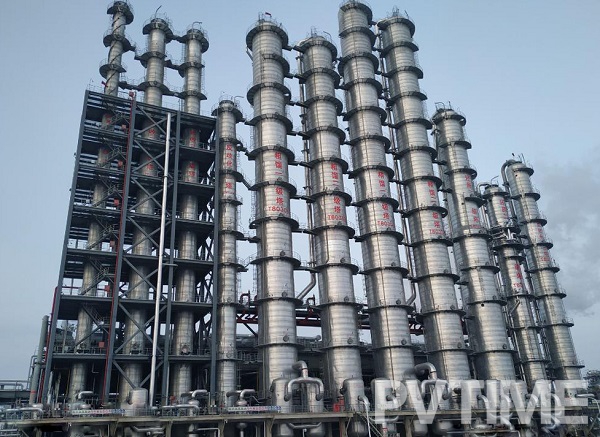 The plant, which has an annual polycrystalline silicon production capability of 120,000 tons (30,000 in phase I), is contracted by China National Chemical Engineering Group.
During the trial run, the conversion rate of trichlorosilane in the cold hydrogenation unit exceeded 20% and the purity of trichlorosilane after distillation and purification in the distillation unit was 99.9999%, indicating the trial run's success and the project's readiness to be put into operation.
Relying on the abundant silica, coal resources, and power generation advantages of the area, Xinjiang East Hope New Energy Co, Ltd. officially launched this project in Wucaiwan Industry Park, Jimusar Country of Xinjiang. Focused on silicon material production and the construction of supporting industry infrastructure, the project looks to extend the new energy industry chain and transform the area's natural resource and technical advantages into economic advantages. Once it is fully completed, the project will play a supporting and stimulating role in the optimization and upgrading of local industrial infrastructure, which will have a positive and far-reaching impact on the entire country's new materials and new energy industries.