PVTIME – Solar energy continues to dominate the renewable capacity expansion as installation rates rise due to technological advancements and economies of scale bringing down the levelized cost of electricity (LCOE).
The continuous pursuit for the lowest LCOE has become a major focal point for the photovoltaic industry, PV power generation technology seems to be advancing at a quicker pace, as evidenced by the faster-than-conventional speed in updating of product technology.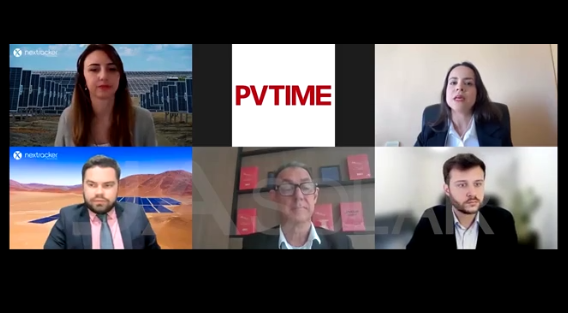 In our latest webinar: Next-Gen Solar Modules and Their Impact on Levelized Cost of Electricity, a panel consisting of four veterans in the fields of the solar industry, currently leading teams at JA Solar, Sungrow, and Nextracker, shed light on how their respective organizations are navigating through the evolving landscape while creating the most value for their clients.
JA Solar Senior Vice President, Dr. Xinming Huang, began the event through a pre-recorded message where he addressed the challenges COVID-19 has created for JA Solar's employees, customers, and communities. Mentioning 2021 as possibly the most challenging year for the industry since the early 2010s, Dr. Huang said that the dramatic increase in raw material and logistic cost has been exceptionally challenging and that he appreciates the collective understanding that JA Solar's customers and colleagues have in working together to get through this period and thrive in the future.
Dr. Huang added, "Despite the challenging macro conditions resulting from the pandemic, Latin America in general and Brazil in particular, has proven to be a highly resilient market for solar energy with tremendous potential. As demand for power continues to grow and power generation mix continues to evolve, we are positive on the outlook for PV development, both on the distributed generation side as well as the larger power plant business in Brazil."
Next, Fernando Castro, JA Solar Brazil Regional Manager, talked in detail about JA Solar's progress on the innovation front. Focusing on JA Solar's DeepBlue3.0 series modules based on 182mm wafers launched in 2020, Mr. Castro highlighted what makes the product the optimal solution for decreasing LCOE.
Combining PERCIUM+ cells, gallium-doped wafer, 11 busbar half-cell design, DeepBlue 3.0 modules can significantly reduce BOS costs of the system, especially the cost for structures (accounting for approximately 10% of the system costs). Compared with other types of modules, DeepBlue 3.0 modules have the optimal price advantages regardless of whether they are installed with fixed structures or trackers. Presenting the DeepBlue 3.0 Pro, the latest version released earlier this month at the 2021 SNEC in Shanghai, Mr. Castro said that, "Compared with the regular modules, the efficiency of the DeepBlue 3.0 Pro is about 0.4% higher, and the power is about 10W higher."
Mr. Castro then talked more about the DeepBlue 3.0 series and its system compatibility with inverters and mainstream installations such as fixed structures and trackers. DeepBlue 3.0 modules are perfectly compatible with central inverters and string inverters. For central inverters, the inverter fuses, switches, and other components can be upgraded to achieve perfect compatibility with 182mm modules. For string inverters, perfect compatibility can be achieved with 182mm modules when the power generation gain of bifacial modules reaches 15%, even without considering the DC loss at the module side. According to the development trend of inverter technology, the power of both string inverters and centralized inverters will be gradually increased within a certain range, and the rated current will also be adjusted with the working current of modules. For the installation of trackers, the tracker manufacturer needs to make recalculation according to the size and weight of modules to provide the most cost-effective solution.
Mauro Basquera, a Product Specialist of Sungrow, centered his presentation around the new possibilities that have been created by the increased power output of the module and what it means for the inverter and battery storage sector.
After a brief introduction of Sungrow and the types of products and solutions which it offers across different segments, he went on to discuss the main advantages a DC-coupled system has against an AC-coupled system. Mr. Basquera explained that the DC-coupled system allows for the increase of the DC/AC ratio without fear of loss of yields due to clipping, offers greater cost savings by reducing the number of MV stations required, resulting in a greater system efficiency which in turn leads to savings on O&M, commissioning, and labor cost.
On the application benefits of DC-coupled systems, Mr. Basquera shared that the DC-coupled system reduces grid impact ramp rate control of the PV power plant. Through clipping recapture, it also minimizes the power clipping losses for high DC:AC ratio projects, especially in the summer when the inverter is only able to convert a maximum amount of energy. Lastly, curtailment recapture is used when the network operator limits export. In non-storage scenarios, this would mean either the PV plant switching off or turning down, both leading to yield losses. However, similar to clipping recapture, curtailment recapture allows the operator to divert the energy to batteries rather than reducing its output, allowing for the export of the stored energy at a later stage when network conditions are better.
Mr. Basquera then followed up with several scenarios with varying conditions.
The last portion of the webinar was presented by Nextracker Asset Manager LATAM, Juliana Santos, and Project Coordinator/Project Engineering LATAM, Lucas Kauer.
Ms. Santos began by acknowledging that solar tracks have to adapt and make adjustments to meet the challenges larger modules present and how important it is for Nextracker to continue to work hard to maintain its position as the leading solar tracking systems provider.
Ms. Santos went on to present the NX Horizon and NX Gemini which are the industry's most advanced smart solar trackers and optimized for the complete range of tier one modules, supporting monofacial, bifacial, FSLR S6, and 182-210mm formats. She then introduced Nextracker's software and control solutions: TrueCapture and NX Navigator which improves monitoring precision and has been proven to increase energy yield up to 6%.
Next, Mr. Kauer presented the evolution of PV module size and pointed out that it has gone from 156mm 72 cell design in 2015-2017 to upwards of 182mm 156 cell and 210mm 120 cell design in 2021. Due to the prevalence of large format modules, Nextracker has identified key elements that have to be addressed.
With increased module size, trackers need more torque on the drive system, stronger module rails, and higher static and dynamic wind loads. To counter the increased weight of the modules, trackers require more hardware for structural support and higher install time per module. Higher module current means trackers need larger conductor sizes, increased fuse and connector railings, lower voltage per module, and longer string lengths.
Larger modules require thorough wind design analysis and wind tunnel testing, structures need to be re-analyzed to fit the module lengths, pier to pier spans, and tracker lengths of larger modules for accurate results. Multiple frequency and dynamic modes must also be studied and prevented. Mr. Kauer noted that lower wind speeds can cause catastrophic damages and sites with frequent winds, not just peak winds, and require advanced analysis.
On this front, Nextracker and JA Solar have conducted joint testing and confirmed the compatibility between its module and tracker structure.
Since informed developers and asset owners focus on the levelized cost of energy (LCOE), compared to 166mm modules, 182mm modules offer a 17% increase in power per row, 18 to 22% labor reduction, 13-16% pier reduction. At the same time, saves the total amount of wiring and land area required.
Ms. Santos then concluded the presentation by discussing how Nextracker's NX Navigator with its Hail Stow Mode, Intelligent Wind Stowing, and Snow Shed Mode can help owners protect their assets when it comes to weather issues that can be damaging to operations.
In closing, with the arrival of the grid parity era, the industry has recognized the benefits of deploying high-power modules in large sizes for their ability to reduce the LCOE. More importantly, increasing installed capacity has the extremely positive consequence of driving down the price and thereby making renewable energy sources more attractive, earlier.
Falling energy prices also mean that the real income of people rises. Investments to scale up energy production with cheap electric power from renewable sources are therefore not only an opportunity to reduce emissions but also to achieve more economic growth.
A replay of the webinar and the Q&A session in Portuguese can be viewed at: https://www.youtube.com/watch?v=-zAcis9quN0&t=2547s