PVTIME – Trina Solar announced that its ultra-high power 660W+ Vertex module series has obtained two IEC certifications, marking another major breakthrough for the reliability of Trina Solar's Vertex modules. The IEC 61215 certification for photovoltaic module performance and IEC 61730 certification for photovoltaic module safety were issued by TÜV Rheinland.
The certification ceremony was held in Changzhou, Jiangsu. Zhao Mengyu, Senior Director of Trina Solar's Quality Department, and Mr. Zou Chicheng, Vice President of TÜV Rheinland Greater China Solar Services, attended the certification ceremony.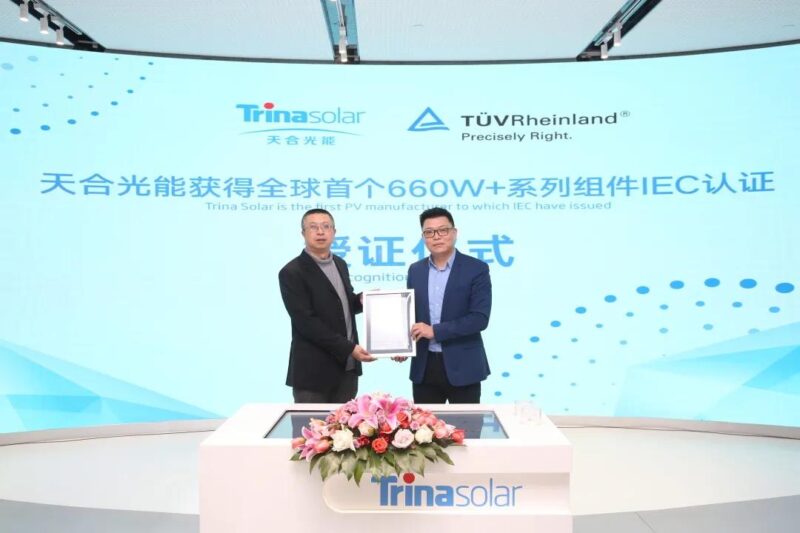 Zhao Mengyu and Zou Chicheng at the certification ceremony (Source: Trina Solar)
Mr. Zhao Mengyu expressed at the certification ceremony that Trina Solar has always pursued breakthrough innovations supported by reliable quality and driven by the goal of maximizing value for the customer. The application of the 210mm Vertex 660W+ series has showcased its ability to reduce the cost of photovoltaic systems and photovoltaic power generation to help achieve the "14th Five-Year Plan's" renewable energy development goals while accelerating photovoltaic power generation into the era of grid parity. In the future, Trina Solar will continue to advocate the use of solar energy to benefit all mankind and build a zero-carbon world.
Mr. Zou Chicheng, Vice President of TÜV Rheinland Greater China Solar Services, said: "First of all, on behalf of TÜV Rheinland, I would like to express my warm congratulations on the IEC certification of Trina Solar's 660W+ Vertex modules. High-power and high-efficiency are the future directions of module development and the most cost-effective measure to achieving lower LCOE. The IEC certification of Trina Solar's 660W+ series is another breakthrough in the field of ultra-high power modules after Trina Solar's 550/600W+ modules obtained IEC certification in September 2020. At the same time, this breakthrough will create more possibilities for larger photovoltaic power plants to reduce system costs, reduce electricity costs and increase power plant revenue."