PVTIME - Sungrow, the global leading inverter and energy storage system solution supplier, made a high-profile appearance at Solar Pakistan 2023 during 10-12 March by providing its commercial storage system PowerStack, residential solar-plus-storage solutions, and cutting-edge commercial inverters, as well as utility solution 1+X Modular Inverter. The Company also signed 145 MW distribution agreements with local partners including SkyElectric, Wateen Energy and Uenergy at the expo to further facilitate Pakistan's 2030 ambition to generate 60% of its electricity from renewable sources.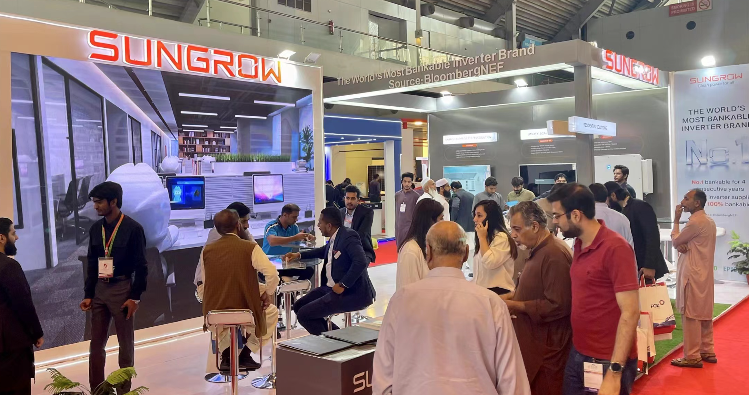 Major growth in solar PV has been attributed to distributed generation systems including those for the utility business and residential applications. It is convinced that solar installers in Pakistan are looking to provide their customers with the highest-quality, safest, and most reliable products. The products that Sungrow displayed are expected to be a game changer for commercial and homeowners who desire maximum control over their energy usage in Pakistan.
The PowerStack, the competitive energy storage system (ESS) for commercial and industrial (C&I) installations, leverages Sungrow's highly integrated intelligent liquid cooling technology for excellent reliability, easy transportation and O&M, and economies of scale. This high-efficiency ESS solution with long battery cycle life is pre-assembled, and the modular design with multi-level protection layers supports parallel connection and easy system expansion, providing C&I customers with flexible, safe and reliable energy storage at low cost, along with Sungrow's CX-P2 series of inverters.
In addition, homeowners in Pakistan are also increasingly looking to save on electricity costs and minimize their environmental footprint. Sungrow is very proud to support the distribution of its residential solar solutions with three-phase PV inverters ranging from 5 kW to 20 kW, enabling installers to get the technology they need.
Moreover, Sungrow's solar systems are outfitted with iSolarCloud, which connects its solar system to web portal & APP monitoring platforms, making energy monitoring easy. This particular centralized PV plant management with low O&M cost and user-defined views can provide full system supervision via multi-dimensional analysis, and also enables homeowners and utility-scale users to track both electricity generation and consumption data in real time to understand their bills well.
The rapid growth of Sungrow is largely due to its network of dedicated installer partners in the region who fully understand the benefits of Sungrow's technology and how it meets the needs of its customers. Sungrow and its partners are dedicated to providing innovative, industry-leading products and technical support as well as best-in-class customer service, to increase their independence away from unstable traditional power sources. Sungrow is excited to see more installers in Pakistan adopt its products and solutions to meet the growing demand following the introduction of the C&I and residential portfolio in 2023.
"Pakistan is one of the most potential solar and energy storage hubs, and one of Sungrow's essential strategic markets. The smart, safe and efficient solar and energy storage systems of Sungrow are expected to be delivered to utility-scale, commercial & industrial and residential users across Pakistan, contributing to the country's energy supply and climate change mitigation," said Howard Fu, Country Director of Sungrow Pakistan.