Sungrow announced that its shipments across Vietnam surpassed 1 GW during an official function, suggesting the Company's commitment to the region and that it is poised for another strong period of growth in 2019. Notably, Sungrow signed another 1 GW contract with Vietnam based company onsite.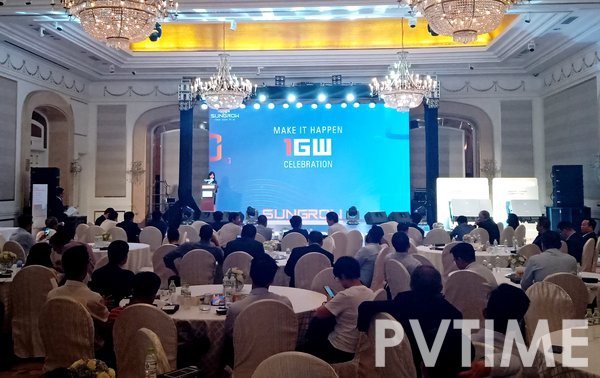 Sungrow Shipments to Vietnam Surpass 1 GW
Vietnam is endowed with ample sunlight and favorable policy incentives. In particular, its FIT programme makes the country one of the most anticipated solar hubs in Southeast Asia. Sungrow provides world-class products and service to the customers with the ever-growing pipeline as well as its local office, which opened in early 2018.
With current shipments over 1 GW of volume and roughly 40% of market share in Vietnam, Sungrow's key product offerings in this region are 1500Vdc central inverter series and the powerful solutions, like SG3400HV-MV and the 6.8 MW turnkey solution with smart monitoring systems and PPC. Meanwhile, focusing on the growing commercial rooftop segment, Sungrow also brings new string inverters SG110CX and SG50CX, which will be on display at the coming Solar Show Vietnam.
The industry leading solutions from Sungrow have been installed in numerous projects in Vietnam, in particular most recently, two PV farms with total capacity of 100MW located in Dak Lak province were just commissioned. Early this March, the Deputy Prime Minister of Vietnam gave a visit to this landmark project, garnering nationwide attention to renewable energy.
"We appreciate the partnership with Sungrow to help decarbonize the economies. And we value Sungrow's proven performance track record and efficient features for the various interconnection requirements," said Mr. Le Quang Minh, CEO from Dai Hai Power.
"We try to push the boundary of innovation to deliver sustainability to customers. Providing the technological know-how and a more comprehensive product portfolio to the region will enable customers to benefit both from the enhanced bankability and technological advances," said Thang Vu, Country Manager of Sungrow Vietnam.
As the FIT scheme is set to expire at the end of June 2019, Vietnam is considering multi-layered solutions for a more balanced solar deployment in the future. The strong demand tends to continue as the country's renewable energy will be major contributor to the country's economy.