"Best Solar Inverter Company in The State" from India famous media has been awarded to SOFARSOLAR, which recognizes SOFARSOLAR development progress in Indian rooftop sector. For SOFARSOLAR, this award strengthens its confidence and determination to continue to develop steadily in the Indian market and try to become one of best inverter companies in Indian market.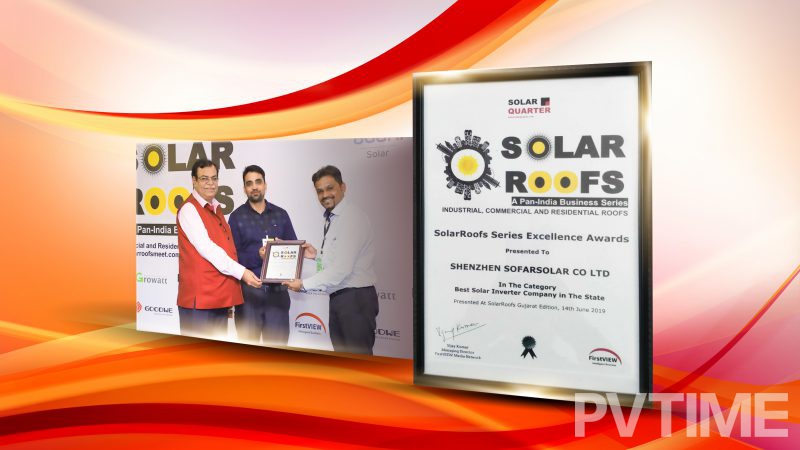 In recent years, the Indian photovoltaic market has attracted the attention of photovoltaic enterprises all over the world. Thanks to the local policy support and the decline of global photovoltaic product prices, as well as the Indian government's ambitious target of 100 GW of installed capacity and the lure of huge investment in power grid transformation, the Indian photovoltaic market has been booming and became fifth-largest photovoltaic power producer after China, the United States, Japan and Germany.
According to the data, the global PV installation volume in 2018 was about 103.3GW, led by China at 44.26GW, followed by the United States at 11.36 GW, Japan at 6.2 GW and Australia at 3.8GW, and India, as a later newcomer, has achieved a growth rate of 9.3GW. There is no doubt that India is shining on the world photovoltaic stage as an emerging market player.
SOFARSOLAR currently is one of the top 5 string inverter companies throughout China, and has earned the reputation of being a leader in power storage inverters. Since 2015, SOFARSOLAR began to set up the Indian market which has been built perfect sales and service system to provide best product and service to local users.
At present, SOFARSOLAR has made new breakthroughs in a number of market segments in India, and occupies an important market share.With the deepening cooperation with local well-known enterprises in India, SOFARSOLAR has become one of famous household inverter brand in India. The award is the best market feedback.
Zhong qizheng, vice President of SOFARSOLAR said, "this is award from well-known media SolarQuarter in India. It's a best feedback from we insist on high quality products and services. We will bring more and better products to market, so that every household in India and the world can enjoy the green and healthy life brought by clean energy."
Now, many branches of sales and service centers are establishing in India to provide on-site services across all Indian market.These factors will benefit SOFARSOLAR in the Indian market. It is believed that SOFARSOLAR's solar inverters and storage inverters will be widely used in the Indian market in the future.