Recently, India's prestigious market intelligence institute, Bridge to India, launched its 2019 market report and solar map. RISEN ENERGY CO., LTD (Hereinafter referred to as Risen Energy) is ranked the number 1 module supplier for solar projects commissioned in India during 2019 FY. This annual ranking is based on PV projects commissioned between April 2018 and March 2019.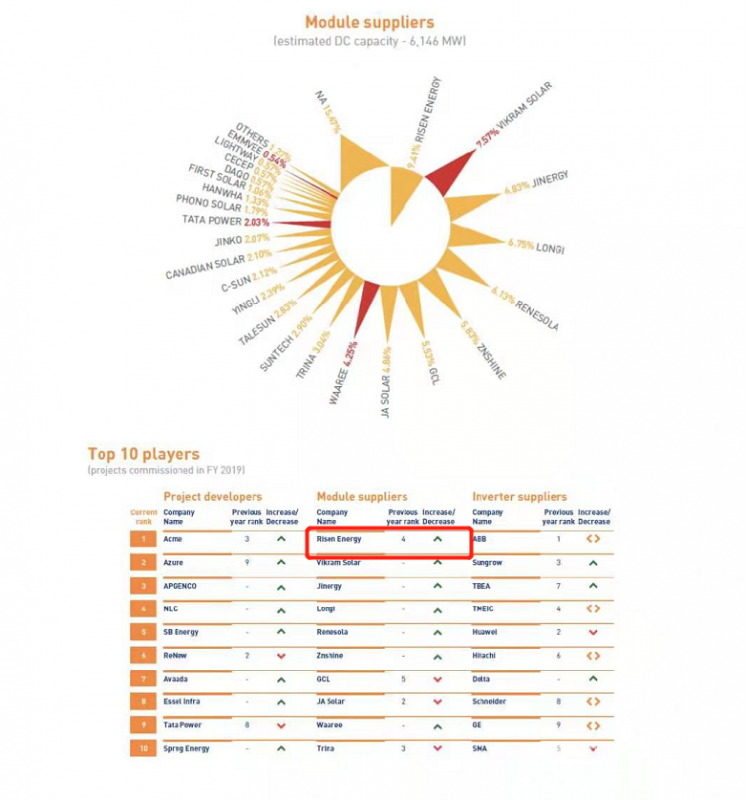 Risen Energy contributed 9.41% of module supply to the total 6,146 MW estimated DC capacity. Due to this number, Risen Energy is the number. 1 module supplier for projects commissioned in 2019 FY in India. For the overall cumulative module shipment ranking, Risen is ranked fourth and is expected to rise for the next fiscal year.
As per Energy Trend's report, India became the world's top 3 player in the PV market, with a total solar module demand of 9.3 GW in 2018. India launched its National Solar Mission in 2015, which set an installation target of 100GW by the year 2022.
Xie Jian, President of Risen Energy Group, commented, " India is no doubt one of Risen Energy's quintessential strategic markets, not only because India has showcased huge growth potential in the past several years, but also because Risen Energy's module products have been widely accepted and deployed by Indian customers and projects. For large scale projects especially, our 2019 FY performance enhanced our confidence in this market. And of course, we are making efforts in other market segments too. Our innovative technology and products will pique more interest among India's rooftop projects. We are encouraged by this historic performance to dedicate more recourse to the research of this single market's unique demand."
Risen Energy will attend India's annual event Renewable Energy India, the team will greet you at booth 5.124.