PVTIME – ReneSola, a globally reputed solar PV module manufacturer today announced that it has signed a USD 100 million strategic investment agreement with Zhongnan Industry (a subsidiary of Zhongnan Holding Group).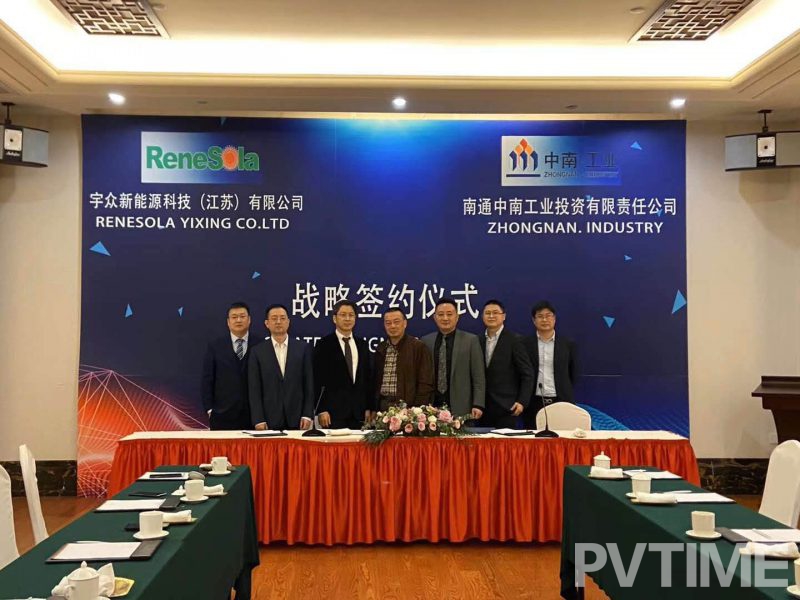 The announcement was made on March 31st at the official signing ceremony of the Supply Chain Cooperation Agreement between ReneSola Yixing Co., Ltd. and Zhongnan Industry (a subsidiary of Zhongnan Holding Group) which was held in Yixing City in China. The agreement is being termed as a win-win deal for both organizations.
According to the agreement, Zhongnan Industry will invest USD 100 million to strengthen ReneSola's PV module manufacturing supply chain. The supply chain cooperation is all set to begin on April 1st 2020.
Keeping their best interests intact with both parties' clear growth ambitions, the two parties have established strategic cooperative relations through friendly negotiations. The advantages for both parties are integrated, and the market will be jointly developed by both parties in order to maximize the use of resources.
Mr. Sky Wang (CEO of ReneSola Yixing Co., Ltd.) mentioned that, "this strategic partnership with Zhongnan Holding Group will add value to our supply chain and enhance our production capacities while allowing us to focus more on the technological advancements in the solutions we provide to our valued customers."
Mr. Zheng Lei (CEO of Zhongnan Industry, a subsidiary of Zhongnan Holding Group) added, "we are confident that this cooperation with ReneSola, a leading company of the solar industry, will bring both of us a brighter future."
About ReneSola:
Founded in 2005, ReneSola is a leading international brand of PV modules. Leveraging its global presence with its worldwide offices, warehouses, expansive production facilities, and sales network, ReneSola is well positioned to provide the highest quality of green energy products and on-time services for EPCs, installers, and green energy projects around the world.
Having accumulated more than 20GW in sales worldwide, ReneSola serves a large number of customers around the world ranging from small rooftop owners to large solar farm developers. ReneSola is a reliable and long-term partner of its valued customers and investors.
About Zhongnan Industry:
Zhongnan Industry is a subsidiary of Zhongnan Holding Group and was founded in 2011. The group aims to build a modern enterprise dominated by its two core industries, engineering construction and cultural creativity.
Founded in 1988, Zhongnan Holding Group now has more than 80,000 employees and owns two listed companies, Zhongnan Construction (SZ000961) and Zhongnan Panshi New Energy (871460). Zhongnan Holding Group is a top 500 ranked Chinese enterprise whose total sales volume exceeded USD 40 billion in 2019.