PVTIME – On March 16, after 6 months of construction, the first production line at LONGi Solar's module production project in Taizhou New Energy Industrial Park has officially begun production.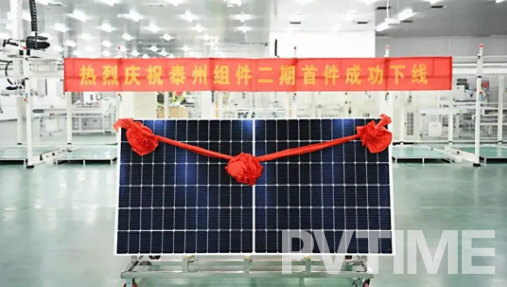 The project has a total investment of 3.2 billion yuan and will have 16 production lines producing 60 and 72 cell monocrystalline PERC half-cell modules with 20.41 conversion efficiency and power outputs of 345W and 420W, respectively. Once fully operational, the project is expected to generate 15 billion yuan annually.
Phase II of LONGi's Taizhou production plant adopts the most advanced equipment and technology available, and continues to lead the technical trend of high efficiency, reliability, and power generation capacity. Currently, the other three production lines in Plant 1 of Phase II are undergoing commissioning and are expected to be operational by the end of this month. Additionally, three other workshops are currently undergoing construction and are expected to be operational by the end of June.