PVTIME – On August 8, Jolywood (Suzhou) Sunwatt Co. Ltd. (SZ: 300393) (Jolywood), a global leading supplier of solar backsheets and N-type bifacial solar cells, celebrated reaching the 100GW cumulative shipments milestone and introduced its all new "Hauberk Tech" at the 14th SNEC International Photovoltaic Power Generation and Smart Energy Exhibition & Conference in Shanghai.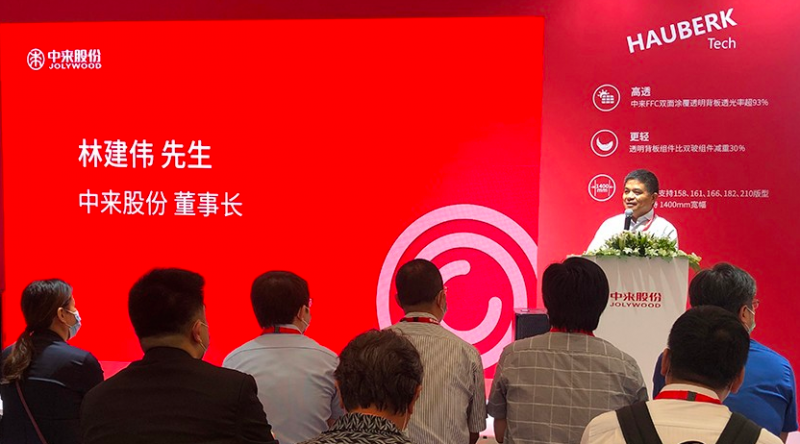 Addressing the media and guests at the ceremony, Lin Jianwei, Chairman of Jolywood said, "Jolywood is very pleased and honored that our customers, partners, and friends of the industry are able to join us for the celebration of reaching the 100GW cumulative shipments milestone and attend the official press release of the latest technology driving the development of Jolywood's transparent backsheets. Since Jolywood produced our first backsheet in 2008, with the support and recognition of the industry, we have become a world leading supplier of transparent backsheets. Today, we will be unveiling the core technology behind our new transparent backsheet: Hauberk Tech. We are confident that Hauberk Tech will open a new era for transparent backsheets, leading and promoting the development of the photovoltaic industry. Let today mark the beginning of the momentous journey from 100GW to 1000GW for Jolywood with Hauberk Tech as the driver!"
Deciphering Hauberk Tech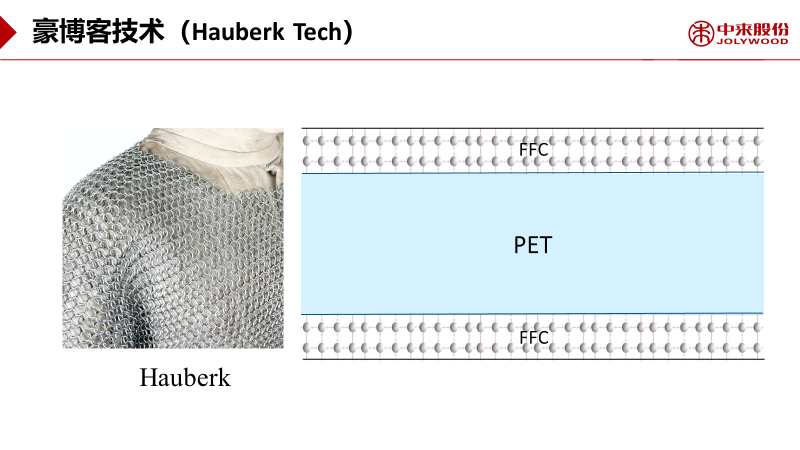 Following the opening address from Lin Jianwei, Dr. Zhang Fute, Chief Technical Officer of Jolywood, gave an presentation detailing how Jolywood's backsheets' super UV protection characteristic is realized through the innovations and breakthroughs of Hauberk Tech.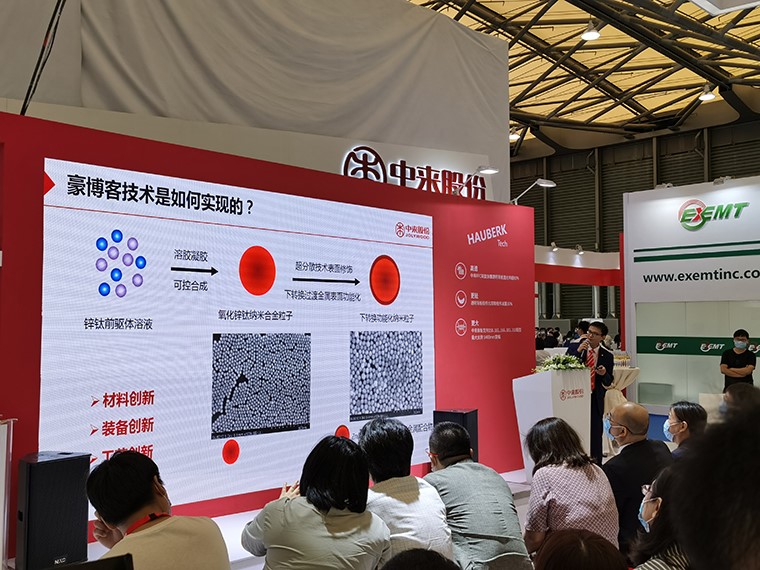 Three Innovations
-Material innovation: application of hybrid organic-inorganic nanoalloy materials.
-Equipment innovation: design and development of exclusive hyperdispersion equipment, truly applying nanomaterials to backsheet products.
-Process Innovation: during the hyperdispersion process, the nanoalloy materials are coated and modified to form an active nanomaterial.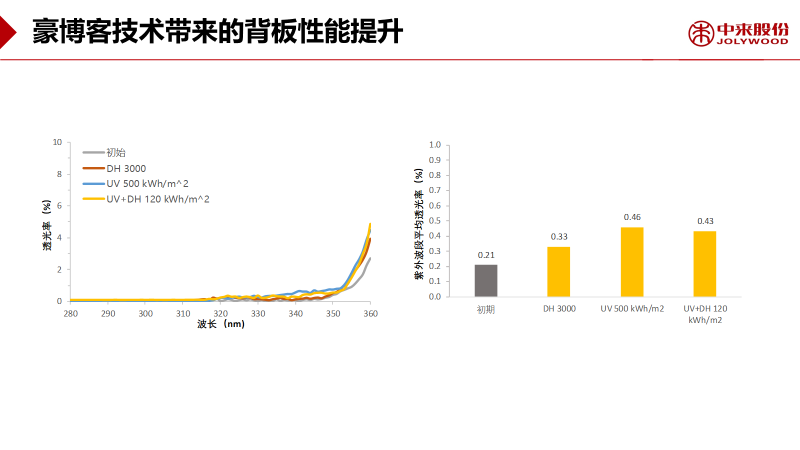 Two Breakthroughs
-Super UV resistance: the major technical problems of UV blocking and visible light transmission have been successfully solved, and the backsheets show no attenuation or yellowing after DH3000 and UV1000 aging.
-Ultra high light transmittance: the hybrid organic-inorganic nanoalloy materials have the ability to reduce reflection and increase light transmittance. The surface coating of the nanoalloy material gives it the ability to convert UV rays into visible light, and the light transmittance of the transparent area is able to exceed 93%.
About Jolywood
Jolywood (Taizhou) Solar Technology Co., Ltd., a subsidiary under Jolywood Group (stock code:SZ300393), is the world leading n-type bifacial solar cells and modules manufacture. The technology of company includes NTOPCon, NIBC, TBC, etc, and the annual n-type bifacial production capacity reaches 2.1GW cells and 3GW modules. Jolywood is strengthening its R&D investment and technology innovation, and has comprehensive intellectual property in n-type technologies: 136 patents have been applied, in which 67 granted and 7 with PCT. Jolywood adheres to the road of advanced and high efficiency solar technology industrialization. Learn more on www.jolywood.cn