PVTIME – At the ceremony held on May 25, 2023, AIKO (600732.SH), a high-tech company mainly engaged in R&D, production and sales of solar cells, ABC modules and PV solutions, unveiled its new brand image and development strategy to better adapt to the emerging global new energy reform.
2022 was an extraordinary year for AIKO. Formerly known as a PERC cell manufacturer since its establishment in 2009, AIKO has become a leading solar cell and ABC module supplier in recent years, leveraging its fanatical pursuit of cutting-edge PV technology.
By the end of April, 2023, its cumulative global solar cell shipments had reached 90GW, with annual production capacity of 42.5GW and revenue of over 35 billion yuan. Meanwhile, AIKO has a dynamic technical R&D team, accounting for 23.48% of the company's staff, with over 964 patents. Its ABC module, which adopts an all-back-contact structure with both positive and negative metal contacts on the back of the cell, no metallisation finger on the front, as well as silver-free, was launched after AIKO's 6 years of concentrated development and experience from PERC cell with 22.5% conversion efficiency to 210mm large-size PV product and many huge advances in innovation.
2023 will lead an exciting future for AIKO. As the superstar of its modules, AIKO's n-type ABC module achieved a conversion efficiency of 23.6% in mass production in early 2023, and was the first XBC module won the Red Dot Product Design Award 2023 for its harmony of high technology and aesthetics.
The new branding will serve as a constant reminder of AIKO's commitment to help overseas customers and partners succeed with safe, clean energy.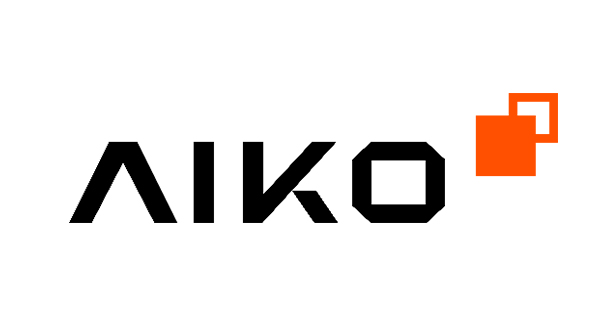 While the name remains the same, AIKO's refreshed logo and tagline are intended to better represent its aggressive new position in the market. The rigid angles of the letters show its focus on revolutionising technology, while the letter O is similar in shape to its modules. The orange overlapping squares in the top right corner represent AIKO's tandem technology with an aim to achieve the limit conversion efficiency of 29.4% for solar cells.
In addition, AIKO is committed to providing solar power solutions for a net carbon future and is steadfast in its efforts to be a global leader in the PV solar industry. AIKO will join hands with Burgenland Energie in Eisenstadt, Austria, to achieve its 2030 carbon neutrality target. The two sides have agreed to establish an innovation centre in Burgenland and a visitor centre on climate neutral technology and solutions. With a continued upward growth trajectory in markets such as Japan, Singapore, Germany, the Netherlands, Spain, Portugal, Italy, Poland, the United Kingdom and other countries, AIKO has expanded partnership with a variety of distributors, research institute and technology cooperation, jointly promoting the low-carbon goal worldwide. And its offices and operating units around the world offer a wide range of solutions to customers with fast local technical support and service.
AIKO is poised for a number of significant processes in the challenging years ahead. Its success has always been underpinned by a 14-year track record in the solar industry and growing, robust partnerships. The company is committed to strengthening international cooperation and innovating products and solutions so that more communities can be powered by clean energy in the future to achieve the net carbon target for sustainable development on the planet.