PVTIME – On January 4, 2023, Suntech completed the delivery of all 680MW PV modules for the United Arab Emirates Al Dhafra PV2 Solar Power Plant of China Machinery Engineering Corporation (CMEC), further advancing the construction of the world's largest single-site solar power plant project.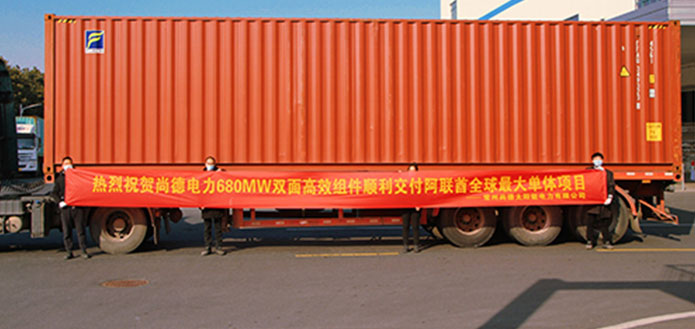 Located in the middle of the desert, Al Dhafra Solar Power Plant enjoys sufficient sunlight and large temperature difference between day and night. The plant features large scale with various functional areas set up according to local conditions, such as PV power generation area with an installed capacity of 2,100 MW, 33/400 KV booster station, and supporting switching station. It adopts world-leading PV power generation technology, capable of making full use of high-quality solar resources in the desert to realize efficient power generation.
Suntech has been working closely with CMEC since 2019 to provide the project with professional guidance on product technology selection and plan preparation. Suntech helped the client win the bid thanks to its accumulated experience and excellent product advantages and manufacturing level. In consideration of the characteristics of the project, Suntech exclusively provided the 545/540W high-efficiency PERC bifacial PV modules featuring 182mm large-size silicon wafers. Such modules have larger effective power generation area and higher efficiency than conventional PV modules. To overcome strong wind, high temperature, and sand in the desert where the plant is located, Suntech PV modules use 2.0 mm thick glass on the front and back sides, which greatly improves the mechanical load capacity and reduces the maximum deformation by 37% compared with conventional structures, thus effectively avoiding the risk of cracking.
As a flagship project invested by the world's top IPP investor in the Middle East, Al Dhafra Solar Power Plant has taken the initiative to use local teams since its construction. It adopts an international and refined management mode and the most advanced production technology, showcasing world-leading power station performance and power generation efficiency. Despite all challenges of COVID-19 outbreaks and shortage of raw materials during the construction of the project, Suntech has guaranteed a continuous and stable supply of products with unchanged strict standards to ensure full compliance with the progress of the project.
At present, the project has been connected to the grid in phase. After full operation, it is expected to supply electricity to 160,000 households, helping Abu Dhabi reduce carbon emissions by 2.4 million tons every year, and increasing the proportion of clean energy in the total energy mix of the United Arab Emirates to more than 13%.
As a pioneering enterprise supporting the construction of the "Belt and Road" Initiative, Suntech has been paying attention to the development plans of countries and regions along the Belt and Road in recent years. Suntech boosts the promotion and implementation of solar clean energy projects in these regions, and hopes to reshape pillar industries of people's livelihood with green new energy to support the sustainable development of energy economy in the United Arab Emirates. Deeply engaged in the PV industry for many years, Suntech has been committed to the R&D of products and technologies. It now possesses three series of PV modules, namely Ultra X, Ultra V and Ultra V Pro, which can meet different needs of various scenarios such as power stations, industrial and commercial distributed rooftops, and household rooftops. Suntech will always provide high-power and high-reliability products and services for global customers.
In the future, Suntech will continue to make efforts with its original aspiration, expand and accelerate the business layout in overseas markets, build more exemplary PV projects, and lead China's PV industry to go global on a large scale and with high standard.