PVTIME - After a record-breaking year of 87.41GW of newly installed PV capacity in 2022, China's solar market grew steadily amidst various challenges such as volatile markets, geopolitical conflicts, inflation, supply chain issues and other factors that continued to affect the global economy. In 2022, there were 12 Chinese PV companies listed on the Shenzhen, Shanghai or Beijing stock exchanges, such as Jinko Solar Co., Ltd. (688223.SH), Yuneng Technology Co., Ltd. (688348.SH) (APsystems), Tangshan Haitai New Energy Technology Co., Ltd. (835985.BJ), Inner Mongolia OJing Science & Technology Co. (001269.SZ), etc., including four new IPOs with market capitalisation between 10 and 50 billion yuan and seven with market capitalisation below 10 billion yuan, by the end of 2022.
In light of challenges in the industry, Chinese PV manufacturers continue to go public, as the market began to accelerate significantly in the first half of 2023. According to incomplete statistics, in 2023, there are fourteen PV companies applying for IPOs to be listed on the Chinese Stock Market, with total IPO funds of 44.752 billion yuan to expand their businesses.
Three of them have completed the IPO and listed on the Shenzhen or Beijing stock exchanges in the first half of 2023, namely CSI Solar, Scenergy and ENERGY. And the other eleven PV players will continue the process in the second half of 2023, including five inverter suppliers, two silicon manufacturers, two wafer manufacturers, one cell company and one PV system builder, with a total IPO fund of 37.476 billion yuan to apply.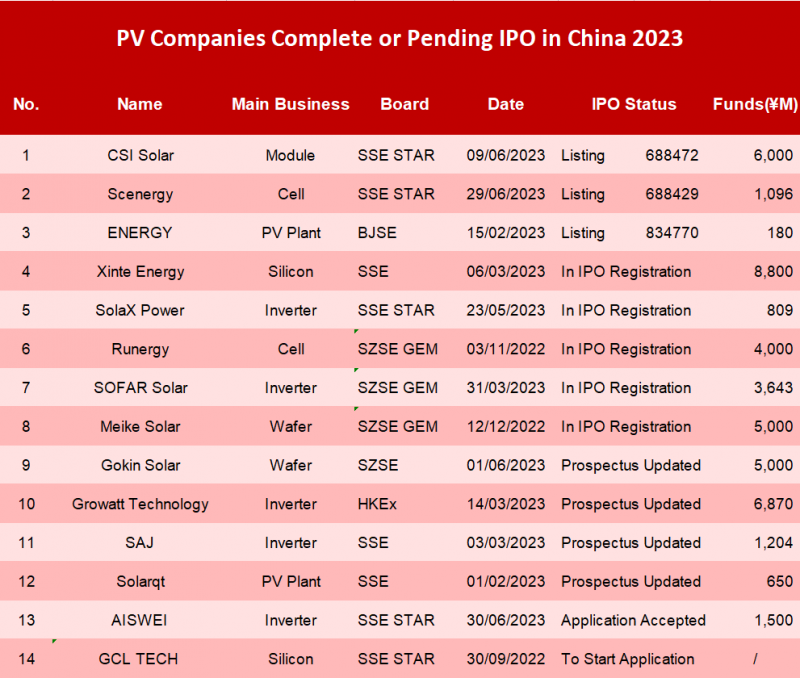 1 CSI Solar (688472.SH)
CSI Solar Co. Ltd. (CSI Solar), a majority-owned subsidiary of Canadian Solar Inc. (NASDAQ: CSIQ) one of the leading manufacturers of photovoltaic modules. Its journey towards initial public offering (IPO) was filled with setbacks.
The Shanghai Stock Exchange (SSE) accepted CSI Solar's IPO application on 28 June 2021, and it passed the Q&A on 23 July 2022. On 7th January 2022, the IPO application was updated to 'Documents Submitted for Registration'. Unexpectedly, the IPO status was changed to 'Suspended (financial report update)' in October 2022.
It altered to 'Documents Submitted for Registration' again until January 2023. Subsequently, CSI Solar completed the IPO process on 9th June 2023, and its shares began trading on the Sci-Tech Innovation Board (STAR market) of the SSE with the stock code 688472.
During the IPO, CSI Solar sold 541,058,824 shares, which makes up 15% of the 3,607,058,824 outstanding shares right after the IPO. The shares were sold at a public offering price of 11.10 yuan per share. The gross proceeds from the IPO amount to approximately 6.0 billion yuan (rapproximately US$850 million).
The funds raised from the IPO were intended for the production of silicon rods with an annual output of 10GW, silicon wafer production with an annual output of 10GW to be situated in Funing City, as well as for the high-efficiency solar cell project with an annual output of 4GW, high-efficiency solar module project with a production capacity of 10GW, and R&D institution based in Jiaxing City. Additionally, some of the funds will be used to supplement the working capital.
2 Scenergy (688429.SH)
Changzhou Shichuang Energy Co., Ltd (Scenergy) (688429.SH) is a high-tech company mainly involved in researching, developing, producing, and selling photovoltaic product processing, photovoltaic equipment, and photovoltaic cells. On 29 June 2023, the company completed its IPO, listing and trading 2,975.5275 million shares of its total 40,000.08 million A-share capital under the stock code 688429 on the STAR market of SSE.
On 23 June 2022, Scenergy's IPO application was formally accepted by the Board of Review of the SSE. According to the prospectus document, the company intended to raise funds of up to 1.096 billion yuan for a high-efficiency solar cell equipment expansion project.
On 13th July 2023, Scenergy announced its intention to launch a wafer and solar cell production project in Jiangsu Province, China, with a total investment of 1.5 billion yuan. The announcement stated that 1,077,773,400 yuan of the funds will be allocated to equipment and 425,009,000 yuan will be dedicated to supplies. Completion of the project is anticipated in 8 months, with an annual production capacity of 4GW of silicon wafers and 4GW of silicon solar cells.
3 ENERGY (834770.BJ)
Zhejiang Energy PV Technology Co., Ltd. (ENERGY) (834770.BJ) provides energy products and services. The company designs and produces professional testing equipment, solar cells, silicon wafers, and related products. ENERGY's main business include distributed photovoltaic power plant investment and operation, distributed photovoltaic power plant development services, as well as the processing and sales of crystalline silicon solar cells.
On 29 June 2022, ENERGY's IPO listing application was accepted by the Beijing Stock Exchange (BJSE). The company proposed a public offering of a maximum of 20 million shares, with a target of approximately 180 million yuan, for investment in a 50MW rooftop photovoltaic power generation project during the IPO listing.
ENERGY successfully completed the meeting on the 19 December 2022. Submitted for registration on 26 December 2022. On 5 January 2023, ENERGY was registered by the Securities and Futures Commission (SFC) and received approval for issuance. The company was listed on BJSE on 15 February 2023 under the stock code 834779.
As of the date of the prospectus, the company had invested in and operated a total of 58 distributed photovoltaic power station projects with an installed capacity of 111.56MW.
4 Xinte Energy (In IPO Registration)
Xinte Energy Co., Ltd. (Xinte Energy), a subsidiary of TBEA Co., Ltd. (600089.SH), is an investment holding company. It is engaged in the research and development of new photovoltaic energy products, new silicon-based materials, advanced ceramics, zirconium-based materials, powder materials and other products, the development and operation of wind and light resources, and the application of energy-saving and environmental protection technologies. The company produces and sells polysilicon, provides ECC services for solar power plants and wind power plants, manufactures inverters, and generates and sells electricity. It also produces and sells PV wafers and modules.
On 28 June 2022, Xinte Energy (1799.HK) applied for an A-share IPO and listing on the Main Board of the SSE, which was approved. On 21 November 2022, Xinte Energy filed its IPO prospectus (draft). The company intends to raise approximately 8.8 billion yuan through the IPO, which will be used for the 200,000 tonnes per annum electronic grade polysilicon project with low carbon recycling.
On 6 March 2023, Xinte Energy officially submitted the application materials for the issuance of A shares to the SSE, including the prospectus (draft statement) for the IPO and listing on the Main Board, and had received a notice of acceptance from the SSE.
5 SolaX Power (In IPO Registration)
SolaX Power is a well-known international provider of photovoltaic (PV) energy storage systems and products. It mainly offers PV energy storage inverters, energy storage batteries, and grid-connected inverters for distributed PV energy storage and grid-connected applications to its international customers.
SolaX Power aims to raise 809 million yuan through this IPO. Out of this amount, 281 million yuan is intended for the energy storage battery and inverter expansion project, 151 million yuan is for the construction of a PV energy storage intelligent research and development centre, 76 million yuan is allocated for the overseas marketing and service system project, and 300 million yuan is assigned to the supplementary working capital. However, the SolaX Power IPO was suspended twice due to an investigation on the relevant securities service provider that was hired.
The SSE reviewed SolaX Power on 29 March 2023 based on the offering conditions, listing requirements, and disclosure criteria. SolaX Power's registration for the IPO on the STAR Market was approved on 23 May 2023 and the company is now making preparations for listing on the board.
6 Runergy (In IPO Registration)
Jiangsu Runergy New Energy Technology Co., Ltd. Runergy, a Chinese manufacturer of solar cells and panels, has announced that its initial public offering (IPO) has been approved on 3rd November 2022. The company is now preparing to list on the Growth Enterprise Board (GEM) of the Shenzhen Stock Exchange (SZSE).
Runengy submitted its prospectus declaration for its IPO on 26 July 2022. Runergy plans to raise 4 billion yuan for its IPO. The company intends to allocate 2 billion yuan towards the production of high-purity polysilicon (50,000 MT/year), 400 million yuan towards the production of 5 GW HJT cells, and the remaining 1.5 billion yuan towards supplementing its working capital.
Runergy's major customers are all world-leading module manufacturers, including JinkoSolar (688223), LONGi Green Energy (601012), JA Solar (002459), Trina Solar (688599), and Yingli Energy. JinkoSolar has been continuously identified as the company's top customer since 2020.
7 SOFAR Solar (In IPO Registration)
SOFAR Solar is a leading global provider of solar PV and energy storage solutions, committed to being a leader in the digital energy solutions sector. Its IPO application on the GEM was accepted by the SZSE on 16 June 2022.
On 9th December 2022, the SZSE issued a second round of an audit inquiry letter to SOFAR Solar. The application was approved on 31 March 2023, and SOFAR Solar is preparing for the IPO.
SOFAR Solar intends to raise 3.643 billion yuan through the IPO. Of the raised funds, 2 billion yuan will be invested in the energy storage system construction project, while the remaining funds will be invested in research and development, manufacturing, and upgrading of new energy products, the R&D centre, and working capital.
8 Meike Solar (In IPO Registration)
Jiangsu Meike Solar Technology INC is a high-tech enterprise based in China, specialized in the research and development as well as production of solar-grade monocrystalline wafers.
On 7 June 2022, its application for IPO has been accepted by the SZSE and the sponsor is Guosen Securities Co.,Ltd. Meike Solar's documents were approved on 12 December 2022, and it is currently preparing to be listed on the GEM board.
Meike Solar intends to raise a maximum of 145,910,830 shares, which is approximately 5 billion yuan. The funds raised will be used to invest in the third phase of Meike's 20GW monocrystalline silicon ingot project and to supplement working capital with 1.25 billion yuan.
Baotou The 20GW silicon rods project will be imitated by Baotou Meike Silicon Energy Co., Ltd, a wholly-owned subsidiary of Jiangsu Meike Solar. The company intends to construct production facilities and purchase equipment to increase the annual production capacity of monocrystalline silicon rods by an expected 54,000 MT.
9 Gokin Solar (Prospectus Updated)
Gokin Solar Co., Ltd. (Gokin Solar) is a specialised solar wafer company, mainly engaged in the research, development, production and sales of photovoltaic monocrystalline silicon ingots and monocrystalline silicon wafers, the main products include large-size monocrystalline silicon ingots and monocrystalline silicon wafers, such as 182mm and 210mm.
On 29 November 2022, Gokin Solar signed a listing advisory agreement with CICC and formally started the IPO process. On 1 June 2023, Gokin Solar published the prospectus (draft application) proposing a public offering of not more than 125,030,578,000 shares to be listed on the SZSE.
Through the IPO, Gokin Solar intends to raise 5 billion yuan, which will be used for the 25GW mono-crystalline silicon ingot and 5GW mono-crystalline silicon wafer production and construction projects in Yibin City, Sichuan Province of China, the R&D centre construction and to replenish working capital.
10 Growatt Technology (Prospectus Updated)
Growatt Technology Co., Ltd. is a globally leading provider of distributed energy solutions. It primarily engages in providing PV Inverters and solar system solutions, including energy generation, storage, consumption, and digitalization. The company is currently preparing for its public offering on the Hong Kong Stock Exchange (HKEx).
On 24 June 2022, Growatt Technology filed its IPO application with the HKEx, with Credit Suisse and CICC serving as the joint sponsors for the application.
On 17 November 2022, the Listing Committee of the HKEx approved its IPO application. Growatt Technology intends to raise USD 1 billion through this IPO. However, the company has not yet published a prospectus, and the IPO was postponed.
Growatt Technology submitted a prospectus to the HKEx on 14th March 2023, seeking a listing on the Main Board of Hong Kong. It aims to raise US$1 billion (approximately 6.87 billion yuan) through this IPO. The funds are intended for constructing new production facilities, expanding existing ones, upgrading the supply chain, investing in core technologies and promoting global sales channels.
11 Sanjing Electric (SAJ) (Prospectus Updated)
Guangzhou Sanjing Electric Co.,Ltd. (Sanjing Electric/SAJ) is a manufacturer and supplier of motor drive and control technology, renewable energy conversion, transmission and storage solutions. Its grid-connected PV inverters, energy storage inverters and systems are mainly sold to Italy, the Netherlands, Spain, Belgium, Australia, Brazil and other countries, with a relatively high proportion of overseas sales.
SAJ filed a listing prospectus with the SSE on 1 July 2022 to be listed on the Main Board. It plans to raise 1.204 billion yuan, of which 677 million yuan will be used for an intelligent manufacturing project with an annual output of about 470,000 units of digital energy products and systems, 277 million yuan for the construction of the R&D centre, 99.514 million yuan for upgrading the global marketing and service network, and 150 million yuan for replenishing working capital.
A new prospectus was published on 3 March 2023, subject to further review.
12 Solarqt (Prospectus Updated)
Zhejiang Solar Qingtian Technology Co. (Solarqt), a developer of distributed photovoltaic power generation systems. The company offers a one-stop solution including design, installation, maintenance and energy management, providing customers with reliable energy supply.
On 1 July 2022, Solarqt published a prospectus and plans to be listed on the main board of the SSE. It then updated financial data as of 30 June 2022 and other information in January 2023. Its IPO application was renewed as accepted in February 2023.
For this listing, Solarqt intends to raise a total investment of 650,606,100 yuan, and 639,704,200 yuan will be invested in PV project. Among them, 146 million yuan will be used for construction and operation of 29.44MW distributed photovoltaic power plant, 178 million yuan will be used for Solarqt's new energy intellectual manufacturing industrial base, 183 million yuan will be used for marketing service system upgrade and 132.742 million yuan will be used for working capital supplement.
13 AISWEI (Application Accepted)
AISWEI Technology Co., Ltd. (AISWEI), a holding company of Solplanet, is a leading R&D and manufacturing company focused on clean energy, offering a broad portfolio of photovoltaic inverter products, hybrid inverter products, EV charger and intelligent energy management system.
Its IPO process was launched on 26 December 2022. On 30 June 2023, its application to list on the SSE STAR Market was accepted.
AISWEI intends to issue not more than 37,318,841,000 shares and raise 1.5 billion yuan, of which 539 million yuan will be used for the production project of intelligent photovoltaic inverter and other energy management system products, 313 million yuan for the Shanghai R&D centre upgrade project, 198 million yuan for the global marketing network construction project and 450 million yuan for additional working capital.
14 GCL TECH (Application)
GCL Technology Holdings Limited (3800.HK), a subsidiary of GCL Group, a leading company mainly engaged in the production of silicon materials.
On 12 October 2022, the board of directors of GCL Technology approved a preliminary proposal for the issuance of A shares, which is expected to adopt 30 September 2022 as the start date for the listing application.
GCL Tech's granular silicon production capacity reached 140,000 tonnes per year by the end of 2022, accounting for 10% of global capacity, and is expected to exceed 30% by 2025.
Be cautious about investments
Not all the IPO goes to happy ending. On 30 June 2023, Huayao Photovoltaic Technology Co., Ltd. (Huayao) submitted to the SZSE to terminate (withdrawn) its IPO application, and the audit for IPO and listing on the GEM board was stopped. According to its prospectus shows that the issuance of proceeds of 2,904,950,000 yuan, after deducting issuance costs, the funds will be mainly invested in the 12GW monocrystalline silicon wafer production project (Phase II), 10GW high-efficiency N-type HJT cell project (Phase I).
Notably, since 2020, a total of 66 PV and related enterprises have filed IPO applications. Among them, 43 enterprises have successfully listed, 4 enterprises have completed the listing. 19 enterprises, including PV auxiliary material enterprises, are in the IPO application process, these enterprises cover the whole supply chain in the PV industry, and the cumulative fund to be raised is estimated to exceed 120 billion yuan.