Wednesday 29, July 2020
10:00AM – 11:30AM CEST, Berlin | 16:00PM-17:30PM CST, Beijing | 9:00AM – 10:30AM BST, London
Register for free at: https://us02web.zoom.us/webinar/register/WN_WgBryp3VTqaJPIMnyFXjOQ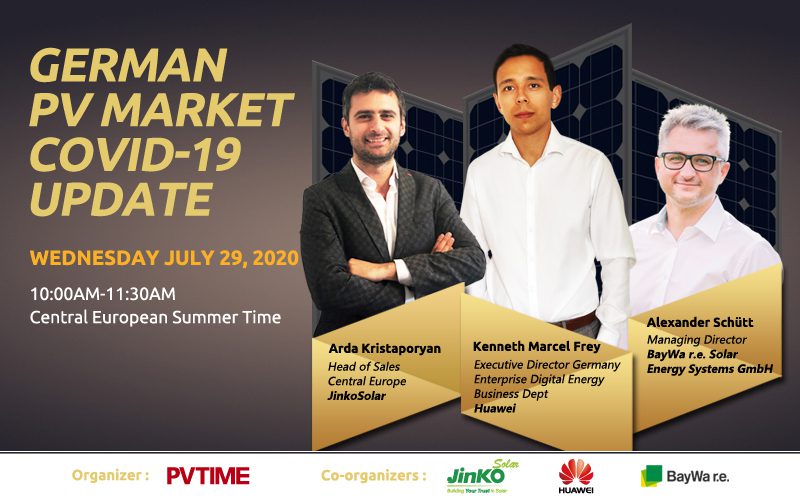 The PV industry is no more immune to the COVID-19 emergency than any
other sector, and the pandemic has certainly had unprecedented effects on the
solar industry as operations, trade, and supply chains of many solar operations
are significantly disrupted.
In this webinar, PVTIME is aiming to
provide an informative and detailed update on how PV companies with established
channels of distribution in Germany are coping with the COVID-19 emergency.
Guest
Panelists
Arda Kristaporyan, Head of Sales Central
Europe, JinkoSolar EU
Kenneth Marcel Frey, Executive Director
Germany Enterprise Digital Energy Business Department, Huawei
Alexander Schütt, Managing Director, BayWa
r.e
Moderator
Benjamin Zhang, International Relations
Manager, PVTIME
From the varying perspectives of the module
manufacture JinkoSolar, inverter manufacture Huawei, and solar equipment
distributor and renewable energy developer BayWa r.e, German Solar Market COVID-19 Update will provide an update on how
the COVID-19 pandemic has affected the German PV industry's supply chain and
what companies are doing in response to the demand and trend changes caused by it.
Solar plant owners, investors/financiers, O&M enterprises, module manufacturers, inverter manufacturers, EPCs, developers and installers, energy management companies and any other parties interested in the wellbeing of Germany's PV industry are invited and encouraged to attend the webinar and the Q&A session that follows.
Free registration at: https://us02web.zoom.us/webinar/register/WN_WgBryp3VTqaJPIMnyFXjOQ