PVTIME – Trina Solar Co. Ltd. has been selected to supply solar energy developer Cero Generation with the bifacial modules for its 100-megawatt Project Delfini, one of the largest solar PV installations in Greece to date. Located in Prosotsani Drama, Project Delfini will be powered by Trina Solar's bifacial Vertex DEG21C.20 modules and is financed through a power purchase agreement (PPA). By delivering cheaper energy to the grid, it will also help bring down costs for consumers at a time when the price of electricity is on the rise throughout Europe.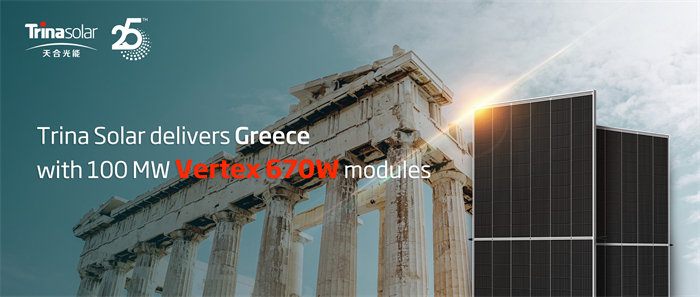 Featuring up to 670W power output, Trina Solar Vertex modules possess several innovative developments that make them well-suited to Project Delfini.
Trina Solar put forward the LCOE-oriented principle, which reduces LCOE in PV power stations with high power, high efficiency, high reliability and high energy yield.
Vertex 670W modules used in Project Delifini fully meet the above four core requirements. The bifacial technology is of particular value, as the power-producing capability of the panels' rear side can increase the modules' power generation by up to 25%. Their efficiency of up to 21.6% maximizes yield, helping to keep levelized cost of electricity (LCoE) to a minimum. The 670W module also passes the static mechanical load test and five other rigorous tests in terms of reliability. Vertex 670W module can reduce BOS by up to 6% and LCOE by up to 4.1%.
Expected to be operational by autumn 2023, Project Delfini is estimated to generate 142 gigawatt-hours of electricity annually. That's equivalent to powering roughly 34,000 homes, and to removing 63,000 tons of carbon dioxide from the atmosphere every year.
Declan Deasy, Chief Operating Officer of Cero Generation cited the high efficiency of Trina Solar's Vertex modules as one of the key reasons that it chose Trina to be its supplier:
Trina Solar's Head of Europe, Gonzalo de la Viña, echoed this sentiment: "Cero Generation is clearly committed to delivering clean green energy to nations across Europe, and we share that goal. We were happy to provide them with the high-efficiency modules they needed to make their project a success."
Delfini isn't the only solar energy project that Cero Generation has underway in Greece. Trina Solar looks forward to meeting its bifacial module needs in the future. Like Cero, Trina Solar believes that when we work together, the future becomes a brighter place for us all.