PVTIME - Wujun Chongqing Solar Energy Co., Ltd. (referred to as "Wujun Solar") is the photovoltaic industry segment of Hebang Biotechnology (603077.SH), which is Shanghai Stock Exchange group. According to the Qichacha's investigation, Wujun Solar has paid-in registered capital of RMB 500 million. It is located in the development center of Baisha Industrial Development Center, Jiangjin District, Chongqing City of China. It is a key investment attraction project in Chongqing, with a factory area of more than 900 acres and a total investment of about 3 billion yuan. It is currently one of the largest manufacturing enterprises in Jiangjin District with the most modernized production equipment.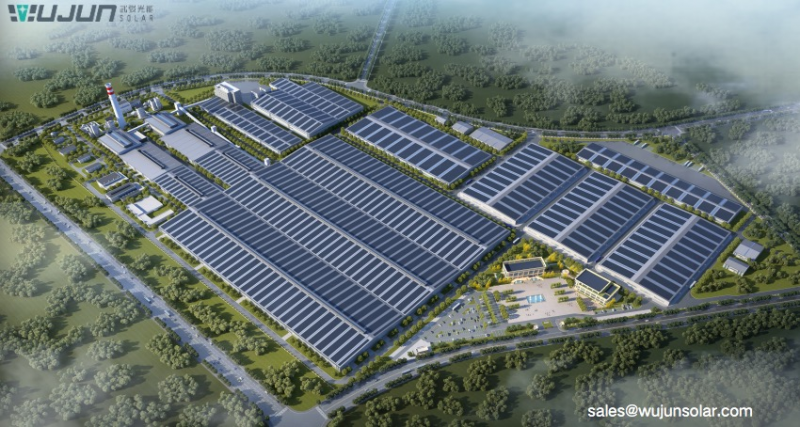 Wujun solar panels and PV glass manufacturing base (Chongqing)
It is worth mentioning that Wujun Solar plans to produce 8GW of PV panels annually, including mono-crystalline half-cut and Top-con technology routes, as well as a daily melting capacity of 1,000 tons of original PV glass and 900 tons of finished PV glass. 1GW of PV panels have been put into production in June of this year, and 2GW is expected to be put into production before the end of December 2022.
It is understood that Wujun Solar adopts the most advanced and modern manufacturing equipment and leading technology at home and abroad. At present, solar panels and PV glass have obtained CE, TUV, CGC, CQC, China National Photovoltaic Quality Inspection Center and other authoritative institutions Certification and import and export qualifications. At present, Wujun Solar mainly produces 182-type single-glass and double-glass solar panels, as well as 3.2mm and 2.0mm PV rolled glass, and 2.0mm PV module backsheet.
Even more to the point that Wujun Solar's PV panels products have received many orders and consultations from East China, North China, Southwest China, as well as Europe, South Africa, Australia, Morocco, Pakistan and other countries. PV glass is also favored by solar panels manufacturers in East China and North China, and has become a new leading manufacturer in the photovoltaic industry in 2022.