PVTIME – On January 12, technology conglomerate Tencent announced the launch of its plan of achieving zero carbon emissions with the help of technology. With this announcement, Tencent will become one of the first Internet companies to take action in achieving carbon neutrality. Ma Huateng, the founder of the company, shared the official press release via his "moments" in WeChat.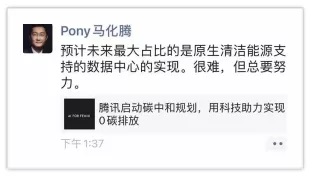 Ma Huateng's moment in WeChat
Ma Huateng said, "As a science and technology enterprise, we must pay more attention to the impact of corporate operations on the climate, water, and the natural environment. As China announces its carbon peak and carbon neutrality targets, Tencent will also accelerate its carbon neutrality plan. At the same time, we will also increase the exploration of the potential of cutting-edge technologies represented by artificial intelligence in coping with the major challenges of the earth, and make great strides to promote the application of technology in industrial energy conservation and emission reduction."
In recent years, it is reported that Tencent has reduced carbon emissions through artificial intelligence and cloud computing in its Tencent Binhai Building and data centers, and its energy-saving technology has been advanced to T-block 4.0.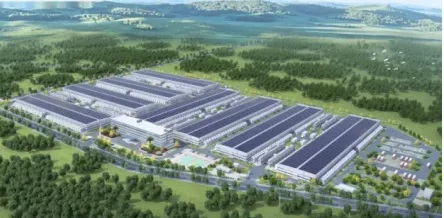 The Tencent Cloud Qingyuan Data Center (Source: Tencent)

On July 3, 2020, the Tencent Cloud Qingyuan Data Center, the largest data center cluster in South China, officially opened in Qingyuan, Guangdong Province. With more than 1 million servers, it is the first ultra-large-scale data center opened by Tencent Cloud, and it is also the largest new infrastructure project in South China so far. In order to reduce the energy consumption of the data center, the center is equipped with a large number of distributed photovoltaic power generating rooftops.
Experts predict that with the approaching of the 5G era, the data center, as an important symbol of the information age, will become a pillar industry with rapid development. With the vigorous promotion of "new infrastructure", the green and low-energy development of data centers has become a topic of concern for Internet enterprises. Clean energy, especially distributed photovoltaics, has a natural combination advantage with data centers and will become the "best partner" of energy saving for the data center industry. Multi-energy complementary models such as "photovoltaic + energy storage" and "photovoltaic + large power grid" can provide a steady stream of clean power to the data center 24 hours a day, helping it meet its power demands for around the clock operation.