PVTIME – On November 27, TCL Zhonghuan Renewable Energy Technology Co., Ltd. (002129.SZ), a leading company manufactures and distributes discrete semiconductor devices, issued its latest product prices for the month of December where prices across the board have decreased again.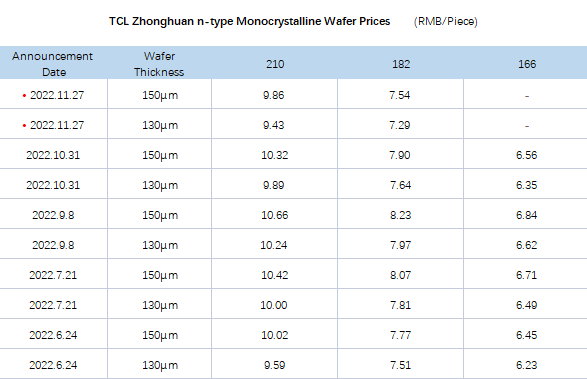 Compared with the quotation released on October 31, the price of n-type silicon wafers with different specifications will decrease by 0.35-0.46 yuan/piece in December. The price of its n-type 210mm and 182 mm (150μm) wafers will be 9.86 and 7.54 yuan/piece, while those of 130μm wafers in 210mm and 182mm will be 9.43 and 7.29 yuan/piece. The two thicknesses of 166mm wafer have been removed comparing with the quotation in October.
Meanwhile, the price of P-type silicon wafers will decrease by 0.33-0.47 yuan/piece in December as well. For the P-type 218.2mm, 210mm, and 182mm (150μm) the cost will be 10.04, 9.30 and 7.05 yuan/piece, a decrease of 4.42-4.47%. What is more, the price release of its P-type 166mm wafer has been canceled comparing with that in last month.