PVTIME – On April 21, Suntech signed a cooperation agreement with intelligent manufacturing turnkey solution service provider Wuxi Lead Intelligent and Jiangsu Leadmicro. The three parties will work together to build the industry's first digital TOPCon high-efficiency photovoltaic cell smart production base.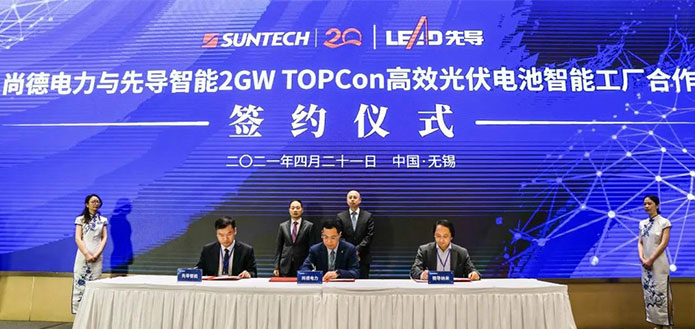 The signing of the cooperation agreement between the three parties (Source: Suntech)
Suntech will adopt industry-leading digital smart factory solutions based on the Industrial Internet of Things from Wuxi Lead Intelligent and flexible manufacturing systems from Jiangsu Leadmicro to develop the intelligent factory which will feature technology such as ALD-based atomic layer deposition coating and unmanned AGV cell transfer.
The production line's of the smart production base will be compatible with 182mm and 210mm silicon wafer cells. The conversion efficiency of TOPCon cells will exceed 24%, and the total production capacity shall reach 2GW.
The line's sensors and intelligent networked production machines automatically capture data and are connected to monitoring machines in real-time, realizing the automatic linkage between production, logistics, and storage. Moreover, the smart factory will be equipped with visual data enhancement technology to detect product quality in real-time to reduce defects and analyze the root causes of product quality issues. At the same time, the smart factory's big data analysis technology and intelligent control can reduce production costs, optimize operating efficiency, and increase production value.
The implementation of the digital TOPCon smart factory solution can effectively enhance the differentiated competitiveness of the production line, improve the controllability of the production process, reduce the degree of manual intervention, and lead to high-efficiency results.
In recent years, Suntech has achieved a global high-efficiency module production capacity of 10 GW. The construction of the 2 GW TOPCon smart factory this time is another breakthrough for Suntech's advanced production capacity, especially as it just celebrated its 20th anniversary. Going forward, Suntech will continue to focus on continuous optimization across its industrial chain and meeting the global photovoltaic market's demand for high-quality, high-performance photovoltaic products.