PVTIME - Sungrow, the global leading inverter and energy storage system supplier, provided its PV inverter solutions for the Serra do Mel 1 to 6 PV plants with a total capacity of 580 MW, owned by Voltalia -- a global renewable energy company operating in 20 countries. The inverter solutions include both string and central portfolios, ensuring an optimized return on investment for project stakeholders.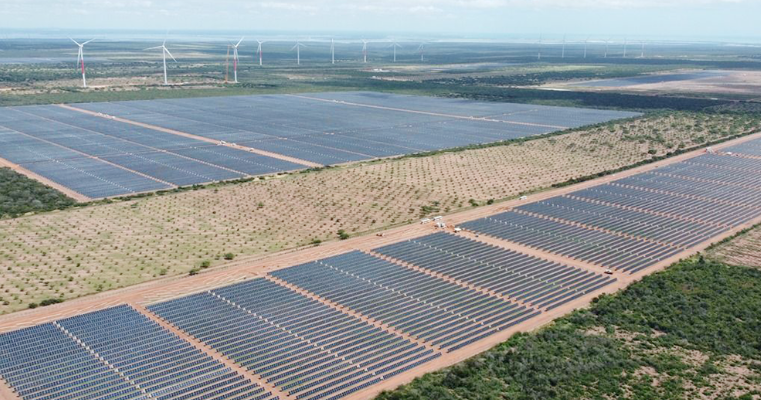 The Serra do Mel 1 to 6 is part of the Serra Branca complex which is located in the Brazilian state of Rio Grande do Norte, has more than 800 MW in operation and construction in wind power plants and has the potential to reach up to 2.4 GW with the inclusion of the solar source, making it one of the largest hybrid complexes in the world.
The Serra do Mel 1&2 has a capacity of 320 MW installed with 70 units of Sungrow's SG3125HV central inverter solution. Focusing on large-scale utility PV plants, the SG3125HV perfectly matches bifacial modules. In addition, the product has a level C5 corrosion degree and IP65 protection, being an ideal solution for solar plants close to the sea. The 1500V solution has a power of 3437 kW and is equipped with communication boxes that allow remote monitoring and configuring of the entire generation system.
As an expansion plan, Voltalia has already started the construction of Solar Serra do Mel 3 to 6 with a capacity of 260 MW, once again, supplied by Sungrow. For this project, 608 units of SG350HX inverters will be supplied. In terms of power, the SG350HX unlocks a new era of string inverters surpassing 300 kW. It features C5 anti-corrosion grade, advanced thermal design, anti-PID solution, and PLC communication. The SG350HX can be assembled in two versions: with 12 MPPTS and with 16 MPPTs, allowing the use of the inverter with PV modules with 182mm cells and with 210mm cells. With the addition of Solar Serra do Mel 3 to 6, over 80% of the 2.4-gigawatt complex's potential is now in operation or under construction.
For Sungrow, it was an honor to be part of this project and the history of Voltalia, which reached the milestone of more than 1 GW in operation in Rio Grande do Norte.