Sungrow is accelerating its commitments to the emerging solar market in the APAC region, particularly in South Korea and Vietnam. In early April, the Company's featured products are on display at Green Energy Expo and the Solar Show Vietnam.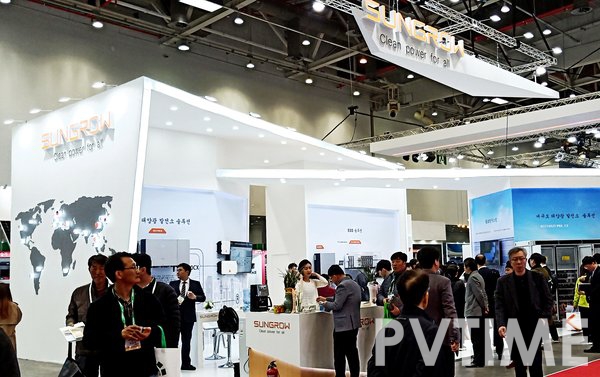 Sungrow Booth at Green Energy Expo
South Korea outlines fresh incentives to prioritize renewable projects with a low carbon footprint, higher efficiency and stricter industry codes. Offering a comprehensive product portfolio, Sungrow is establishing itself as the best platform in the sector to address a wide range of demands. Products including commercial string inverter SG110CX, outdoor central inverter SG1250UD, integrated energy storage systems and one-stop solutions for floating PV plants are unveiled at Green Energy Expo held in South Korea, setting ongoing efforts to further meet the diversified requirements locally.
Vietnam is another solar hub in Asia witnessing a rapid growth due to abundant sunlight, a booming population and strong economic growth. The Company's products showcased, apart from 1500V product series led by SG3400HV, the 6.8 MW turnkey solution with the MV transformer, RMU, SCADA and PPC, were a new 1000V string inverter SG110CX focusing on commercial and industrial installation, as well as the floating PV systems. With its inverter shipments to this region surpassing 1 GW, Sungrow garnered wide attention, especially after the Deputy Prime Minister of Vietnam visited the PV farms, which utilize Sungrow inverters and have a total capacity of 100 MW, in Dak Lak province.
The emerging APAC solar market has been experiencing dramatic growth over the past few years and Sungrow is embracing proliferating opportunities in the region, especially considering the proximity of the Company's manufacturing hubs.
"As one of the major dedicated players in the local solar industry, we are bringing forth a state-of-the-art product lineup together with service tailored for local customers," said Luke Lu, President of Sungrow APAC Region. "We'll strengthen cooperation with global partners in scaling up the applications of renewables and accelerating the steps to fulfill our mission of 'clean power for all'," he added.