PVTIME – On June 3, SNEC 15th (2021) International Photovoltaic Power Generation and Smart Energy Conference & Exhibition officially opened its door to the public. PVTIME had the opportunity of sending a team to collect and compile new products from various enterprises for those who were unable to attend this year.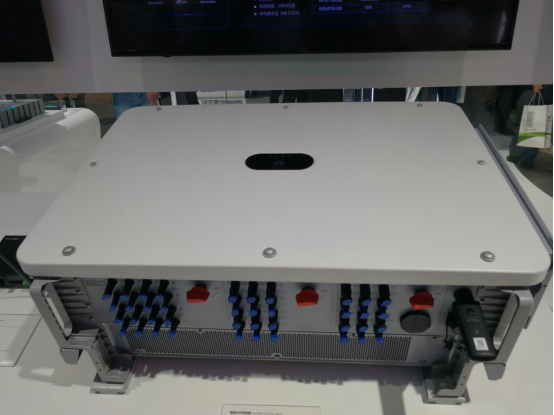 Huawei FusionSolar All-scenario PV & Storage Solution was unveiled. It covers "4+1" scenarios: Smart PV Generator FusionSolar 8.0, Green Residential Power 2.0, Green C&I Power 1.0, and Off-grid (fuel removal) Power Supply Solutions + Energy Cloud, aiming to accelerate the shift to zero-carbon generation and bridge the energy divide.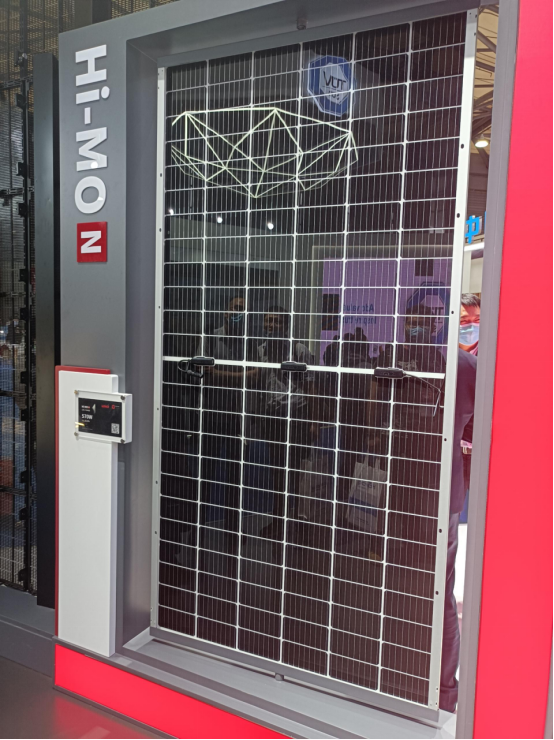 LONGi unveiled its Hi-MO N – the first bifacial module with N-type TOPCon cells – and once again leads the PV industry with high-efficiency technology.
Hi-MO N maintains the optimal 182mm cell and 72c module size and adopts LONGi's proprietary HPC technique based on N-type TOPCon (High Performance Cell with Hybrid Passivated Contact). The conversion efficiency is up to 22.3% and power reaches 570W in mass production. Designed to deliver ultra-high value and lower LCOE to utility-scale PV power plants, Hi-MO N is expected to be the flagship product leading an industrial breakthrough in module efficiency and energy yield.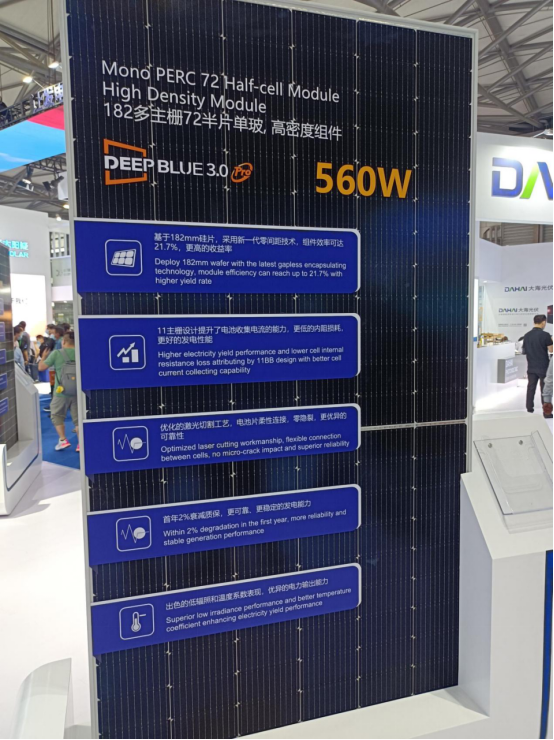 JA Solar introduced the DeepBlue 3.0 Pro, its new generation of high-efficiency module. DeepBlue 3.0 Pro is an upgrade of DeepBlue 3.0. The module size is the same as that of DeepBlue 3.0, and has outstanding advantages such as higher conversion efficiency, excellent power generation capacity, and high reliability.
Adopting the new-generation gapless encapsulating technology, the conversion efficiency of DeepBlue 3.0 Pro is as high as 21.7%. The power of the 72-cell type reaches 560W and 78-cell type 605W. Compared with other high-density packaging technologies, the new-generation gapless encapsulating technology is an optimal solution to achieve "zero micro crack" with unique advanced flexible connection and buffer processing technology of JA Solar combining with optimized packaging materials. The efficiency of the new-generation gapless encapsulating modules can be improved by 0.4% compared with regular modules, and the reliability is consistent with regular modules.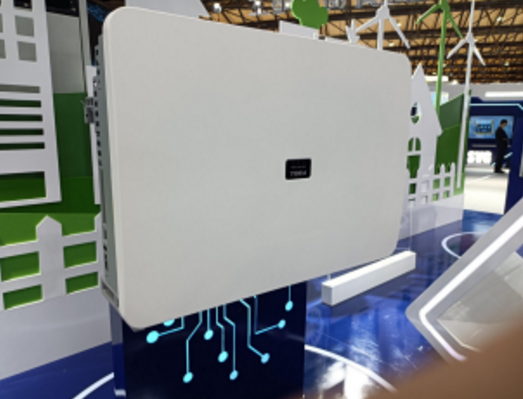 TBEA unveiled its new generation 1500V 300KW+ string inverter solution: the TS315KTL-HV and the TS330KTL-HV which support 24 input channels and 12 MPPT channels, and are said to be suitable with high powered modules of both 182mm and 210mm. TBEA is promoting a 4MW sub-array solution using the new 300KW+ string inverter solutions. Compared with the traditional 3.15MW sub-array, the construction cost of 4MW sub-array solution is reduced by 2.36%, the cable cost is reduced by 0.36%, the installation cost is reduced by 0.16%, and the operation and maintenance cost is reduced by 1.62%, the power generation is increased by 0.7%, and the comprehensive power cost is reduced by 1%, which is the design trend of future power station.
GoodWe presented its HT series, the latest 1500 V string inverter for utility projects, as well as its storage and battery products for the residential segments。
The new HT 1500V Series (225/250kW) is GoodWe's top inverter for utilization in solar utilities with an extensive list of features designed to reduce system and O&M costs. This inverter boasts 12 MPPT, PLC communication and is compatible with bifacial modules. The HT-1500V Series features string level monitoring and incorporated I-V curve diagnosis for intelligent detection of voltage and current issues. It features internal humidity detection, optional PID repair function. It can realize 24-hour monitoring and O&M during nighttime. The configuration of the HT 1500V can be easily done via Bluetooth and firmware diagnosis and upgrading can be operated remotely.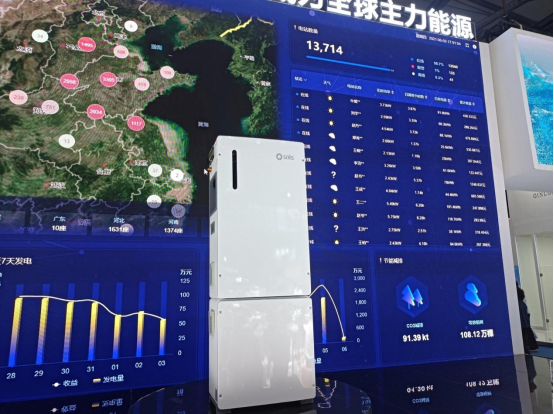 Solis unveiled its Flexi-ONE flexible all in one hybrid inverter, specially designed for residential PV energy storage system. Its biggest feature is high integration, which makes system installation easier can shorten installation time by nearly 50% and effectively reduce installation costs. At the same time, it can reduce more than 80% of energy storage caused by complex installation nodes System security issues. The installation space comparing with traditional energy storage system, only taking 0.5m³; this kind of integrated, convenient and industrially artistic PV+ energy storage design will bring a more extreme experience to your residential PV plant.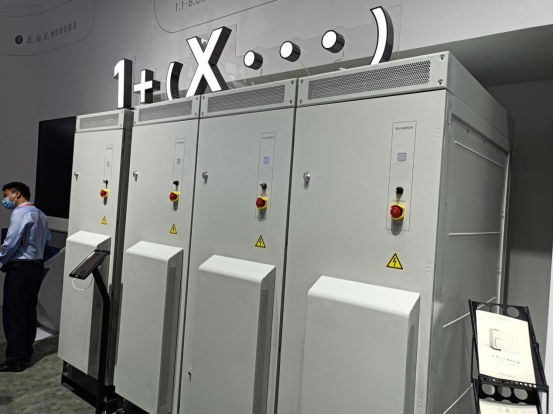 Sungrow displayed Optimized for utility-scale PV and energy storage plants, Sungrow has the latest flagship products on display including the world's most powerful string inverter SG320HX and a brand-new modular solution. Both solutions have been available so far in China and soon to be released in overseas markets in 2H 2021. As a safe, reliable and sustainable solution to ensure grid reliability amidst demanding market operating conditions, SG320HX enables lower LCOE and is compatible with the growing preference of high wattage bifacial modules. The newly-launched "1+X" modular inverter is designed with a minimum unit of 1.1MW and features a flexible capacity ranging from 1.1MW to 8.8MW. The modular design featuring "individual" units, ensures rest units in normal operation without any impact from one failing unit. Moreover, the failed device can be easily replaced with the new one in a plug-and-play manner, streamlining the O&M.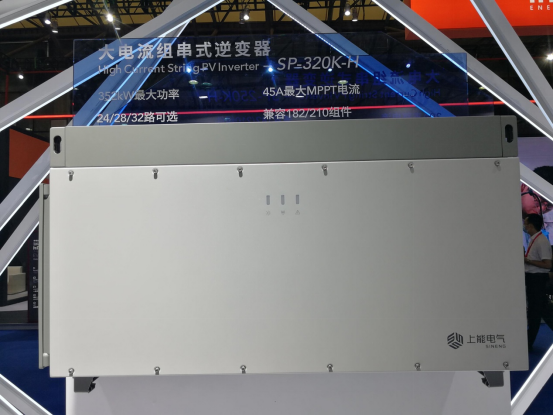 Sineng released its SP-320K-H string inverter suitable for 182/210mm modules. The SP-320K-H has a rated output power of 320KW,max output power of 352KW, maximum input voltage of 1500V,MPPT voltage range of 500-1500V,and max input current of 45A * 12.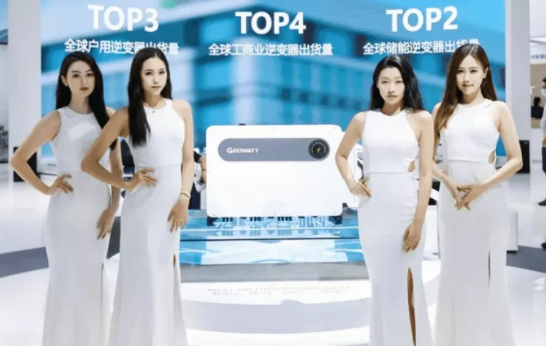 Growatt unviled its MX125KTL3-X LV at this year's SNEC,The MX125KTL3-X LV further reduces BOS cost, has an efficiency of 98.7% and feature 10 MPPT. Additionally, the 16A string current is suitable for double-sided modules and 500W+ high-power modules to further increase the power generation of the system. The new MAX series machine adopts IP66 protection grade design and C5 high anti-corrosion grade, which can deal with harsh environments such as high temperature, high humidity, and salt spray. Optional PID protection and repair functions can reduce the attenuation loss of photovoltaic modules.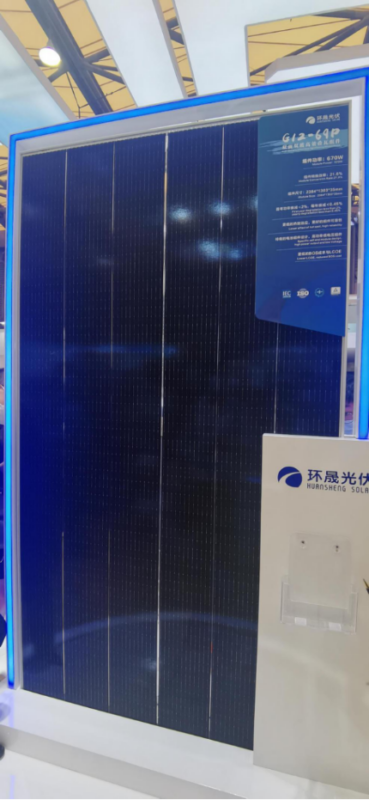 Huansheng Solar launched its G12-69P bifaicial, double glass high-efficiency shingled module. The module power reaches 670W and has a conversion efficiency of 21.6%. At 2384 * 1303 * 35mm, its first year attenuation power is less than 2%, and the annual attenuation power is less than 0.45%.
Sanjing Electric has launched R6-15K/17K/20K/22K/25K-T2 intelligent photovoltaic inverters. This series of products adopts AFC arc protection and built-in AC / DC lightning protection. The maximum power generation efficiency is 98.8% with 2 MPPT, conversion efficiency is more than 99.9%, 13.5a high current, matching with high-power modules, 150% DC overload, 110% sustainable AC overload. Bluetooth app one button configuration, support 24-hour load monitoring.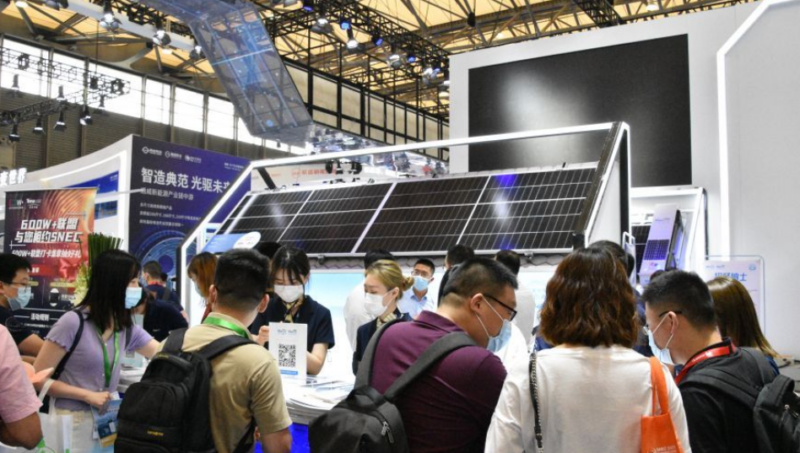 Trina Solar launched its 405W BIPV modules with 210mm cells, with a front load of 6000Pa. The new product from TrinaBlue adopts a tenon-and-mortise structure and no guide rail design. At the same time, it takes into account the convenience of construction, operation and maintenance, and reduces support and labor costs.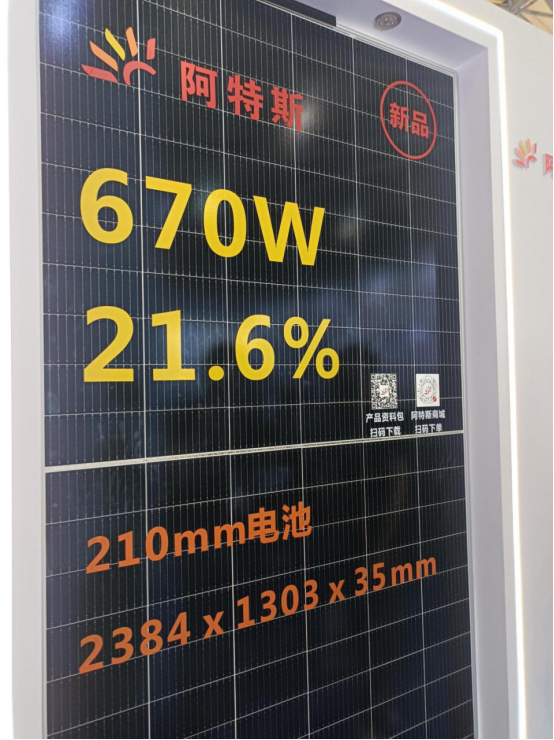 Canadian Solar launched the CS7N-670MS module, with power up to 670W and module efficiency up to 21.6%. Canadian Solar said it can reduced LCOE by 3.5% and system cost reduced by 5.7%. The module features up to 50% lower degradation LID / LeTID mitigation This module is compatible with mainstream inverters, and is suitable for high cost-effective modules of large power plants.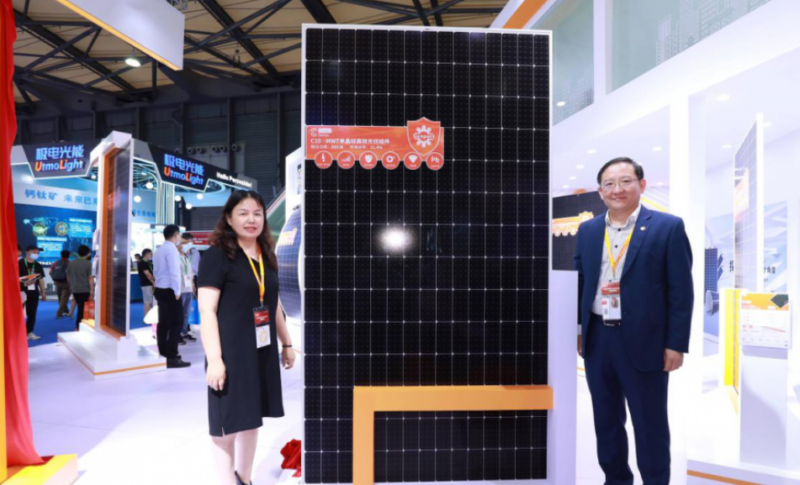 Sunport Power unveiled the C10 Classic Module. The module adopts with 166 half-cut cells to reduce the working voltage of the module. The smaller cells can also achieve low voltage and high power. The module power can reach 660W, and  has a conversion efficiency is as high as 21.5%, which is the highest mass produced power of current 166mm based modules in the market.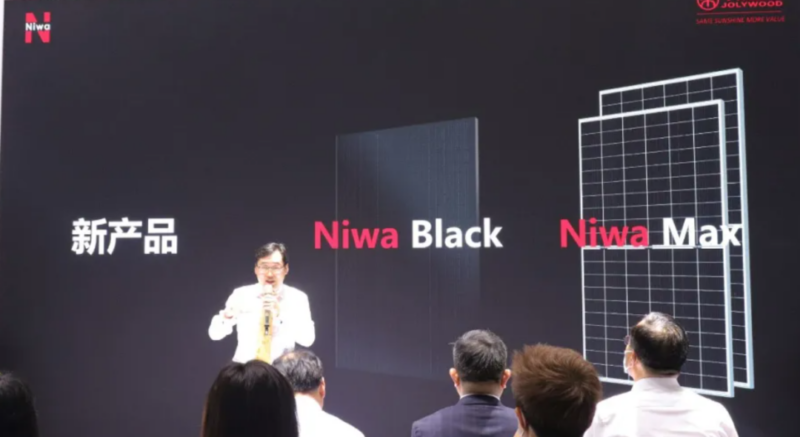 Jolywood released  its n-type TOPCON product – Niwa Max. Using G12 large size n-type TOPCON cells, the power of the 66 cell module can reach 700W. Niwa Max adopts 12busbar multi main gate technology to achieve higher module power, adopts 210mm cell half chip technology to reduce internal resistance loss, and uses circular solder tape to obtain better optical gain, so that the module has 10% – 30% additional power gain, 80% – 85% double-sided rate, low temperature coefficient (- 0.32% / k), no LID, LeTID and other advantages. Jolywood said the Niwa Max module offers a 30-year excellent warranty, its first year attenuation is only 1% and the annual power attenuation rate is 0.4%.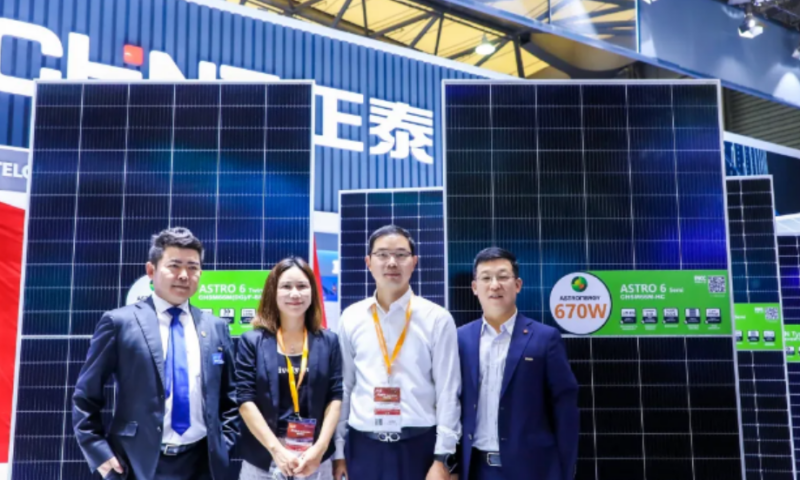 Chint New Energy unviled its ASTRO 6 module. The ASTRO 6 included a single glass (ASTRO 6 Semi) and a bifaicial double glass (ASTRO 6 Twins). The maximum power is 670W and 660W, respectively. The modules use 210mm large-size silicon wafers and a 66 cell design. The ASTRO 6 series modules have a conversion efficiency of 21.57%.