PVTIME – On June 3rd, at the grand opening of SNEC PV POWER EXPO 2021 at the Shanghai New International Expo Center, ReneSola (backed by Zhongnan Group, one of the largest conglomerate in China) not only unveiled the new product series but also signed many cooperative agreements to strengthen it's supply chain further.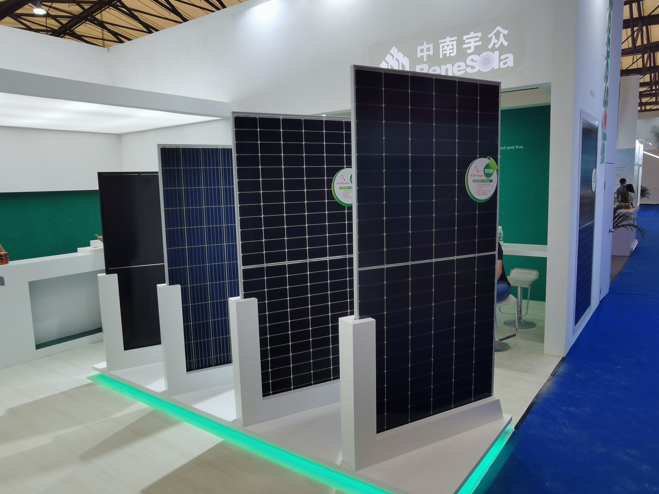 The TWIN 3.0 series, the center of attention of visitors, has a power rating of up to 550Wp with a conversion efficiency of 21.5%. The seires is being offered with a 12 year product warranty and a 30 year linear power warranty. The series will offer a number of distictive advantages to the developers around the globe who are looking for reliability and high conversion efficiency.
On June 3rd, DEKRA (a renowned authorization organization) recognized that the Twin 3.0 series  has met the latest IEC standards in design, material production process, and awarded a related certificate to Mr. Sky Wang (CEO, ReneSola) during the award ceremony.
Mr. Sky Wang (CEO, ReneSola Energy) mentioned that there is an overwhelming response from the partcipants for the Twin 3.0 series and a number of global supply agreements are already in place. He further added that such a response from the market always help ReneSola to bring better and more reliable products to better serve the global community.
About ReneSola:
Founded in 2005, ReneSola is a leading international brand of PV modules. Leveraging its global presence with its worldwide offices, warehouses, expansive production facilities, and sales network, ReneSola is well positioned to provide the highest quality of green energy products and on-time services for EPCs, installers, and green energy projects around the world.
Having accumulated more than 21GW in sales worldwide, ReneSola serves a large number of customers around the world ranging from small rooftop owners to large solar farm developers. ReneSola is a reliable and long-term partner of its valued customers and investors.
About Zhongnan Industry:
Zhongnan Industry (a long term investor in ReneSola) is a subsidiary of Zhongnan Holding Group and was founded in 2011. The group is one of the largest conglomaThe group aims to build a modern enterprise dominated by its two core industries, engineering construction and cultural creativity. Founded in 1988, Zhongnan Holding Group now has more than 80,000 employees and owns two listed companies, Zhongnan Construction (SZ000961) and Zhongnan Panshi New Energy (871460). Zhongnan Holding Group is a top 500 ranked Chinese enterprise whose total sales volume exceeded USD 40 billion in 2019.