Zhonghuan Semiconductor, Seraphim Energy, and UNIEXPV among enterprises to operate in the new development zone
PVTIME – On February 28, the signing ceremony for the construction of a new energy industrial project was held by the Management Committee of Yixing Economic and Technological Development Zone. Three solar projects with a total investment of 12 billion yuan were signed.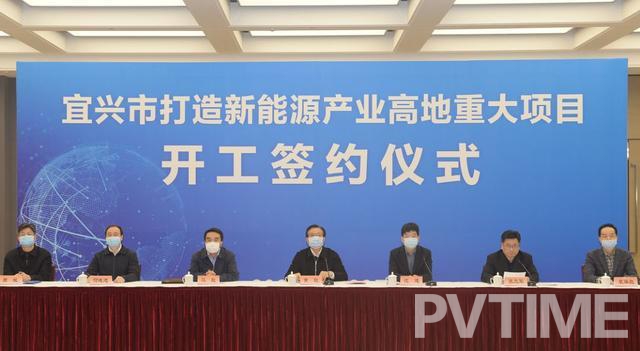 Zhonghuan Semiconductor subsidiary Huansheng Photovoltaics' 3GW, G12 high-efficiency shingled solar cell and module project began construction the same day as the signing ceremony. The construction of this project is divided into two phases. Phase one, with an investment total of 3 billion yuan, is expected to be operational in the third quarter of this year and will produce annual sales of no less than 4.5 billion yuan and export no less than 280 million USD. Phase two will add an additional 3GW in production capacity and will be implemented once phase one has been put into operation.
Construction of Seraphim Energy and Lu'an Solar's two phase 5GW high-efficiency intelligent manufacturing project, with a total investment of 4 billion yuan, is set to begin in April and will be operational in October. Phase one will occupy 287 acres of land and has a planned annual production capacity of 3GW while phase two will occupy 200 acres of land and produce 2GW annually. Once fully operational, the plant's annual sales will reach 8 billion yuan, with 50% of which being exported.
UNIEXPV's 5GW fully automated solar module production project, with a total investment of 2 billion yuan, will be constructed in two phases as well. Phase one will implement a fully automated module production line capable of producing 1.5GW annually and phase two will gradually expand its capacity to 5GW. The project plans to reach 6 billion yuan in sales within two years.