PVTIME – On August 2, Serbia's Deputy Prime Minister and Minister of Mining and Energy, Zorana Mihajlovic, signed a cooperation agreement with the American solar developer UGT Renewables with Serbian President Aleksandar Vučić in witness.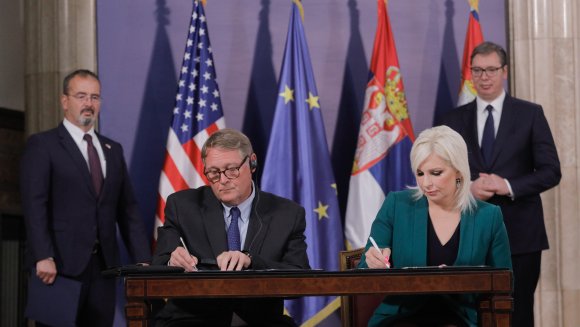 The agreement envisions cooperation in the development of more than 1GW in solar power plant and electricity storage systems projects, with the aim of using Serbia's potential to build energy capacity using renewable sources.
"This is a great and important thing for Serbia, for our energy security and stability, and it represents the beginning of a new era and a step into the future. We are about to talk about all the conditions, and if we fulfill everything from the agreement together, we can have solar panels that will produce more than one gigawatt of electricity. It is important for us to have cleaner air, and the agreement is also financially important for us, and in this way, we are reforming and modernizing the entire energy sector and the future work of public companies, " said President Aleksandar Vučić.
On the signing of the agreement, Peter Goodall, CFO of UGT Renewables, said, "We are pleased to be in Serbia again and we want to develop cooperation and contribute to economic growth, energy stability, and security."
Anthony Godfrey, the US Ambassador to Serbia, thanked the Deputy Prime Minister and the Ministry and said that the country's new Law on the Use of Renewable Energy Sources significantly improved the conditions for investment in green energy and that it would result in lower prices for consumers and clean air for everyone.