PVTIME – Recently, SEG Solar Inc., a leading supplier of solar PV modules, has signed a Memorandum of Understanding (MoU) with Jiangsu Meike Solar Technology Inc. (Meike Solar), a leading global manufacturer of silicon wafers, to secure the supply of high-quality silicon ingots and wafers.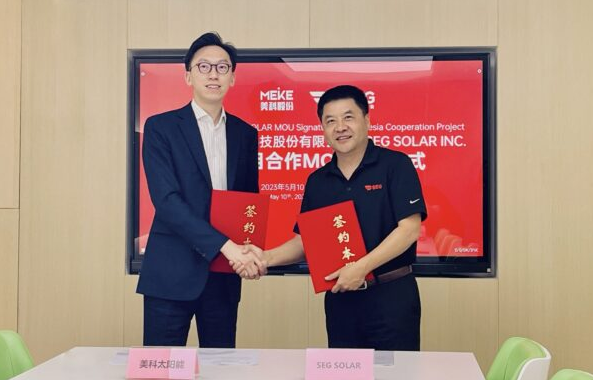 As a US company, SEG Solar is committed to providing high efficiency and high quality solar products across the country. Since its establishment in 2016, SEG Solar has supplied solar modules for more than 2GW of PV solar projects in the US, including utility, commercial and residential projects.The new partnership is expected to ensure top-quality solar energy products and services for US customers with the support of Meike Solar. And it is very important for its solar cell manufacturing base in Southeast Asia with stable raw material supply and further development, as well as SEG Solar's 2GW solar module production facility in Houston, Texas, which was invested in early 2023.
Meike Solar is a high-tech company mainly engaged in the R&D and production of solar wafers, especially large-size and high-efficiency monocrystalline wafers, with a total production capacity of 15GW through its intelligent diamond wire wafer slicing lines. And this win-win cooperation aims to provide the most cost-effective PV products to customers with the advanced solar technology and extensive marketing experience of both sides, as the global cooperation will maximise the benefits for all.