PVTIME – On April 23, phase one of Akcome Science & Technology Co., Ltd.'s 5GW high-efficiency cell and module production base in Changxing of Zhejiang Province successfully produced its first module, signifying phase one's readiness to meet its 2GW production target and ushering in a new era of high-efficiency and high-quality development for Akcome.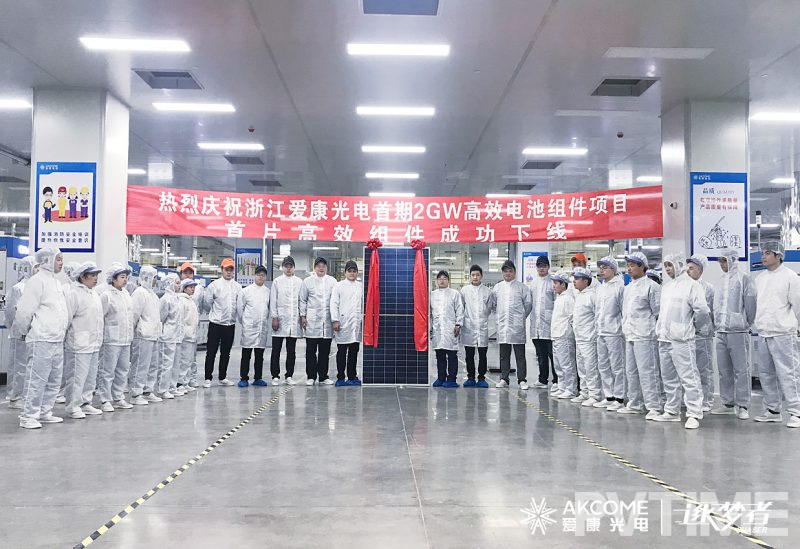 Akcome Photoelectric Technology, a wholly-owned subsidiary of Akcome Science & Technology, is a world leading PV module manufacturer with three production bases in Zhangjiagang, Jiangsu Province; Ganzhou, Jiangxi Province; and Changxing, Zhejiang Province.
The Changxing cell and module production base, located in the Green Manufacturing Industrial Park of the National Development Zone in Changxing County, Zhejiang Province, covers an area of approximately 71 acres and is slated to reach 5GW in cell and module production capacity. Construction of this project began in 2018 with phase one's construction and equipment delivery completed in 2019, followed by the first module rolling off the production line on April 23.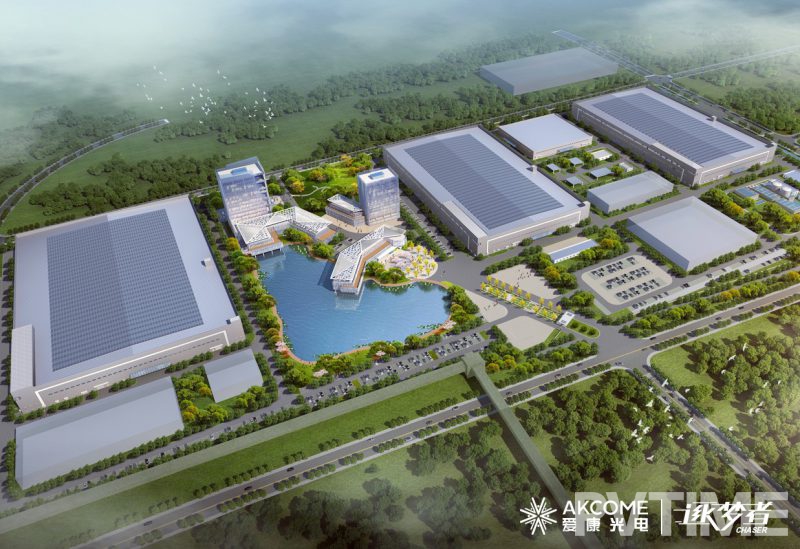 The first module produced utilizes 158.75mm shingled half-cells and 9BB technologies, has a conversion efficiency of 20.6% with power output capable of reaching 415W. Alternatively, the 156 cell (78 series) module is capable of reaching power output of 445W. Compared with full cells, half-cells have their power and current halved but the voltage remains the same and the internal loss is reduced. However, series-parallel connection of half-cells significantly increases the overall power generation by about 4% while also reducing the temperature by about 1.6°. According to last year's tender statistics and industry data, there is a supply shortage in high-efficiency 400W+ modules. Combined with production freezes in the first quarter of 2020 due to the COVID-19 pandemic, this shortage has yet to be remedied. With phase one of Akcome's Changxing facility now ready for mass production, the company believes they will be able to fill the missing gap on the supply end, and is confident about the company's performance in the future.

Akcome's smart manufacturing production lines are equipped industry leading advanced automation, smart, and digital equipment. As a result, the overall production efficiency is increased by 20% compared with traditional production lines. The production equipment is also compatible with 161mm, 162mm, 166mm, and other large-size cell specifications. At the same time, the production lines also have the capacity to produce half-cut, bifacial, glass-glass, MBB, shingled, HJT, and other high-efficiency modules.
Zhang Jinjian, Vice President of Akcome, stated, "achieving mass production at the Changxing facility effectively propels our modules operation, especially for our Chaser series. At Akcome, the constant pursuit for efficiency, dedication to product quality, and commitment to innovation are values ingrained in our genetic code, and we will continue to chase our dream with these values in mind."