The largest "bifacial+tracker" power generation project in the United States will be built in Mitchell County, Georgia, with a capacity of 224MW, for which LONGi will supply bifacial PERC modules.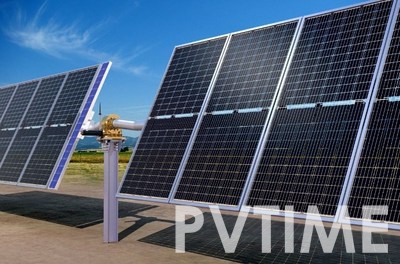 The project, which is expected to be completed by the end of 2019, will provide adequate clean electricity to more than 30,000 households, and, in the first 10 years of operation, generate more than USD12 million of income for the local economy.
The combination of flat uniaxial tracker with bifacial module on the one hand enables the front side of the module to continuously track sunlight to realize a power generation gain of more than 15% at appropriate latitude, and on the other hand it enables the rear side of the module to make use of the high reflectivity of the desert environment to obtain a power generation gain of more than 10%. In all, there is a power generation gain of more than 25% compared with the traditional monofacial module + fixed rack PV system.
LONGi's monocrystalline PERC module has the advantages of low degradation and effective anti-PID ability. Due to high power and bifacial power generation, LONGi's bifacial PERC module has shown significant power generation advantages in practical application and become a reliable choice for PV power station investors to achieve lower LCOE.
Higher efficiency means better cost performance. With the continuous large-scale application of bifacial technology and advanced systems, LONGi will continue to bring new changes to the global PV industry with higher-efficiency products, supply products to different environments and challenging projects, provide references for the practical application of clean energy, and promote the continuous reduction of LCOE.