PVTIME – On September 25, LONGi Green Energy Technology Co., Ltd. and China Datang Group Co., Ltd. signed a comprehensive strategic cooperation framework agreement in Xi'an.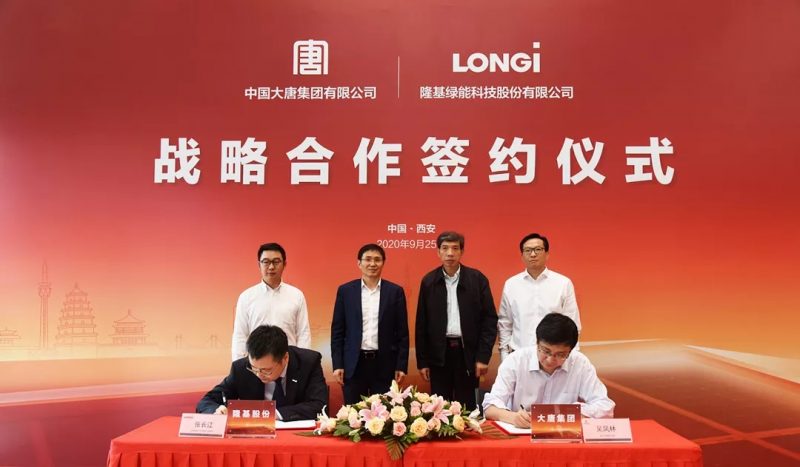 Datang Group Party Secretary and Chairman, Chen Feihu; Party Member and Deputy General Manager, Peng Yong; LONGi Chairman, Zhong Baoshen; and LONGi Global Marketing Senior Vice President, She Haifeng, attended the signing ceremony together as guests.
According to the strategic cooperation agreement, the two parties will give full play to their market competitiveness and technological innovation advantages in the field of new energy to establish a comprehensive strategic partnership, jointly promote the large-scale development and application of clean energy on a global scale, and accelerate the transformation and upgrading of the existing energy structure.
Before the signing ceremony, the two parties participated in in-depth and friendly talks and exchanges. Zhong Baoshen, LONGi Chairman, introduced the industrial layout and technological innovation advantages of LONGi in the photovoltaic field, and expressed LONGi's excitement to contribute to the ongoing development of the global photovoltaic market. He said that Datang Group and LONGi have an excellent foundation for cooperation, and with the continuous expansion and deepening of the cooperation between the two parties, they can certainly advance the already rapid developmental pace of the clean energy industry on a larger scale and with greater quality.
Chen Feihu, Datang Group Party Secretary and Chairman, spoke highly of LONGi's outstanding contributions in the photovoltaic field in recent years. He hoped that both parties could jointly uphold the concept of high-quality development and further deepen the in-depth cooperation across multiple channels, fields, and levels.
China Datang Group Co., Ltd. (hereinafter referred to as "China Datang") is a state-owned extra large scale power generation enterprise group and one of the world's top 500 enterprises under the direct management of the central government. It is a state authorized investment institution approved by the State Council and a pilot enterprise of state holding companies. It has the ability to develop and construct national large-scale energy sources and infrastructure and has experience in transnational investment, construction and operation of power projects. Presently, Datang is striving to build a world-class energy enterprise with global competitiveness.