PVTIME - On June 30, the first piece of 182/210 solar cell was rolled out by Shanxi Jolywood from its high-efficiency monocrystalline solar cell factory in Taiyuan City of Shanxi Province in China.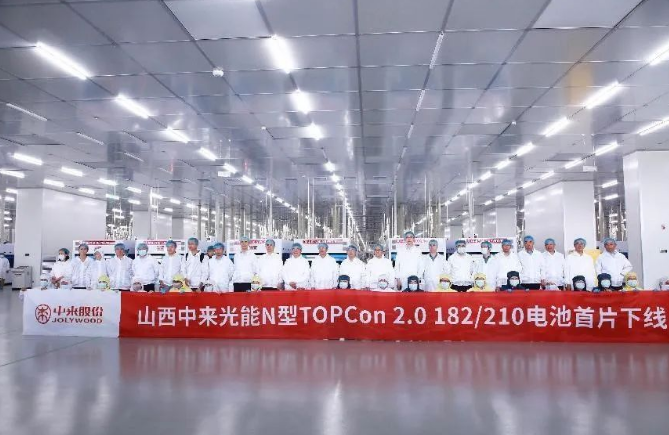 This smart factory with a total investment of CNY 5.6 billion adopts AI intelligence and automated production equipment to conduct all-round and multi-level analysis and optimization to reach an annual output of 16GW of high-efficiency monocrystalline solar cell in two phases of 8GW each. It is the largest AI factory for TOPCon cells with 182/210 large-scale silicon wafers on GW-level in the world so far.
Jolywood announced to expand its annual solar cell production with this Shanxi Base, improving its production efficiency while reducing cost. The company would like to further accelerate its strategic layout for high-efficiency monocrystalline cells. Currently, Jolywood's self-developed TOPCon 2.0 high-efficiency solar cell has reached the efficiency of 24.5% in mass production which has been widely recognized by the industry and the market. In the future, it will focus on the R&D of TOPCon 3.0 and TBC to reach the conversion efficiency of 26% of its solar cells.
The rolling out of the first bath of solar cells in Shanxi Base is an milestone for Jolywood's n-type TOPCon development, laying a foundation for it to build up large scale production capacity for monocrystalline cells, and providing high quality products for PV enterprises over the world to jointly accelerate the renewable energy transformation as well as fulfilling the dual carbon goals.