PVTIME – JinkoSolar Holding Co., Ltd. ("JinkoSolar" or the "Company") (NYSE: JKS), one of the largest and most innovative solar module manufacturers in the world, today announced that it won the 6th All Quality Matters Award for PV Module Energy Yield Simulation (Mono Group) at the Solar Congress 2020 organized by TÜV Rheinland.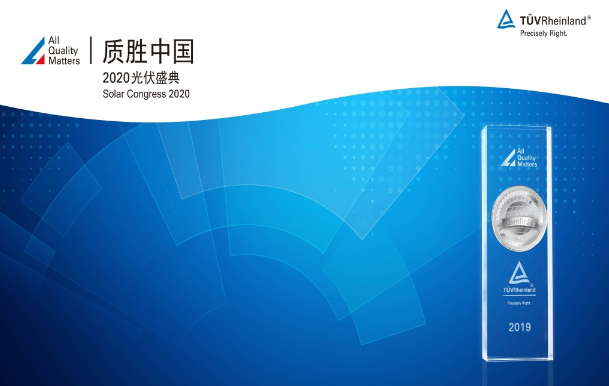 TÜV Rheinland's All Quality Matters Award is the most competitive and highly respected industry award for PV modules, inverters, energy storage systems, and components. This award is widely recognized for its objective and credible evaluation process and authoritative neutral selection mechanism.
The careful evaluation of energy yield simulation is based on performance testing of samples randomly selected from mass production under global conditions defined by PV module performance testing and energy rating standards – IEC 61853-1, IEC 61853-2, IEC 61215, IEC 60904, etc. These test conditions cover a range of irradiances and temperatures, light conditions and incident angles, temperature coefficients, spectral response, LID (Light Induced Degradation), and energy yields of modules simulated under different climate conditions that reflect operating conditions across a wide array of regions. As an industry leader known for its high-quality products, JinkoSolar ranked first in testing on modules group which were recognized in particular for their outstanding energy yield for the third consecutive year[1].
Dr. Jin Hao, Chief Technology Officer of JinkoSolar commented, "This prestigious award is strong recognition of our profound research and leading industry position when it comes to mono technology. Our remarkable R&D team continues to develop leading products for customers that are highly-efficient and can be safely and easily installed all over the world. As we move rapidly towards the high-efficiency era, our innovative technologies are not only reliable under the toughest conditions, but also can generate enormous growth potential and higher returns on investment for clean energy projects."