PVTIME – On November 5, JA Solar shared details on the progress of 182mm module development with the industry and its peers at a packed sub-forum during the 12th China Wuxi International New Energy Conference and Exhibition.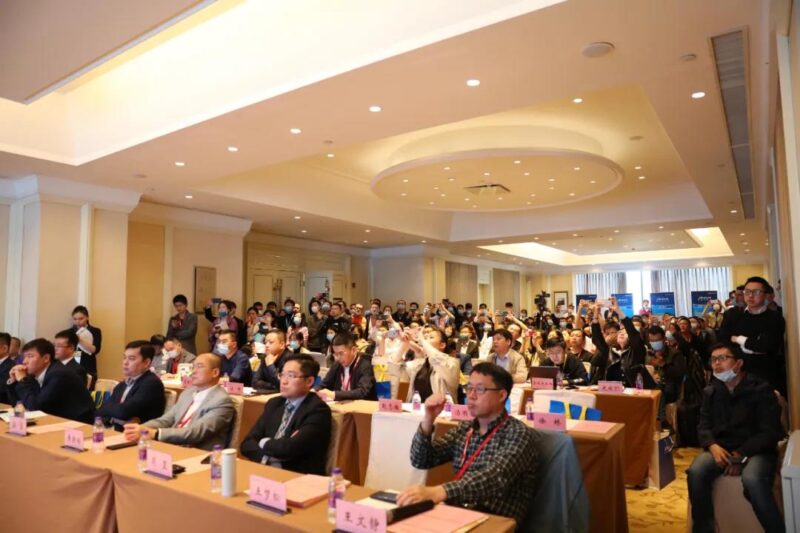 Professor Huang Xinming, Senior Vice President of JA Solar, was the first to address all the attendees. He said that JA Solar has invested more than 4.4 billion yuan into R&D, possesses an R&D department that consists of 1300 people, and has more than 700 domestic patents. With the constant injection of investment into R&D, the company is able to ensure that its cell efficiency and module technical capabilities are maintained at an industry-leading level.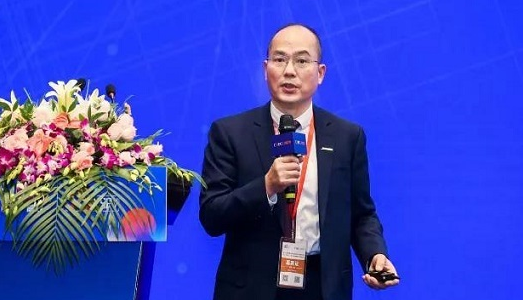 Senior Vice President of JA Solar, Professor Huang Xinming, addressing the attendees.
Senior Vice President Assistant, Wang Mengsong, revealed that the company expects to reach 20GW in production capacity for its 182mm DeepBlue 3.0 module by the end of next year.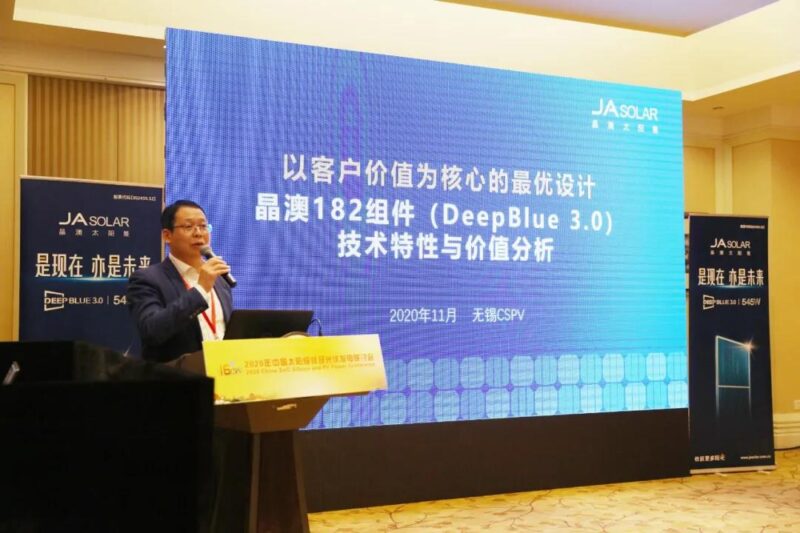 JA Solar Senior Vice President Assistant, Wang Mengsong.
The aforementioned 182mm module series was officially launched by JA Solar in May of this year and was put into mass production in August. Since then, the DeepBlue 3.0 has received TUV, EU LVD, EMC, and other authoritative certifications. It is the first of the 182mm modules to receive TUV certification. In October this year, the first shipment of DeepBlue 3.0 modules was successfully shipped to Shandong Power Construction Third Engineering Co., Ltd.'s project in Tongchuan, Shaanxi Province.
Wang Mengsong said that the DeepBlue 3.0 integrates a number of industry-leading technologies and is a product that the company believes is the most suitable solution for achieving optimal LCOE. By the fourth quarter of 2021, LCOE is expected to decrease from US $0.16/W at the end of this year to US $0.09/W.
Tang Kun, Director of Product Technology Department at JA Solar, said that, compared to 158mm and 166mm products, the crystallization rate of 182mm products is essentially the same, but the rod pulling success rate is better than that of 158mm and 166mm. Tang Kun believes that the performance data of 182mm has been outstanding, and the unmanned production provides a better foundation for higher cell efficiency and module reliability.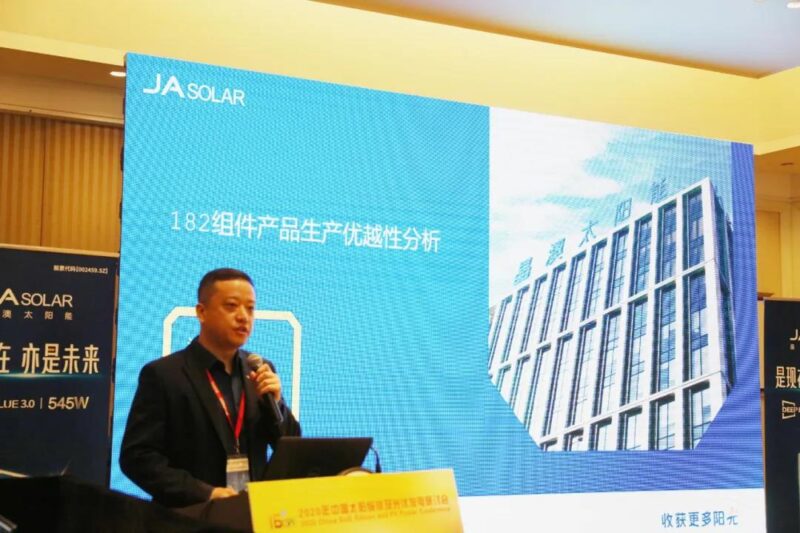 Director of Product Technology Department at JA Solar, Tang Kun.
JA Solar also plans on further improving cell efficiency through continuous optimization. The company looks to achieve a cell efficiency of 23.1% in the future but did not disclose in detail the specific timeline for process optimization.
Transportation of large-size modules has been sought to be restricted by container sizes. However, after careful research, JA Solar has overcome the issue and are shipping 182mm modules smoothly. The inner height of a shipping container is 2.69 meters and the packaging height is 2.49 meters. A container can fit 748 and 620 units of 158mm and 166mm modules respectively. As for the 182mm module, the number of units that can be fitted into a container is 620 pieces a well. In terms of total power, the output of the three varying containers carrying 158mm, 166mm, and 182mm is 307kW, 285kW, and 335kW respectively. Thus, 182mm module filled containers have the highest power performance.
Regarding the upstream and downstream supporting capacity issues that the market is concerned about, Tang Kun pointed out that, according to JA's internal forecast data, the overall crystal pulling capacity next year is expected to be around 250GW, and the pulling of 182mm crystals can account for up to 91.7% domestically.
Regarding solar-grade glass production, JA Solar anticipates glass production capacity to be 220GW next year, of which 50.5% will be used in the manufacturing of 182mm products. In particular, Tang Kun pointed out, "Everyone is very concerned about glass production capacity, and even though most of glass producers need new glass furnaces to match the new size modules, we don't believe supply will be a big problem."
Tang Kun describes the DeepBlue 3.0 module as an integration of various advanced high-efficiency and low-degradation technologies including the new-generation PERC high-efficiency cell technology PERCIUM+, and Ga-doped silicon wafers, which enables the product to have great performance in reliability, conversion efficiency, and power generation. On the whole, JA Solar hopes to continuously improve the efficiency of its products without reducing power.