PVTIME – On June 14-16, 2023, Intersolar Europe, a world leading exhibition for the solar industry has taken place at the Messe München exhibition center in Munich, Germany.
It is one of the most important industry platforms for manufacturers, suppliers, distributors, service providers and partners in the solar industry to communicate and discuss issues relating to photovoltaics, solar thermal technologies, solar installations, grid infrastructure and solutions for the integration of renewable energies.
LONGi
At Intersolar Europe 2023, LONGi launched its ESG Summary Report, showcasing the company's 'LIGHT' sustainability approach to key customers and stakeholders.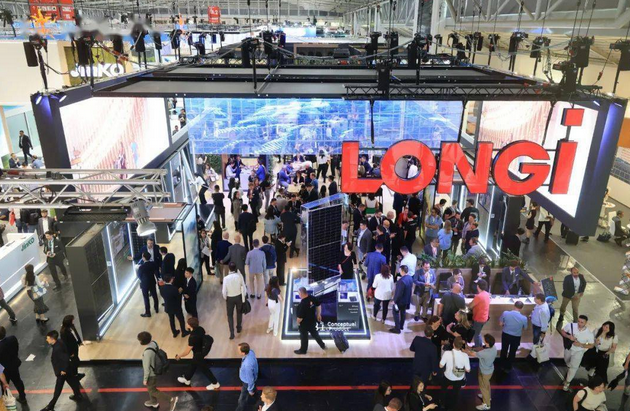 At the expo, LONGi announced a record-breaking 33.5% conversion efficiency with silicon-perovskite tandem solar cells. Meanwhile, LONGi and Energy3000, an international full-service provider of photovoltaic products and solutions based in Austria, signed a multi-year supply framework agreement at the exhibition. The framework agreement spans three years and covers the supply of at least 1.5GW of LONGi Solar modules for various projects in Europe and beyond.
JinkoSolar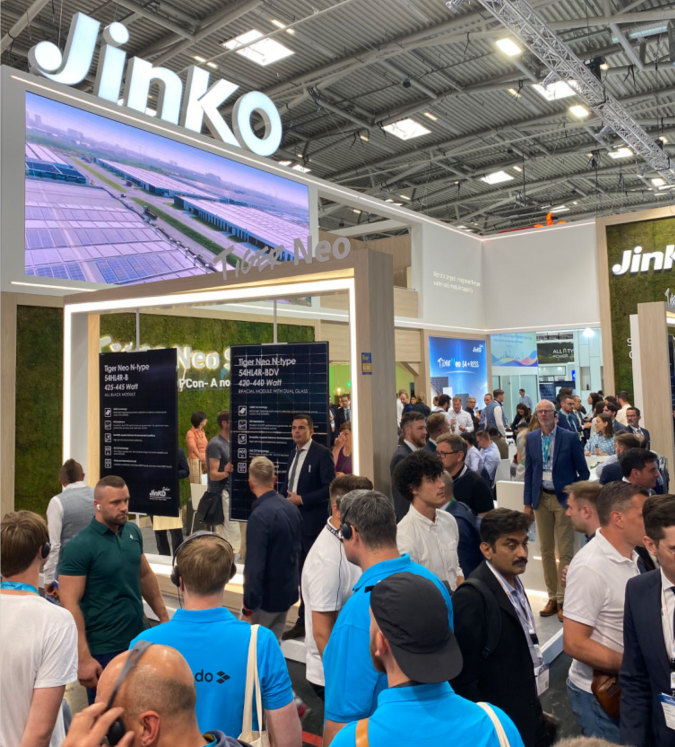 JinkoSolar officially launched its second generation high voltage energy storage battery to the European market. The upgraded product, JKR-B1250~2750-A (high voltage G2 battery), is a high-performance energy storage system designed for residential and small commercial applications. It features a proprietary Jinko HV battery with a single pack capacity of 3,84 kWh, using a high quality long-cycle cell that can reach 6000 cycles at room temperature (25°C). The product offers a capacity range of 11,52-134,4 kWh to meet different customer needs. It offers wireless interconnection between packs, 45A charge and discharge current, support for 3-7 packs per rack and direct parallel connection between racks. Equipped with IP65 protection and a cell-level anti-fire design, it ensures total system safety. The product's unique heating system provides a wider operating temperature range, three levels of isolation and BMS protection logic to enhance safety. JinkoSolar pays great attention to the sustainability of the entire production process. It is completed by a fully automated production line, which effectively reduces energy consumption, achieves a high level of quality control and improves efficiency.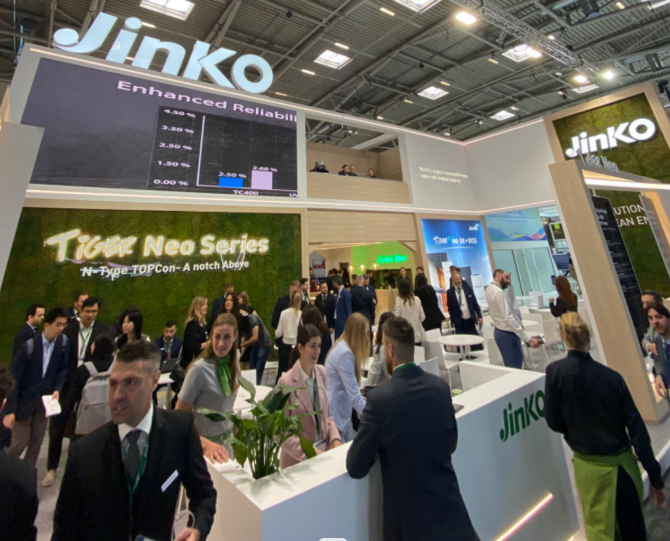 JA Solar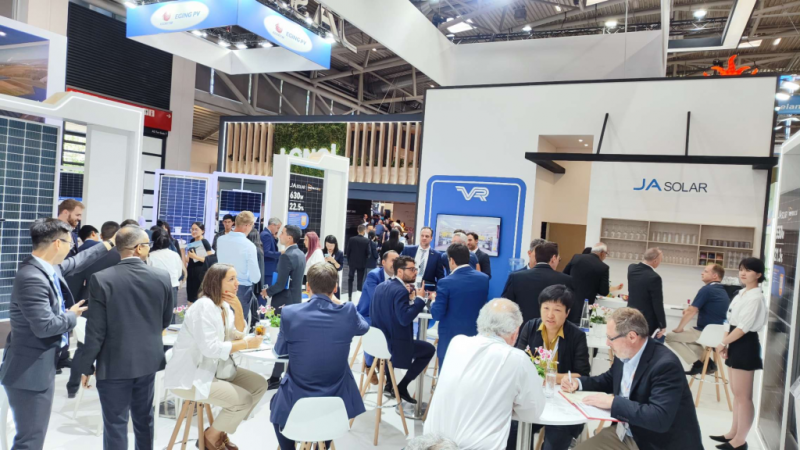 With the unveiling of JA SOLAR's DeepBlue 4.0 Pro, JA SMART RENERGY will rapidly develop PV+ storage solutions for residential energy storage in Europe and provide safe, green and clean energy to customers around the world with efficient products and high-quality services.
In addition, JA Solar and Solatio signed a 1.2GW contract for Classilandia and Paranaiba projects and a 4GW strategic cooperation agreement, and JA Solar and General Solar also signed a solar module agreement at the exhibition.
Sungrow
Sungrow has launched its brand new residential solution at Intersolar Europe 2023 to support the increasingly accessible and sustainable demand for clean energy in homes.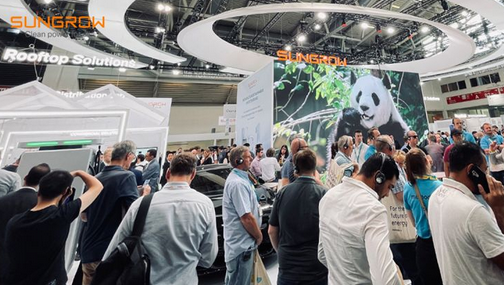 The residential solution integrates the new SH15/20/25T 3-phase hybrid inverter and the new SBH100-400 series battery with larger battery capacity, higher power capacity and higher charge and discharge current, enabling full backup. The solution enables users to enjoy a sustainable and environmentally friendly power supply. It also offers families significant cost savings on their electricity bills.
Canadian Solar
At the exhibition, Canadian Solar unveiled its first residential energy storage system, EP Cube, a product designed and developed by Eternalplanet, marking another milestone in the European market.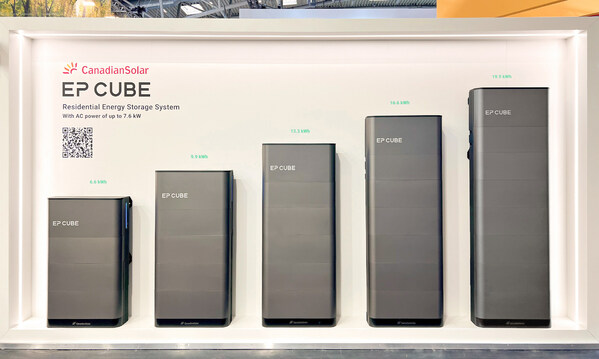 The EP Cube's debut at Intersolar Europe 2023 demonstrates Canadian Solar's commitment to creating a more sustainable and environmentally friendly future. Equipped with safety, intelligence, energy efficiency and aesthetics, EP Cube will continue to lead the development of the residential energy storage market.
Huawei
Huawei launched its new smart PV & ESS products and solutions, and unveiled the smart PV strategy and the all-new upgraded smart PV brand FusionSolar.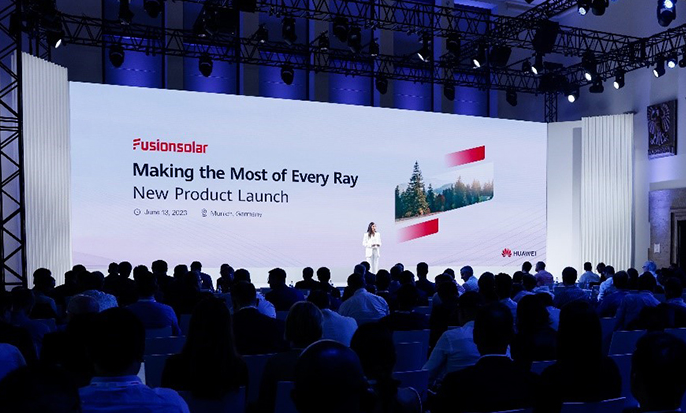 As a completely new brand image, FusionSolar positions itself as a leader in integrated PV innovation. It combines the innovative capabilities of digital technology and power electronics, integrates the capabilities of the industrial chain and intelligence, provides safe and stable products, and strives to provide the ultimate user experience. It aims to work with industry partners to build an open and win-win industry ecosystem, accelerate PV to become the main energy source, and enable green electricity to benefit thousands of industries and households.
Three key strategic announcements
Focus on the convergence of 4T (watt/bit/heat/battery) technologies, increase R&D investment, continuously innovate to achieve technology leadership, and accelerate the development of the solar industry.
Work with partners to establish high-quality industry standards and promote the healthy development of the industry
Join hands with six global ecosystem partners to create, share and win together to promote the sustainability and high-quality development of the industry.
First Solar
First Solar announced a limited production run of the world's first bifacial solar panel using an advanced thin-film semiconductor. A fully functional pre-commercial Series 6 Plus Bifacial photovoltaic (PV) module makes its industry debut.
The Series 6 Plus monofacial module features an industry-leading 0.3 percent guaranteed degradation rate, superior temperature coefficient, spectral response and shading behaviour, and an anti-reflective coating to enhance energy production. In addition, unlike crystalline silicon (c-Si) panels, First Solar's Series 6 Plus does not suffer from Light Induced Degradation (LID) or Light and Elevated Temperature Induced Degradation (LeTID) losses. The module is manufactured under one roof with 100% traceable quality assurance and exceeds International Electrotechnical Commission (IEC) standards for high temperature, high humidity and extreme desert and coastal applications.
Risen Energy
As the world's leading provider of smart PV solutions, Risen Energy showcased new all-scenario smart PV and energy storage solutions at Intersolar Europe 2023.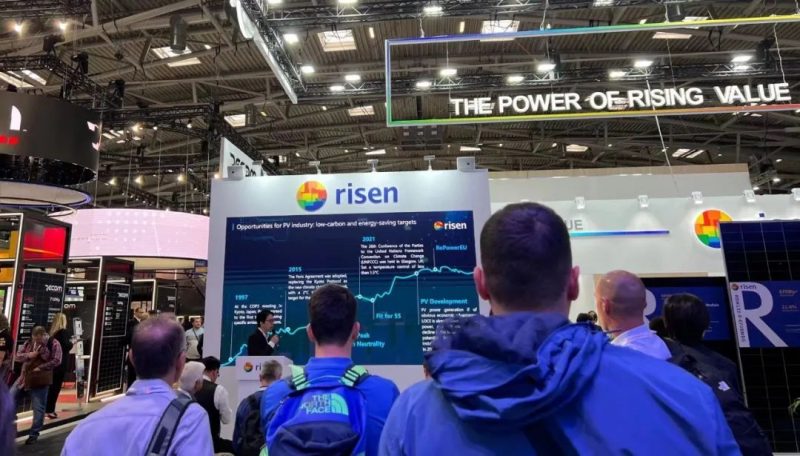 Risen Energy and OSW also signed an agreement at the exhibition for the global supply of 1GW of HJT modules.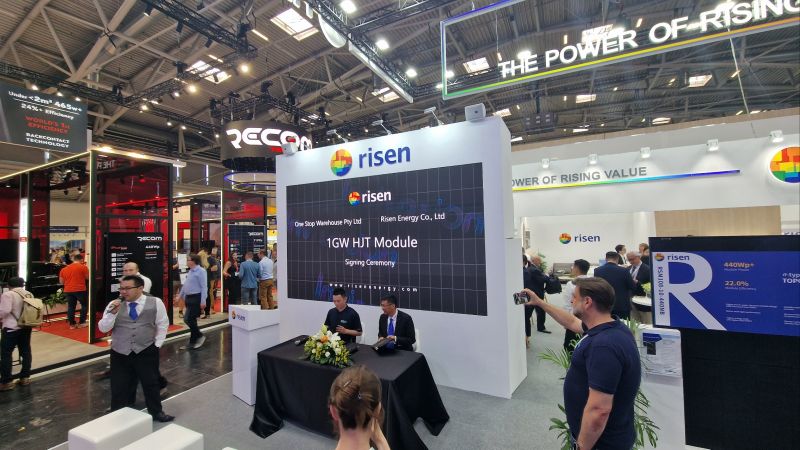 GROWATT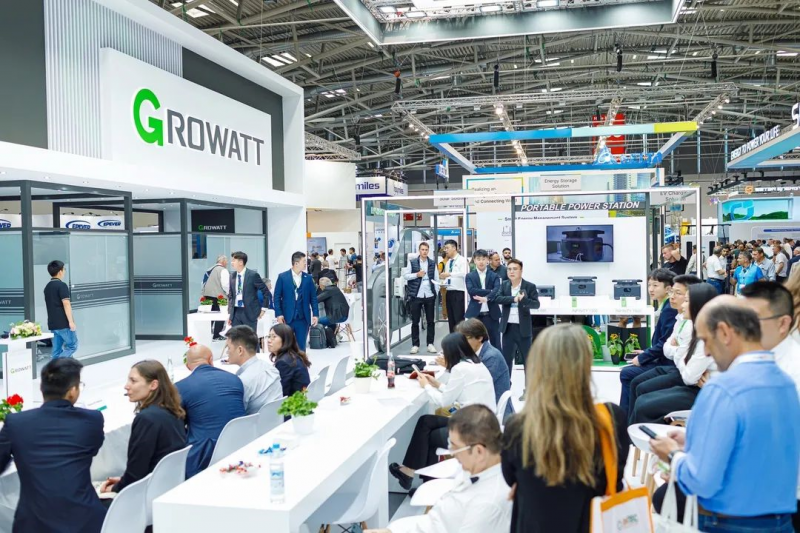 Growatt held a launch event at its booth for the Battery Ready series, an integrated solar storage solution consisting of an inverter and battery system. The solution is designed to meet the needs of residential, small and medium commercial and industrial users. The solution has a dedicated battery interface, allowing users to invest in a grid connected PV inverter and if they need to add storage batteries in the future, they can connect directly to Growatt batteries via the dedicated battery interface without the need to purchase additional equipment, reducing costs for users. In addition, Growatt's soft-switch parallel technology supports the integration of different battery capacities and batches, maximising flexibility and ease of installation and maintenance.
Ginlong (Solis)
Ginlong (Solis) Technologies has introduced its new S6-EH3P(29.9-50)K-H series to meet the demand for 1200 kWh energy storage applications, featuring an integrated lithium-ion battery, battery management system, energy export control system and bi-directional DC/AC converter in a single unit. Its flexible design makes it compatible with different battery brands. The four models in the series have a recommended maximum PV power range of 41.86 kW to 70 kW and a maximum battery discharge power range of 29.9 kW to 55 kW with a maximum charge/discharge current of up to 120 A. The new C&I scale energy storage solution will be available worldwide.
Hoymiles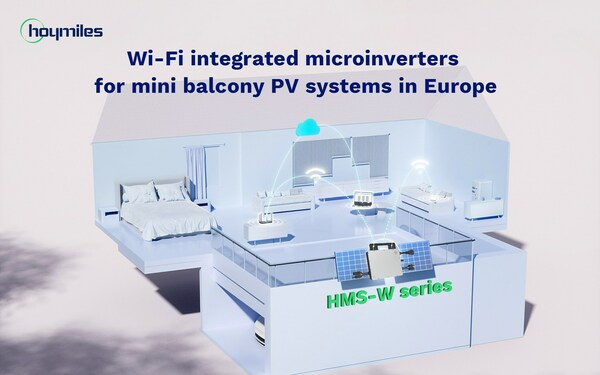 Hoymiles launched its HMS-1000W microinverter series at the exhibition. Designed for mini PV systems, such as balcony solar, the model is integrated with an industry+ grade Wi-Fi module for exceptional connectivity. Eliminating the need for complex wiring and external gateway products, the new microinverters are designed to make it easier for homeowners to go solar and facilitate balcony solar installations in Europe. The HMS-1000W series, covering power options from 600W to 1000W, is Hoymiles' latest 2-in-1 Wi-Fi integrated microinverter released in Europe.
Kseng Solar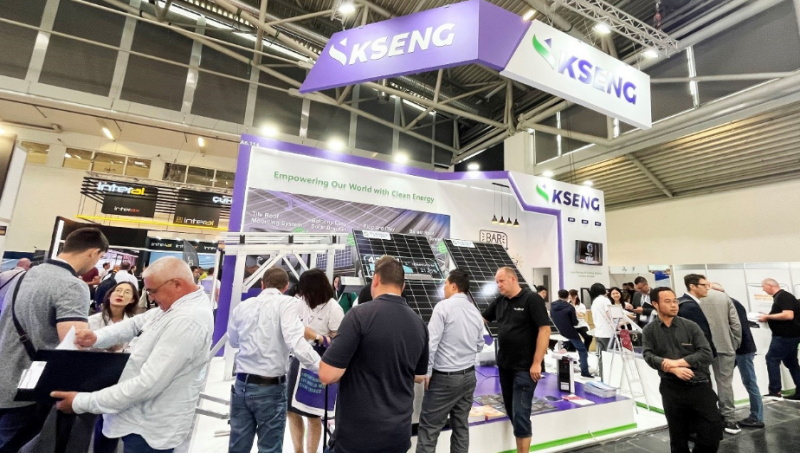 Kseng Solar participated in the Intersolar Europe Expo with its latest advanced solar racking solution for the residential, C&I and utility sectors to meet various requirements and scenarios in Germany and the wider European market, which attracted much attention and appreciation from customers on the spot.
At the expo, the KST Solar Tracker was highlighted for its unique structural design and innovative AI algorithm, which together make it the ideal solution for large-scale solar installation with excellent environmental adaptability. In addition, Kseng Solar exhibited its Easy Solar Kit/Bracket Series, a minimalist home solar solution designed to help Europeans achieve energy independence, which was very popular with many visitors.
Aiko Solar
AIKO has won the prestigious 2023 Intersolar AWARD for its revolutionary ABC Modules, which combine advanced back-contact solar cell technology with passivation contacts to deliver an impressive 460W of power in just 1.95 square metres of space. With a record-breaking 23.6% conversion efficiency, AIKO's ABC modules are driving innovation in the PV industry.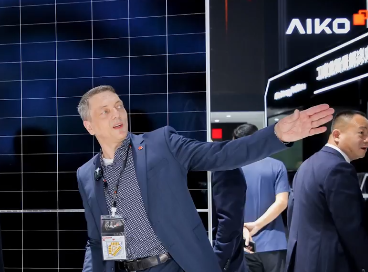 Meanwhile, AIKO has secured a 1.3GW order for ABC modules from Memodo, a leading distributor of solar solutions in Europe.
SOFAR Solar
SOFAR PowerNano, a micro-inverter system solution for all scenarios, represented SOFAR Solar's innovative products and technologies in the field of residential photovoltaic energy storage to more than 100 customers and partners from around the world.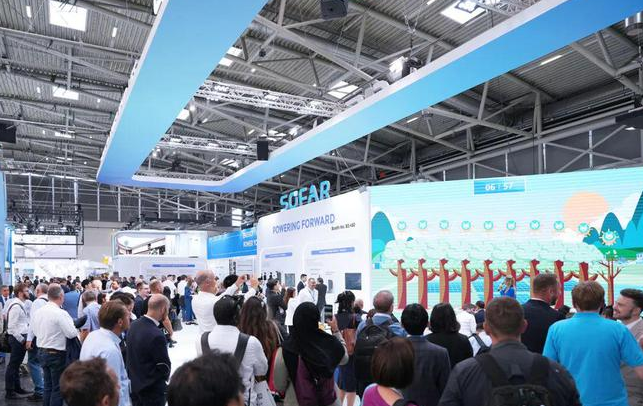 PowerNano is an integrated PV and energy storage solution consisting of a micro-inverter and energy storage system that can be installed on balconies, rooftops and other household scenarios to meet the diverse needs of customers. The energy storage solution uses AC-coupled batteries that can be easily matched with existing PV systems in the home, making the combination of PV + energy storage easier and making home energy independence more hassle-free.
SOFAR Solar has also signed micro-reverse sales framework agreements with PowR Group, Elicity, PV Selected and Vögelin GmbH, confirming that the technical strength of SOFAR Solar's new residential PV and energy storage products is highly recognised by the industry and its customers.
Beyondsun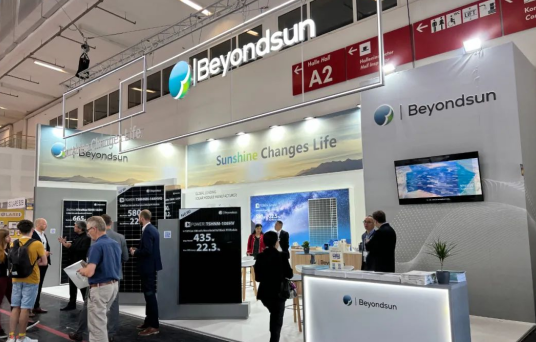 Beyondsun's N Power Series product has received a lot of attention from professional customers since its debut at the exhibition. The maximum power of the 144 half-sheet front side is 580W, and the efficiency of the module is more than 22.5%. The N Power bifacial series can provide customers with better BoS costs and long-term reliable power generation with more flexible versions and higher module efficiencies, whether for commercial and industrial or large ground-based power plants.
Beyondsun Holdings also highlighted N Power's all-black 108-panel single glass modules, which deliver industry-leading efficiencies while providing the ultimate in aesthetics.
KEHUA TECH
KEHUA TECH's latest industrial and commercial energy storage system, S³-EStore, was presented and attracted a lot of attention. In addition, KEHUA TECH showcased its lightweight storage solutions for various application scenarios, which can be used in residential, industrial and commercial applications, as well as large ground power plants, to achieve energy independence and sustainability.