Century New Energy Network's CNE analysis team released the export data of inverters manufactured in China in April 2020. Statistics show that the value of export of inverters made in China in April was US $232 million (including photovoltaic inverter, off-grid solar energy inverter, vehicle inverter, etc.), 4.36% lower than last month due to the global 2019-nCoV epidemic. Since 2020, SOFARSOLAR's global market performance has been eye-catching. This time it ranked third in the monthly list of value of export of China's inverter brands, once again refreshing the position of SOFARSOLAR in the international market.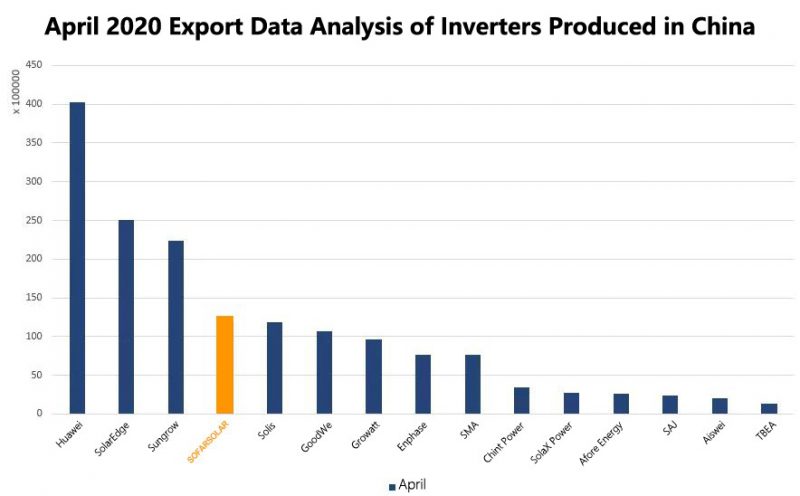 Headquartered in Shenzhen, China, SOFARSOLAR is a wholly-owned subsidiary of Shenzhen SOFAR Group. SOFAR Group was founded in 2007, involving SOFAR Communication, SOFARSOLAR, SOFAR Industrial Park, investment and other businesses, among which SOFARSOLAR has become one of the top 5 series inverter enterprises in China and the global leader in energy storage inverters. Relying on the strong capability and financial support of SOFAR Group, SOFARSOLAR was established in 2013, focusing on inverter product research and development, production, sales and service, and providing customers with comprehensive solutions. At present, it mainly provides energy storage inverter, AC-coupled inverter, 1-3kW single-phase photovoltaic grid-connected inverter, 3-6kW dual-channel MPPT photovoltaic grid-connected inverter, 4-120kW three-phase photovoltaic grid-connected inverter, battery, battery cabinet, charging pile and other products.
Currently, SOFARSOLAR covers more than 60 countries and regions in the world, and occupies an important market share in China, Italy, Poland, the Netherlands, Brazil, South Korea, Germany, Vietnam, India, Russia, South Africa, Pakistan, the Philippines and other countries. SOFARSOLAR has become the trustworthy inverter brand preferred by the local.
The international market is an important part of SOFARSOLAR's global strategic layout. In recent years, SOFARSOLAR has actively raised the ratio of resources and made both efforts in domestic and foreign markets. In the face of market changes, the company adjusted its market strategy in a timely manner to ensure that the domestic market progressed steadily and sales performance continued to rise. For the foreign market, based on the long-term market cultivation, SOFARSOLAR continues to cooperate in-depth with internationally renowned enterprises. With the swift development of international performance and the rapid increase of market share, SOFARSOLAR has continuously refreshed its international market position.
Since 2020, encountering the impact of the global 2019-nCoV epidemic, SOFARSOLAR has kept its international market share and continued to grow by taking positive and effective measures. According to the monthly list of value of export of China's inverter brands released by the CNE analysis team, SOFARSOLAR leapt to the third place. This is the recognition from the market, and it is also the best embodiment of SOFARSOLAR to be the most innovative expert enterprise in the industry of persisting in starting from customers and creatively providing customers with valuable services.
In the future, SOFARSOLAR will uphold the corporate mission of "Creating Clean Energy and Leading A Green Life", quickly promote the popularization and application of photovoltaic power generation, and strive to become a proud partner of global customers.