PVTIME – China Power Guizhou Engineering Co., Ltd. held the EPC contract signing ceremony for Qatar's 800MWp Al Kharsaah photovoltaic project with Marubeni of Japan and Total of France on February 6 in Dubai.
Chairman and Secretary of the Party Committee at Guizhou Engineering, Guo Wei; CEO of Total Corporation of France, Laurent Becerra; and General Manager of the Fourth Division at Marubeni Corporation of Japan, Yuji Sato signed the EPC contract.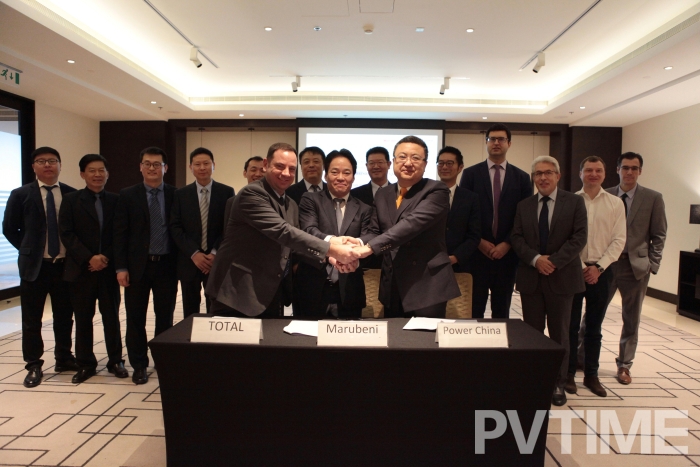 Deputy General Manager and General Manager of the Middle East and North Africa region of China Power International Group, Wu Wenhao; Deputy Director of Market Development of the Middle East and North Africa region of China Power International Group, Yang Bibo; Deputy General Managers of Power China Guizhou Engineering, Zhu Zhaoqiang and Wang Yuanhui; and other relevant department heads were also in attendance at the signing ceremony.
The 800-megawatt Al Kharsaah development, planned to be launched in time before the 2022 World Cup, will use more than 2 million bifacial solar modules, making it one of the largest bifacial projects anywhere in the world and will meet 10% of Qatar's peak power demand.
Guo Wei began the ceremony by thanking Marubeni, Total, Power China International Group, and their respective Middle East and North Africa regional headquarters for their strong support on the project before going on to provide an overview of Guizhou Engineering's development in recent years.
By the end of 2019, Guizhou Engineering has undertaken nearly 278 new energy projects worldwide, including 134 photovoltaic projects with a total capacity of 6.82GW and 106 wind energy projects with a total capacity of 9.73GW . In 2019, the company signed 5.72GW of new energy EPC contracts (excluding the Qatar project), including 4.12GW in wind energy projects and 1.6GW in photovoltaic projects. Guizhou Engineering's vision is to become the "invisible" champion of the global new energy field.
Guo Wei pointed out that after nearly a year of joint efforts, "We have received good news! Upon completion, the Qatar Al Kharsaah photovoltaic project will be the third largest independent photovoltaic project in the MENA region. The project will also become the world's largest independent photovoltaic project that simultaneously utilizes high-efficiency bifacial double-glass modules and tracking systems, and our company has made it a priority and given it the highest attention. The company's other ongoing projects are supervised and controlled by different business departments, but the Al Kharsaah project will be directly controlled by two deputy general managers of the company, Wang Yuanhui and Zhu Zhaoqiang. Since learning that Marubeni and Total had won the bid, the implementation team has since arrived in Doha for investigation, and is now carrying out the project's various preparatory implementation efforts. Although we are facing the coronavirus outbreak and other challenges, my team and I have strong confidence that we will organize and build the project well and ensure timely completion."
Guo Wei added, "the Qatar project is the first time that all parties will be cooperating together but I believe that it will lay a solid foundation for longer-term partnerships. We hope that our cooperation will start in Qatar and expand to the whole world, I wish Qatar a successful project and a successful completion ceremony in April 2022!"
Wu Wenhao, the Deputy General Manager and General Manager of the Middle East and North Africa region of China Power International Group, congratulated Marubeni and Total on winning the bid and signing the EPC contract with Power China Guizhou Engineering. "This is the beginning of our future, our regional headquarters will vigorously support Guizhou Engineering, Marubeni, and Total on the project. I believe Guizhou Engineering will fulfill their duties well and help achieve a win-win for all parties involved", said Wu.
Yuji Sato, General Manager of the Fourth Division at Marubeni Corporation of Japan, expressed his gratitude for being able to cooperate with Power China on the project. "Both teams worked very hard during the bidding process, and we were able to win the bid. Qatar is a very important development area for Marubeni. The 800MW photovoltaic project is the first photovoltaic project in Qatar, so it is of great significance. There are many difficulties in the implementation of the project, but we hope to be able to assist each other, and solve them perfectly. I also hope that our relationship with China Power can be developed further, not only for the Qatar project, but also for future projects where we can work together and develop other regions, such as Africa, Asia, Latin America, and so on."
Laurent Becerra, CEO of Total, expressed "it is well known that projects in the Middle East region are one of the most difficult projects in the world and have many project requirements. Qatar is also a very important market for Total and our team has gathered teams from China, Japan, and France. We believe that our cooperation will be successful and the Qatar project contract will be fulfilled smoothly. This is the beginning of our cooperation, we believe that we can further promote future cooperation through mutual efforts"
The Al Kharsaah 800.15 MW photovoltaic project is located in Khasaa State of Qatar and covers an area of ​​10 square kilometers. The project is divided into two phases. In the first quarter of 2021, 400MW of construction and grid connection will be completed , and the full capacity grid connection will be completed in the first quarter of 2022.
The project adopts the PPP investment and financing model and is implemented in accordance with the BOOT model. The project will be developed and operated by Siraj 1 SPV, jointly owned by the Consortium of Total Solar International and Marubeni (40%), alongside Siraj Energy (60%), a Joint Venture between Qatar Petroleum (40%) and QEWC (Qatar Electricity & Water Company, 60%).The project benefits from a 25-year power purchase agreement (PPA) to supply electricity to the offtaker Kahramaa.
The project will provide Qatar with energy support at a competitive price, reduce dependence on fossil fuel, decrease carbon emissions, and increase the proportion of renewable energy use. It is also conducive to the diversified development of the country's economy and is in line with the coordinated economic and environmental development policy outlined inside "Qatar National Vision 2030".
The signing of the Qatar Al Kharssah photovoltaic project contract is a breakthrough for Guizhou Engineering in the Middle Eastern energy market, and further expands the company's market share in the Middle East, and demonstrates China Power's competitiveness in the region.