CHANGCHUN, China, January. 19, 2020 /PVTIME/ — BayWa r.e. has been working with Lidl to design and deliver the solar based energy system for its first energy neutral store.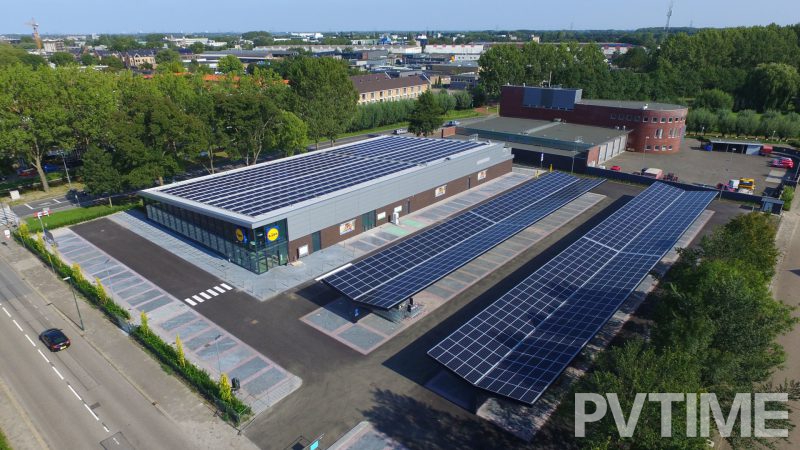 The first official 'Lidl Zero' store in Woerden, Netherlands, has been opened and running smoothly for some weeks now. The concept of 'Lidl Zero' includes using innovative climate technology, product cooling, solar photovoltaic electricity generation and a fast charger for electric cars.
"A key objective of 'Lidl Zero' is that this pilot store benefits from a solar system, producing year-round 100 per cent of the energy consumption by renewable means. In Woerden, we realised this objective in collaboration with BayWa r.e., who designed and installed a solar installation with 1766 high powered photovoltaic panels.", quotes Arnold Baas from Lidl Netherlands.
Christof Thannbichler, Managing Director of BayWa r.e. Power Solutions GmbH, explained what was involved: "To guarantee enough solar power to cover the store's energy needs throughout the year, we carried out an extensive feasibility study including shade analysis, as the premises of the store borders on a wooded area. Taking in all the data and criteria for this specific location, our expert team then designed a 290 kWp system on the store roof, and a separate car port structure to house an additional 257 kWp system. Furthermore, a DC fast charging point for e-cars has been set up on site as well."
Tapping into its extensive network of local partners across Europe, BayWa r.e. teamed up with a Dutch construction partner to install the car ports and subsequently the PV panels, using BayWa r.e.'s own novotegra roof mounting system.
Andrea Grotzke, BayWa r.e.'s Global Director of Energy Solutions, added, "Our ongoing international collaboration with Lidl confirms our approach of offering power solutions for multinational companies. As an international leader in renewable energy with an established network of trusted partners across Europe, we are able to offer solutions wherever they need it. We're particularly proud to have played an integral part in the first Lidl Zero store, and look forward to realising many similar projects in the years to come."
Proud to have partnered with Lidl for many years, BayWa r.e. has now completed many significant photovoltaic projects in 10 European countries for the retail giant, including battery storage systems, e-car charging infrastructure and carports.
SOURCE: BayWa r.e.