PVTIME – On 12 May 2023, Tongwei Solar announced that its 210-66 double glass heterojunction module achieved a front side power of 728.4W. This record, which was confirmed by the renowned certification agency TÜV SÜD, is the second time in 2023 that Tongwei Solar has set a power record with its HJT module, following a front side power record of 720.7W achieved by its 210 HJT bifacial module in January 2023.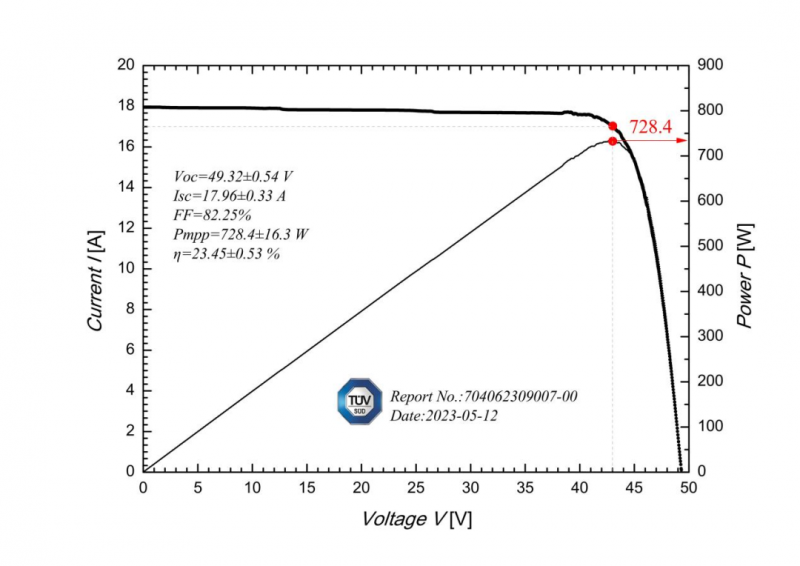 Heterojunction technology is regarded as Tongwei Solar's next-generation technology, and these power records are positive for Tongwei Solar to maintain its leading position in PV technology and product innovation in the solar energy industry. In addition, its R&D centre in Chengdu City, which includes pilot lines for TOPCon, THC, TBC solar cells and modules, perovskite cell R&D and solar cell characterisation laboratory, will further support Tongwei Solar's manufacturing base.
Furthermore, the power conversion efficiency of the TNC cell pilot line has reached 25.8%, which is the highest data of M10 in mass production. In March this year, the mass production of Tongwei's first GW-level THC production line in China set a new world record for cell efficiency, reaching 26.18% with ISFH certification.
Adhering to the "Tongwei for a Better Life" vision, TW Solar focuses on technological innovation and continuous breakthrough research and development, with the goal of providing customers with advanced, efficient and high-quality products and services across the PV industry chain, and contributing to the green energy revolution for all mankind.