PVTIME – On May 26, a groundbreaking ceremony for LONGi's 10GW Monocrystalline Solar Module Project was hold in Wangdian Town, Jiaxing City, Zhejiang Province, China. The ceremony was also hold for the start of major projects in Xiuzhou District to expand investment in the second quarter of 2022.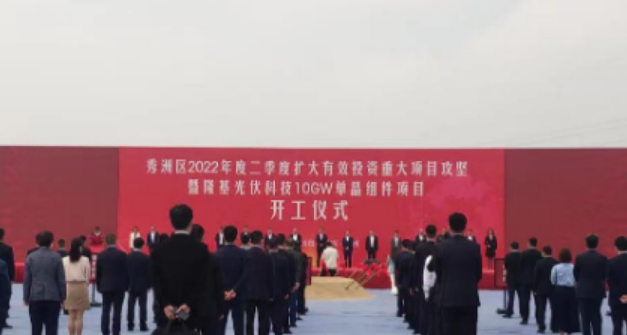 The 10GW monocrystalline module project of LONGi, which with a total investment of 6 billion yuan, plans to build 16 high-efficiency solar module production lines to achieve sales revenue of about 15 billion yuan after reaching production while offering about 1,800 jobs.
Xiuzhou District, as one of the National High-tech Zones in Jiaxing City, plays an important role for the development of PV manufacturers as well as social and livelihood projects. For LONGi, its high-efficiency module project started the construction and achieved mass production with an annual output of 7GW within the year of 2020. In 2021, LONGi was the top company with sales exceeding 10 billion in Xiuzhou District. And the particular new 10GW project of LONGi, opens a new chapter in Xiuzhou District in the year of 2022, and is expected to bring profits for both the company and local people.