PVTIME – On 7 September 2023, the Hurun Report published the Hurun China Most Valuable Private Energy Companies 2023 which includes 34 solar PV companies.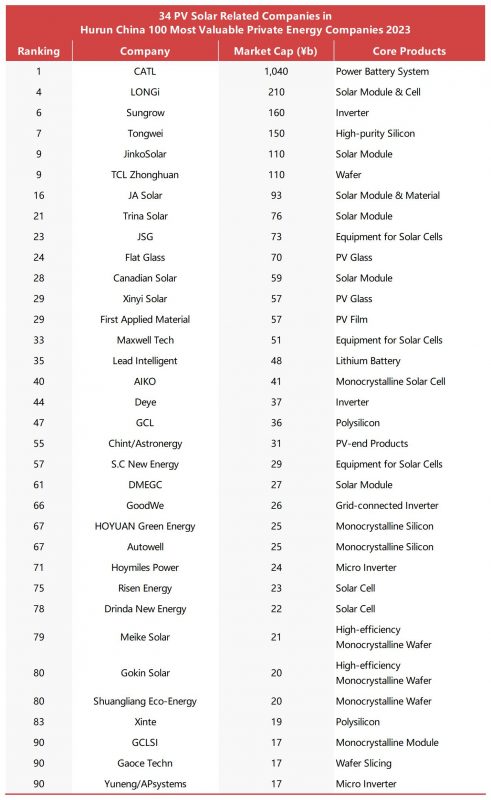 Mr. Hu Run, Chairman and Chief Research Officer of Hurun Report, clarifies that the majority of China's conventional energy corporations are run by the state, such as the trillion-dollar PetroChina. However, it is not included in our research list as state-run enterprises are not taken into account.
Photovoltaic companies dominated the list, totalling 34. China's exports of photovoltaic products, including silicon wafers, cells, and modules, reached around 370 billion yuan in 2022, registering an 80% YoY growth. LONGi, Sungrow Power and Tongwei, all domiciled in China, are three of the world's top five PV firms.
In addition, the list features 29 companies specializing in energy storage. Among them, CATL has achieved the world's top position as a power battery manufacturer in just seven years. The company is now considered to be worth almost the sum of the other 28 companies on the list and has registered revenues surpassing 320 billion yuan in the last year. The list also includes 12 new energy vehicles ranging from electric cars to electric two-wheelers. BYD's global enterprise value ranks second, only behind Tesla's. In addition, BYD sold over 1.86 million units from its entire range last year.